Where Did Summer Go? It's Back to School Time Already!
Posted on August 2, 2019 by Laura Myers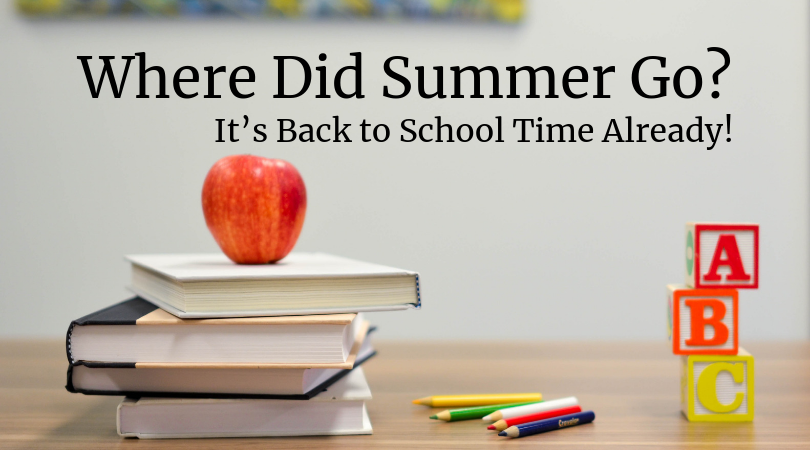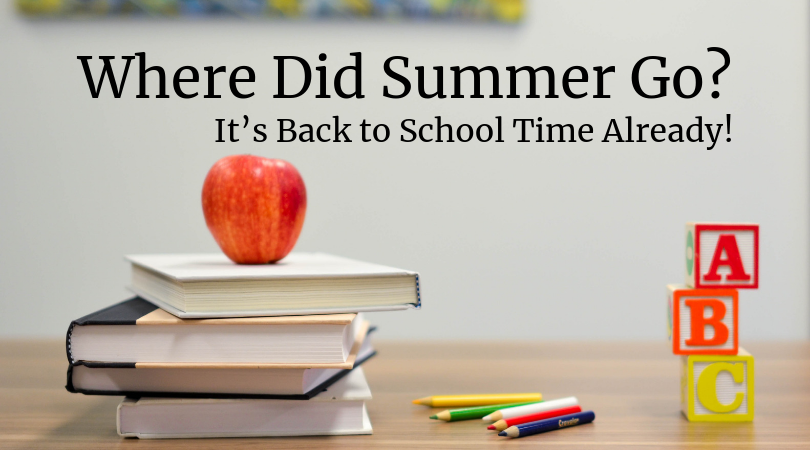 Earlier this week I looked at the calendar and realized it was the last day of July and summer is ending soon. Not summer weather, just the season; school will be starting for many in a few weeks which traditionally marks the end of summer's freedom.
What is a Parent to Do?
Sadly, there isn't an option to skip school supply purchases, so the best thing to do is to find the bargains. Since early July I've have been getting links to incredible school supply bargains in my emails from The Krazy Coupon Lady. It's amazing how low some of the prices are and it's made me a bit sad I'm not buying school supplies myself! Don't forget that college students will need notebooks, pens, highlighters, and other basic supplies, too!
It's Not Just Classroom Supplies
Students are probably going to need some new clothes and shoes for school, too. Resist the urge to buy all of their fall clothes at once. There are a few good reasons, the main one is spreading the expense out over several months. Another good reason is retailers are always marking things down, so if you wait it's possible to save even more money on items. For instance, running shoes are often on sale in January to appeal to people with new year's resolutions. If you can wait, you might get a better deal then.
How to Decide What is Needed
Classroom supplies are easy to figure out, your child's school will have a list available that tells you exactly what is needed. The list can be found on the school's website, local office supply stores, usually at Walmart, and Target. Some schools even have a link for you to pay for the items and they will be sent directly to the school for you!
For clothing, shoes, and backpacks, there's no substitute for pulling everything out of the closet and drawers and sorting. Look for items that are worn out, too small, or just no longer useful. Then make a list of what needs to be replaced. In a school with uniforms, check to see if there is a way to buy gently used pieces from other parents.
An Easy to Way to Save
Don't forget that many states have a tax-free weekend for back to school supplies, some states even include computers. If you don't know when yours is or what it covers, it looks like quite a few are this weekend. If you like shopping online, the tax-free opportunity will cover that method, too.
Are You New to Your Area?
This last point might seem obvious, but you need to make sure which schools are the correct ones for your address. If you have just moved to a new address or have a little one starting kindergarten, you can take him or her in for an orientation session. They will be able to meet their teacher, see where the classroom is, and meet some classmates. First day jitters should be lessened by doing this. I remember going to a new school almost every year growing up without the benefit of an orientation until I got to Junior High and it was pretty scary as a little kid.
You Will Need Internet
It's very likely that your children will have homework to do that will require some access to the internet. That's where BillCutterz can help you. Our Savings Experts will make sure that you are getting the best possible rate on internet and other monthly bills. I have fairly new internet service, and my Savings Expert was able to negotiate a discount for me just this week! So, if you aren't already a customer, take just a few minutes to sign up and submit copies of your bills. While one of our Savings Experts negotiates them for you, you can make sure the rest of the summer is fun for the whole family.