What Kind of Filing System Do You Use?
Posted on August 9, 2019 by Laura Myers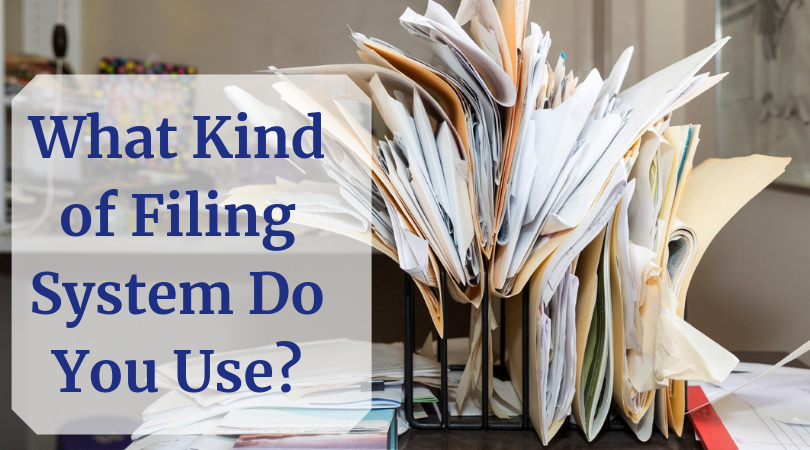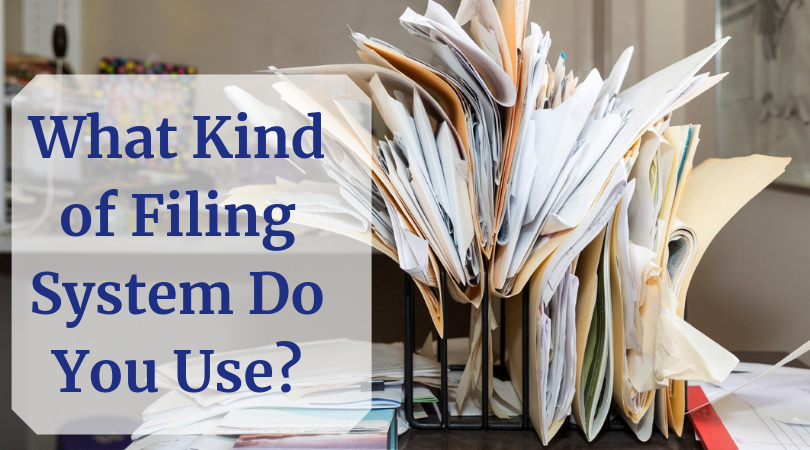 If you are anything like the rest of us, you have great intentions of keeping up with the paper tiger. But time, life, and perhaps a complicated system, all conspire to make it difficult to keep up. So, what does a person do to be better organized?
Start by Purging!
An often-repeated line in organizing paperwork is you can't organize clutter. Excess paperwork is essentially clutter! How do you decide what to get rid of, though? Read on and I'll share some guidelines on what to dump.
Old utility bills can go right into the recycling bin. You should be able to access a years' worth on your service provider's company site. If you need them for anything, just print them or scan them to your computer. In fact, switch to paperless billing and skip the recycling!
You can shred previous insurance policies (at least shred the page with personal information). My company sends me a new printed copy for the house and one for the car every year; there is no need to keep the old ones.
Credit card bills can also be shredded (or set up as a paperless bill) each month or two. I look mine over online regularly to make sure all the charges are mine, so after I pay the bill, I don't need it anymore.
Old paystubs only need to be kept until you get the next one, but many people like to keep a years' worth. At the end of the year, compare the last one to your W-2 and then shred them.
Shred any paperwork that relates to something you no longer own (except house closing documents). Recently I helped a family member with some filing and discovered purchase receipts for a series of previous vehicles.
I'm sure there are other categories of papers that can be purged, but these are the ones I see most often in large quantities.
What do You Have to Keep?
At my house, I have several file totes with paperwork from a business I used to own, and I'm not going to cover what that entails. In fact, in an excess of caution, I have kept most of it for far longer than required. But as far as personal paperwork, I do try to follow the published guidelines for retention.
Tax paperwork can supposedly be shredded after 3 years, but there are a few exceptions as explained here on the Credit Karma site. Most of us keep tax files far longer just to be safe, and I can't say that's a bad idea. I have a manila envelope for each year in a box, and when the box gets too full, I shred the oldest one.
Assorted receipts are another vague group. For anything that has a warranty you should probably keep the receipt; I staple it to the owner's manual along with the serial number information. If there is no owner's manual, you might want to set up a file of receipts or scan them into a digital file. However, if you bought something from Amazon or any other large online retailer, you should be able to get old receipts. I know that all of mine are accessible back to my very first purchase!
You should keep any kind of identification paperwork, and probably need to keep it in a secure place like a safe or safety deposit box. Some things in this category are birth certificates, marriage licenses, divorce decrees, passports, wills, and immigration and/or citizenship paperwork.
The last big classification is paperwork to do with your house. Receipts for major repairs and improvements, mortgage statements, and property tax information all need to be kept according to HerMoney.com. You will need them either for taxes or for adjusting value when you sell, so hang on to them for at least 7 years.
Back to the Filing Issue
The bottom line is that many things still need to be kept in printed form, and the easiest way is to have a filing cabinet or tote. I have a combination of both, the tote is for my older files. In the filing cabinet, I have things grouped in a way that makes sense to me. My utility bills are grouped, then insurance paperwork, then financial. Some people will likely prefer to have everything alphabetized, and that's probably best if you share your paperwork with someone else. I also have a small basket for things I haven't filed yet, and when it's full I take about 20 minutes and file or shred all of it.
Controlling your Bills
While BillCutterz can't come to your house and clean up your paperwork, our Savings Experts can certainly make sure you have time to handle it. Let one of us spend the time on the phone to get you the lowest possible rates on your bills, it's all we do! If you aren't already a customer, take just a few minutes to sign up, and if you are a customer, take a few minutes to submit more bills or updated versions of the ones we already negotiate for you!