How to Have a Fantastic 4th on the Fly
Posted on June 28, 2019 by Laura Myers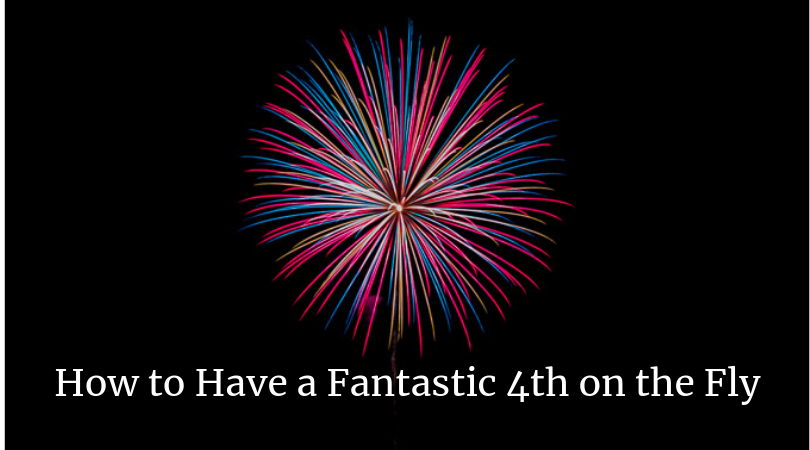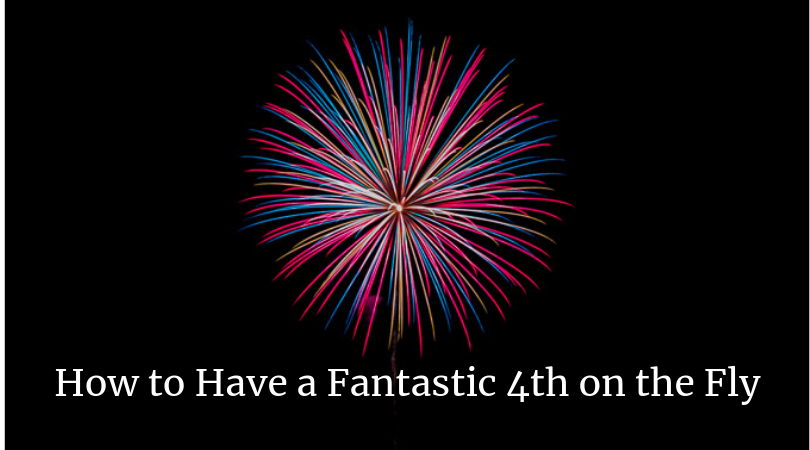 Can you believe we are nearly halfway through summer? I feel like Memorial Day was just a few days ago and I'm already seeing posts about back to school. I just want summer to slow down so I can savor it. Now that I have admitted that summer is slipping away, I can also admit I haven't made any plans for the 4th of July. So, let my procrastination be your guide for some easy ways to celebrate our Nation's birth this year!
How do You Like to Celebrate?
I have lived in some very large metropolitan areas over the years and loved the huge fireworks displays I was able to see. The downside for me was the huge crowds I had to encounter. In my case, I am not likely to go downtown anymore because I just don't like crowds all that much. I'll be looking for an option in my suburban area this year as well as spending some time with my family and friends around a grill.
Finding an Event
It would be so much easier if every July 4th event had the same name or at least a variation of the same one. A google search for "4th of July events" would then yield a comprehensive list. However, many cities choose non-traditional names so getting information might be trickier. I recommend using a longer search term with the date, the city, and the word "fireworks."
If you are new to the area, ask neighbors for advice. Neighborhood Next Door groups are a great resource even if you haven't met the neighbors yet! Be open to a display on some night other than the 4th, too. Around here there is a subdivision with a great display on the 3rd in order to give people the chance to see the official city show as well. Some places may delay until the weekend as this year's holiday falls on a weekday.
Let's Talk Food
Let's face it, the best part of a gathering is the food. Days later I will still be talking about how good the desserts were and possibly the grilled meat. I'm not going to give grilling advice here; I know that everyone has their own way to cook outdoors. However, I feel that I am a bit of an expert on side dishes and desserts, so I'm sharing some crowd pleasers that are also really simple to make.
Side dishes are the accessories that can make a meal sparkle, to use a fashion analogy. I think the secret to a good side is making sure it complements the main dish. If you are tasked with bringing a side to a BBQ, ask in advance what will be on the grill so you can pick the right thing. For instance, if it's burgers and hot dogs, potato salad is a classic. Ribs go great with corn on the cob, and I happen to think that brisket cries out for coleslaw. Click the links for some tried and true recipes! I think that grilled corn on the cob is delicious!
Desserts are my personal favorite. Just this week I found an update to the best strawberry cake I have ever had; the sheet pan version is on my list to make this summer. If you can keep it chilled, this icebox éclair cake is incredible and goes together in a flash. I took an icebox cake to an outdoor event once and it was pretty gooey, so I won't make that mistake again.
Safety Thoughts
I want all our readers to stick around a good long time, so I am going to say it's best to leave the real fireworks to the professionals. If you do choose to have fireworks at home, please be safe! Make sure you have a bucket of water to dunk used sparklers into and a fire extinguisher for the others.
Saving Money for the Holiday
Here at BillCutterz we are taking the 4th off, but we'll be right back after the fireworks and BBQ saving money for our customers! So, don't delay signing up any longer, it only takes about three minutes to set up an account and submit your bills. Then our team of Savings Experts can do the hard work of negotiating the best possible rates for you.