Can You Put a Price on Love?
Posted on April 20, 2018 by Laura Myers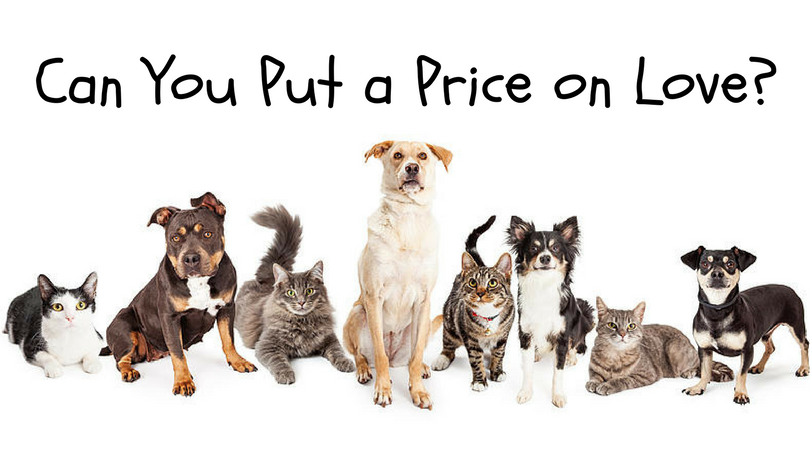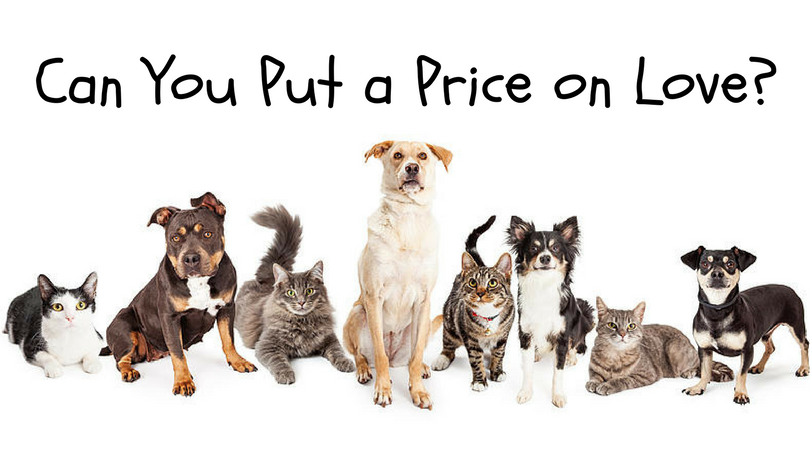 When it comes to unconditional love, it's possible to buy it in the form of a pet. According to the Insurance Information Institute, 68% of American homes have a pet of some kind. That works out to 85 million homes, about 60 million with dogs and 47 million with cats. Clearly, there is some overlap there if you add it up; I happen to have a dog and two cats myself. In 2017, the estimate is that pets cost us as a country about 69 billion dollars per year.
What Does a Pet Really Cost?
This breakdown doesn't consider the price of an animal if you choose to buy from a breeder or pay an adoption fee to a rescue or shelter. Average first-year costs for a puppy or kitten are puppy/$565…kitten/$365. That amount covers shots, spay/neuter, and initial supplies like litter boxes, crates, and collars. Add to that the other regular expenses like food, treats, toys, and pet insurance, and the totals go up to dog/$1270 and cat/$1070. Those numbers are from the ASPCA, and you can get detailed breakdowns at PetFinder.
According to the good folks over at The Simple Dollar, you will almost always come out ahead financially when you adopt through a shelter or rescue organization. Rescue is near and dear to me, my little dog came from a rescue organization and she has the best temperament of any dog I've owned. I'll definitely adopt from a rescue again!
How to Save on Vet Costs
Vet costs are hard to predict.  There are regular visits for shots, teeth cleaning, and general checkups. Then there are the unexpected visits for injuries or possible illnesses that are unpredictable and hard to budget for. There are a few ways to deal with these: insurance, pre-paid plans, and credit cards just for vet care. Pet insurance can range from about $10 – $40 or more a month, depending on breed and type of coverage. Pre-paid (or wellness) plans typically cover regular visits for shots, deworming, checkups, and discounts on larger things like teeth cleanings. Having a set monthly bill for these is easier to work into the budget for many people, so see if your clinic offers one.
Lastly, if you do end up with an unexpected pet expense, there is a credit card you can apply for at most vet offices called Care Credit. Some other options for large pet bills are explained here on the Credit Karma blog.
Medications Are Expensive
Dogs should be on regular heartworm medication, and depending on where you live, flea control might be necessary. Some pets need other medications for ongoing health issues, and often shopping around can get you a better price on them. Online pet pharmacies are usually cheaper than your vet's office, and some medications are available at human pharmacies. If the medication isn't an emergency, it might be wisest to ask the vet to give you a written prescription so you can find the best price.
A few things are also available without a prescription and the need is easily determined. For instance, tapeworms look like tiny rice grains, and the medication is inexpensive and easily found. Also, CapStar for fleas (generic nitenpyram) is easy to find, and for a bad case will start killing the fleas in less than an hour. My secret for saving on it is to buy it on Amazon in a strength for large dogs and use a pill cutter to make it the right strength for my three small pets.
They Have to Eat
Pet food and treats can be expensive but there are a few ways to save money on them as well. Coupons are always a great way to save if you can find them for the brand you use. My favorite trick is setting up a subscription delivery. I feel like it's a double win since I save some money and don't have to lug food home. Amazon Subscribe & Save is the biggest one, but there is also Chewy.com or Petco. I won't go into the best brands to buy, it's hard to recommend one. I have used this rating site several times to check the quality of a brand I am considering. Knowing the quality of a food helps to determine the value of it in my opinion.
Get More Quality Time with Your Furry Friends
Like I said in the beginning, having a pet is having unconditional love. Pets equate attention with love, so they love it when you spend time with them. Have BillCutterz get you some extra time by negotiating your bills for you. It only takes a few minutes to sign up, and then you can relax and enjoy some cuddles or playtime.