4 Lazy Ways to Save Electricity with Technology
Posted on April 27, 2018 by Laura Myers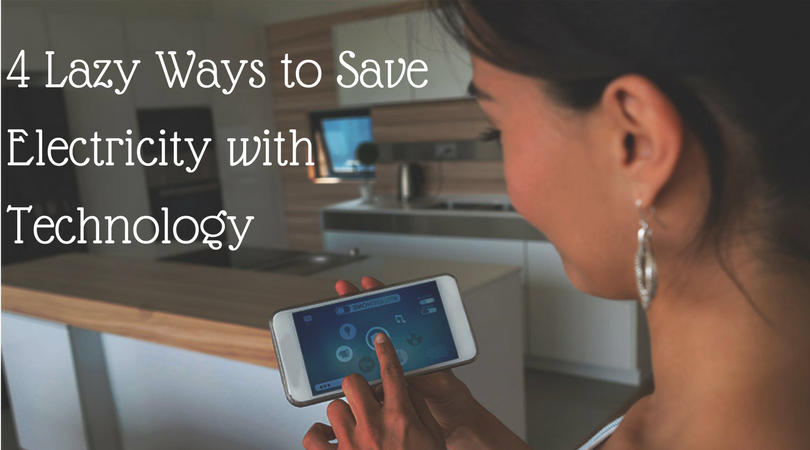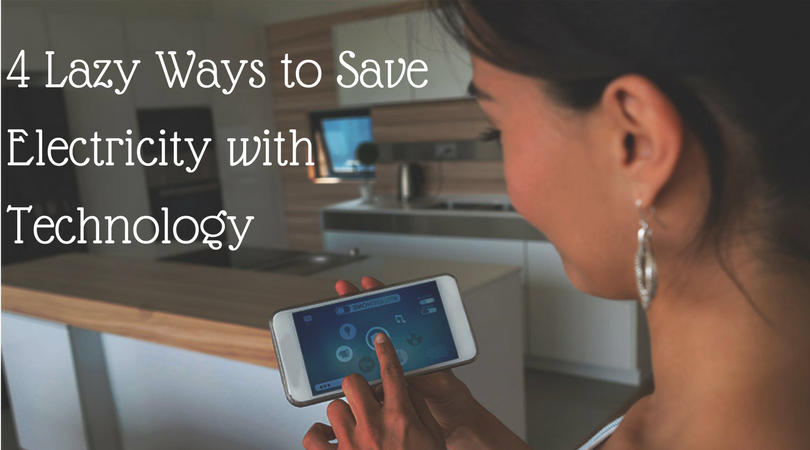 I freely admit to being lazy sometimes and finding easy ways to save electricity makes me feel a little better about it. In the past 5 years, there have been so many cool advances in technology plus prices have come down on the gadgets. Here are my favorite 4 and a bonus lazy life hack that has nothing to do with saving electricity.
Smart Thermostats
The first one was the Nest, and it is still what most people think of first. It is Wi-Fi connected and has a smartphone app or works with Alexa, so you can adjust the temperature without getting up or even being home.  It ranges in price from $170-250. Sensors to track the temperatures around the house are available at an additional price.
The new kid on the block is the Ecobee and it also starts at about $170, has a Wi-Fi connection, and is Alexa compatible (more on her later). Ecobee also has add-on room sensors so you can monitor the temperature around the house. My bedroom gets crazy hot in the afternoon, so I turn my thermostat down at night so it's comfortable to sleep. Having a sensor in there would help me know when to adjust it earlier in the day so the A/C doesn't work so hard.
Honeywell has a budget model that runs about $100 that also has Wi-Fi, Alexa, and a smartphone app. Reviews say it isn't as intuitive or flexible as the other two brands, but it's a fine budget choice. Reviews on all three brands are available here.
Smart Outlets
I remember thinking that having a remote-control outlet was an amazing idea, you could turn off a table light after you left the room. Now you can get outlets that are Wi-Fi enabled and can be controlled from anywhere! There are many brands out, too many to list here. You will want to make sure that you pick a brand that is compatible with your home hub (Alexa, Google Home or Apple HomeKit). While vacation is what comes to mind for remotely controlling outlets, I would make sure my iron was plugged into one. I can't count how many times I had to go back home or get a neighbor to check that I'd turned mine off before leaving the house.
Smart Lightbulbs
Sometimes you can't use the smart plugs, for instance in a floor outlet. So smart light bulbs to the rescue! You can turn them on/off, dim them, and some even have different colors built in. You can set them up to work with security systems or thermostats as well. Details and reviews are available for some of the main brands here.
Home Technology Hubs
Hubs have dropped considerably in price since they were introduced. For instance, the Echo Dot was $100 when it was first introduced, but it is now $50, and regularly goes on sale for less. If you aren't familiar with the Echo, it is the bottom of the line Alexa device from Amazon. Almost any Amazon device with a speaker and Wi-Fi can control each other, so consider that when picking your home technology. Alexa hubs range from $50 – 230 for the fanciest models.
Google Home is very similar to the Amazon system, but adds the Google Assistant app, so it can do more if you are a Google fan. Google devices range from $50 – 130.
Samsung makes a hub, and it consistently gets good reviews for price and ease of integration. It runs about $100 and has the advantage of being able to connect to the largest number of devices.
Apple HomeKit can be controlled by the Apple TV device and your Siri app on your iPhone. It's the most expensive of the group at $200. If you are already a user of Apple products, it might make the most sense for you since it will integrate seamlessly with other Apple devices. Reviews of the best smart hubs are here.
Bonus Lazy Technology
Smart doorbells with built-in cameras are the best thing for lazy people. You can see who is at the door without getting up. They are also Wi-Fi enabled so you can see who is at the door remotely, my neighbor uses hers to monitor when packages are delivered so she can ask me to go grab them if they are large. Ring is the main brand; the basic model is about $100. Reviews and information about other brands can be found here.
Reduce Energy Prices
Here in Texas, BillCutterz can help you get the best rates on electricity. It only takes a few minutes to send us a copy of your current bill. We don't charge you anything for the service, you get to keep all your savings!