Thrifty Gardening Tips
Posted on February 24, 2017 by Laura Myers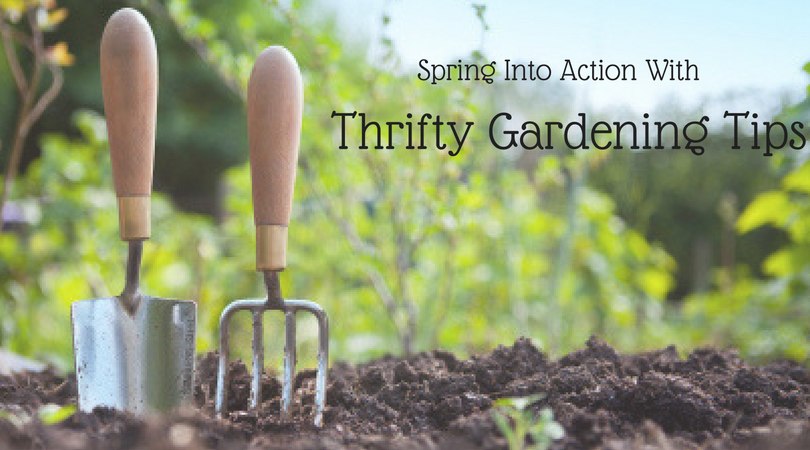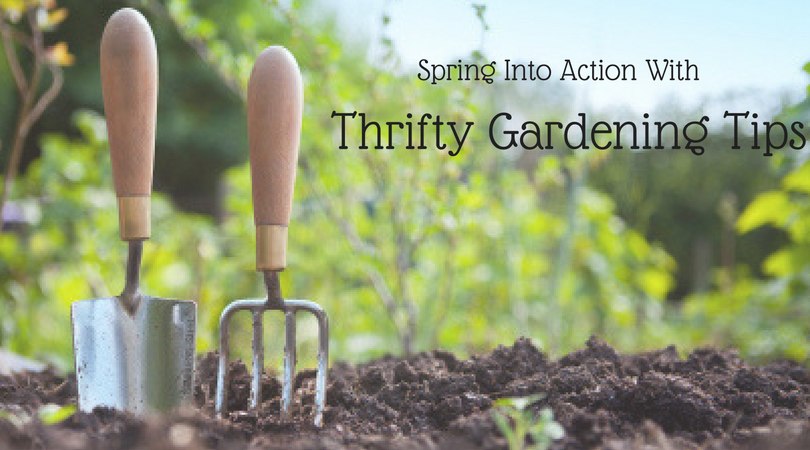 The early start to spring all over the country has a lot of us thinking about gardening. I want to fill in some gaps in my flowerbeds, and I need to weed, mulch, and replace a walkway. All of this can be expensive, so I have been looking for thrifty gardening tips to get the most for my money.
Weeds are Taking Over!
Sure, you can pay for expensive chemicals to kill weeds or get down on your knees and pull them. Another option is to smother the weeds, and there is an easy and inexpensive way. All you need is your old newspapers and some mulch. Cut the weeds off as short as possible, then layer newspaper on top, making sure to overlap the layers. I use at least four layers and wet them with a hose as I go. Then spread a thick layer of mulch on top and it's done. Not only is this easy and inexpensive, it's good for the environment to skip chemicals.
Controlling Weeds in Your Lawn and Garden
A healthy lawn is the best defense against weeds. This doesn't necessarily mean spreading chemical weed killer and fertilizers on the grass. Simply watering it for optimal growth and keeping it mowed will choke out most weeds. Spreading an organic mulch such as well-composted manure in the fall is inexpensive (or possibly free if you have friends with horses) and will enrich your soil in your garden beds, but it isn't recommended for grass unless you make  "manure tea" and spray it on.
Speaking of Mulch
Mulch can be pricey, but it doesn't have to be. The cheapest option is often your city; many places mulch the tree branches they collect and offer the resulting mulch free to residents. A word of caution, however, is to avoid mulch with lawn clippings in it, there will be weeds in it! The next best option is bulk delivery if you need a lot. If that is too much for your needs, you can share with a neighbor or two.
Plants are Everywhere
A thrifty way to add plants to your garden is to divide existing plants or get divisions from someone else. There are many plants that are "pass-along" varieties; some favorites of mine are hostas, irises, lilies, crinums and crape myrtles. Starting with small divisions is nice because the holes needed for planting are also smaller. There is a saying about plants that first they sleep, then they creep, then they leap. This means that at first, you won't see anything happening, then you'll see slow growth, then they will take off and get big. Another way to get plants is to look at the clearance rack at your local garden center, often the plants are a great value. Don't be scared off by ugly plants, if they are still alive you can nurse them back to health.
Seeds are the thriftiest way to get new plants, and now is the time to start them. A packet of seeds at the garden center ranges in price from less than a dollar to a few dollars for some rarer varieties. There are also some bulb varieties that are for spring planting in stores now.
Contain Yourself
If you plant in containers, you don't have to replace the soil every year. Refreshing the soil can be done in two ways, either by purchasing a special product to add to each container or by adding compost to all the soil at once. To do that, you will need a large tub to dump all the soil into, then you can put the refreshed soil back into the containers to fill with new plants. Here is a link that explains it in more detail.
Hardscape Isn't Thrifty
Putting in a walkway or patio isn't cheap, but you can do it on a budget. The most affordable way is to do it yourself and shop around for supplies. A walkway to your front door from the driveway is nice to have, and a simple path of pavers is inexpensive to install. Before you start, walk it off and count how many steps you take. This will give you an idea of how many pavers you need, and where to place them. Basic paving stones can be purchased for a few dollars each, or you can make them yourself with a mold and some concrete.
Enjoy Your Garden
Let BillCutterz do the indoor job of reducing your monthly bills so that you can get outside and enjoy your gardening!