December Shopping Tips
Posted on November 25, 2016 by Laura Myers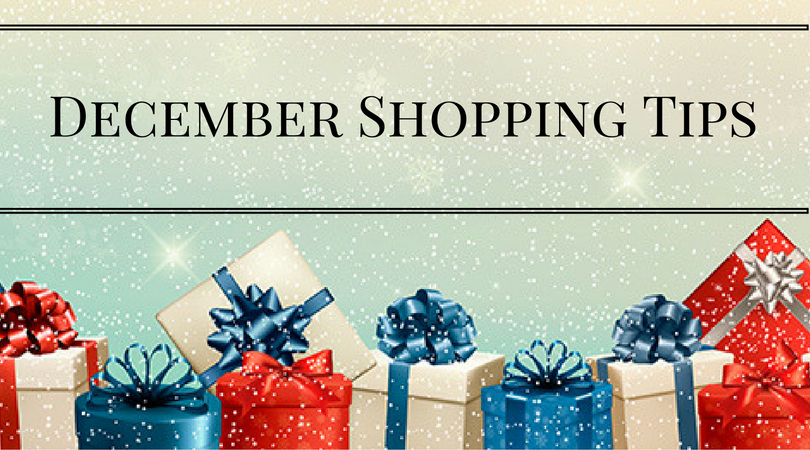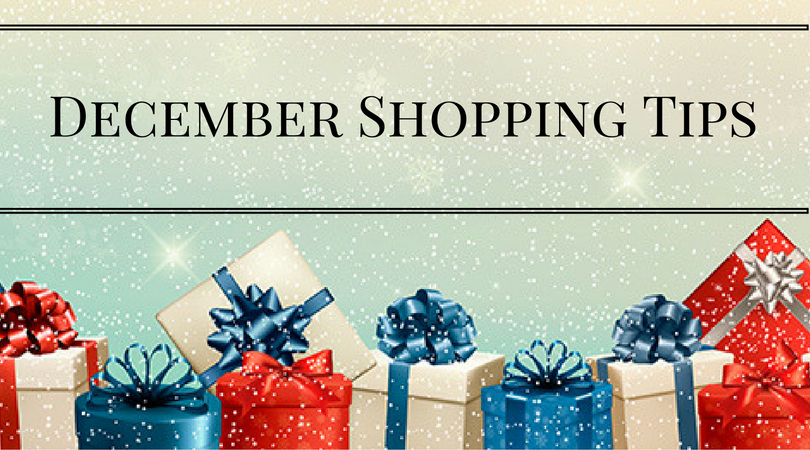 Christmas and Hanukah will be here before you know it, and it can be a hard season to stay focused on your budget. We have taken the time to round up some shopping and gift giving tips to help you stay on track.
Plan Your Gift List
The most important step is to make a spending plan for the season. Write down everyone you feel the need to give a gift, and your total budget. Then decide how much to spend on each person. This might be a great time to talk to your family about doing a Secret Santa drawing or limiting gifts to kids only. Getting one or two great gifts is so much more fun than a bunch of random things in my opinion. To keep it as anonymous as possible, and to give hints and ideas, Elfster (link) is a great free website.
What are the Bargains in December?
Toys
Strangely, toys are often on sale in December, mostly during the middle two weeks. This year that is the weeks of the 4th to the 18th or so. Take your time and do some comparison shopping before you head out. Sometimes you can get the best price online, or even better, you can buy it for pickup at a local store. Target does this, as well as Wal-Mart, Kmart, Kohl's and many others. Doing this will save you time and money, if you don't have to wander through a store, you won't be tempted to buy extra things.
Tools
If someone you know, yourself included, has been looking for a good set of basic tools, December is the best time to buy them.   Keep your eyes out for basic tool sets, drills, wrenches, and other basic items.  Small tools, such as 6-in-1 screwdrivers make great stocking stuffers! Home Depot and Lowe's both offer order ahead services to help save your precious time.
Gift Cards
Many restaurants offer a bonus gift card this time of year when you buy multiples. Then you can keep one for yourself, or have a smaller gift to pass on to someone. Here is a list of places offering deals this season.
Holiday Decorations
Retailers put out the holiday decorations so early that by December they are no longer selling well. This means they will go on sale soon to make room for the next seasonal items. Mid to late in the month is when to start looking for markdowns; if you need an artificial tree, either Black Friday or the last few days before Christmas are the best times to buy one.
Magazines and Books
If you have a reader on your list, books or a Kindle with a subscription to Kindle Unlimited is a great splurge gift that will last long after the holidays. Or right now, Time, INC has a $5 sale on many of their magazine titles through December 2nd.
Cars
December is a great month for a new car. Manufacturers are ready to be done with the current model year, and you can negotiate amazing prices. There can be a few tricky parts to buying a car; thankfully, here at BillCutterz, we've made it simpler for you. You can get 4 of the best free, no obligation quotes on an auto loan here. You can also use a payment calculator to estimate monthly payments based on interest rates and the total loan amount. For more tips on car buying, here is a previous post on the subject.
Saving Money is Always in Season
There are lots of great deals during December you can take advantage of. Take note of what we've listed as the best things to buy in December and you'll run into no trouble. Have a Merry Christmas and Happy Hanukah from all of us here at BillCutterz!