Tips for Buying, Selling, and Trading In Vehicles
Posted on October 14, 2016 by Laura Myers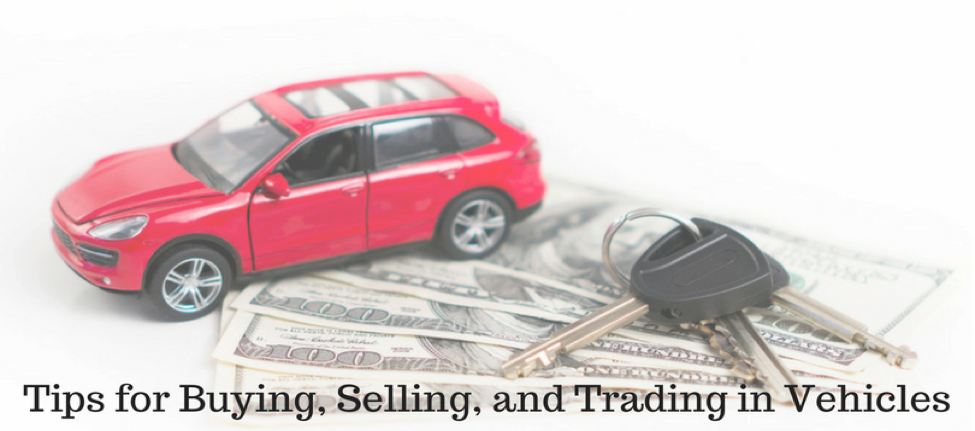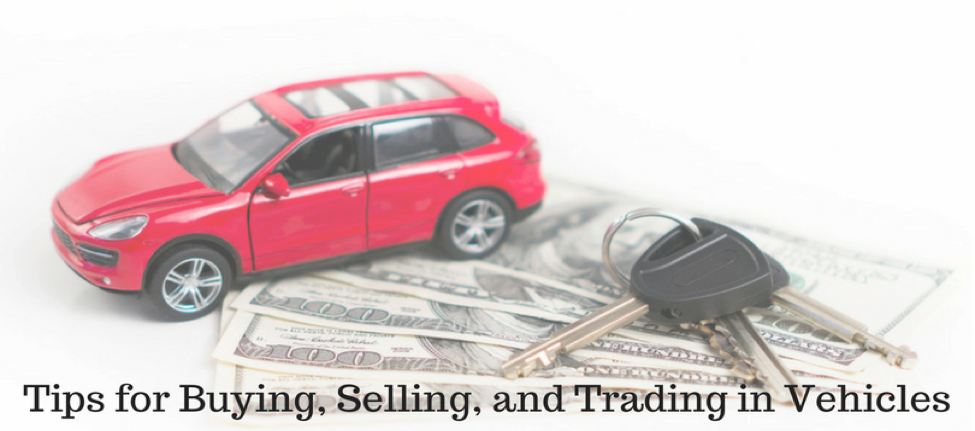 Buying a new (or new to you) car is exciting and nerve-wracking, but Billcutterz is here to help. We have collected some of the best tips from around the web to help you get the best deal possible. There are also some ideas here to maximize your trade-in or outright sale of your old vehicle.
Budget First
Yes, budget is a scary word, but it is the most important first step for any major purchase. You need to know what you can afford to spend on transportation before you commit to a loan. Obviously, the monthly payment is the main issue, but you also need to account for fuel, insurance, registration, repairs and maintenance. A smart budget doesn't allow for more than 20% of your take home pay for transportation costs.
Here are some average total costs for the 5 main classes of vehicles in cents per mile. A yearly average depreciation and finance charge is included in the calculation, but the price of the vehicle itself is not. As you can see, the price per mile goes down as the annual mileage goes up, but more miles mean a higher total annual cost.
| | | | |
| --- | --- | --- | --- |
| Annual Mileage | 10,000 | 15,000 | 20,000 |
| Small Sedan | 57.4 | 43.9 | 36.9 |
| Mid-Size Sedan | 75.8 | 57.4 | 47.8 |
| Large Sedan | 93.1 | 69.9 | 58 |
| SUV | 90.5 | 68.4 | 57.3 |
| Minivan | 82.1 | 61.8 | 51.5 |
If you would like to see the calculations for this or figure it more specifically to your own vehicle, here is the worksheet.
What Meets Your Needs?
Now that you know what you can afford to spend, you need to decide what meets your needs. Some things to take into account are how many people do you need to seat, climate, activities, and cargo capacity desired. For instance, if you are single, live in a moderate climate, and don't travel, you should be fine with a small sedan. On the opposite end of the spectrum would be a family with several kids who takes long vacations and camps. They would be served better by a minivan or SUV.
Research Brands and Models
Now that you know what kind of vehicle you want, you should narrow it down to a few options. A smart way to do this is to research reliability information and then decide what vehicle you want. Style is very important to some people, and not to others. Keep in mind that the fancier looking vehicles often come with a higher price tag and options add quite a bit too.
As you are doing your research, you can start to decide what options you want, often getting a package will be the right choice. Take your time at this point, this is a large purchase and you should expect to keep a car for quite a long time. For me, I want a blend of style, reliability, and fancy options. My SUV was very fancy when it was new, and 12 years later I still love it. Mine came from CarMax, it was about 2 years old so the new car depreciation was already done. I expect it to last me at least 3 or 4 more years, so I feel like it was a good choice.
Get Your Own Financing
If you show up at a dealership with your own financing in place and have already researched the vehicle you want, you will have more bargaining power. Often the salespeople will try to find out what you want to pay per month so the finance department can structure a loan. This is the worst possible scenario!
How to Deal with Your Current Vehicle
Many people will pass their vehicle on to a child or other family member. If you don't plan to keep it there are several ways to dispose of it. Obviously, a trade-in is the simplest method and a great option if you have a desirable vehicle for resale. However, if it's a good candidate for resale, perhaps you want to sell it yourself. To get an idea of value for trade-in or selling, check the Kelley Blue Book site. There is a great value estimator there. See Carvana, they deal with used cars. Once you are armed with that information, you can decide how to proceed.
If you choose to sell your vehicle yourself, there many ways to maximize your price. Start with a realistic description. If you have a high mileage vehicle, perhaps note that and explain the highway miles as opposed to city driving. If you have maintenance records, that is a plus. And last of all, make sure the vehicle is as clean as you can get it, including the engine. Just like selling a house, cleaner is better.
Another way to sell a car is to take it to CarMax and get a no obligation quote. This might net you more than a trade-in, but less than selling on your own. The lack of frustration might be worth the difference in money, though.
Final Thoughts
Fall is a great time to buy a new car, the manufacturers are introducing new models and model years. This means they are likely to be marking down the previous year's models and stock. Go in armed with your own financing, know what you want to buy and what your maximum price is, and be aware of the hidden costs like insurance and maintenance. There are tons of discounts available for insurance when buying a car. While BillCutterz can't negotiate the price or financing for you, we are always happy to help you save money. Visit our blog for other money-saving tips, and follow us on Facebook and Twitter.