Creative Ideas for an Affordable Father's Day
Posted on June 13, 2016 by Estefan Tovar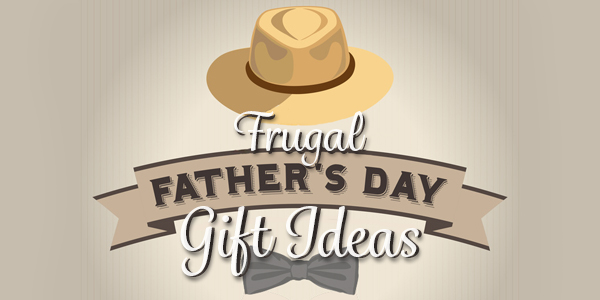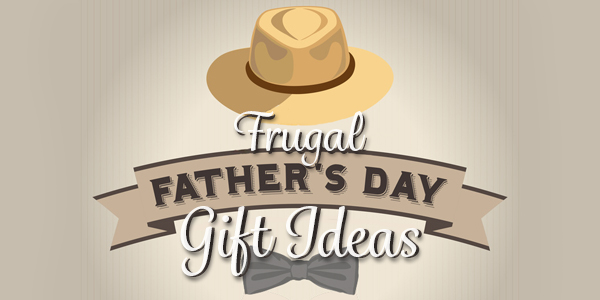 It's a week from Father's Day now and BillCutterz wants to help you be creative, thoughtful, and maybe even give a last-minute idea if you need it, all while being affordable. Dads are often underappreciated, so why not do something special for him this year instead of the usual store-bought mug? Don't forget, it's not about how much you spend, but how much thought you put into it that matters! We have a large list of creative and affordable gift ideas, along with some things you can do for your dad this Father's Day.
Do Things for him
If you've run out of time or just can't afford it right now, showing your dad you care by helping him around the house is a very frugal and cost-less way of doing so. Here's a list of ideas that can help you on this Father's Day:
King for the Day
From daybreak to bedtime, designate him to be king for the day! This idea is very simple and fun for everyone involved. Make him his favorite breakfast, lunch, and dinner. Do activities that he wants to do, whether that's relaxing on the couch or playing outside, let the king decide!
Give Dad a well deserved rest
For the dads that work too hard, having someone else do housework or labor intensive chores (like mowing the lawn) can be the perfect gift. If he has his weekly chores to do, do them for him by yourself or with the kids! Let him have the weekend off to relax. Doing his chores will not only give him a break, but will also put all that he does into perspective for you and the family.If your dad is stubborn, do it while he's out (maybe send him on a fishing trip). When he gets back, it'll be a nice surprise!
Give Him a Project
Some dad's are busy bodies and enjoy doing work or have a crafty hobby, give him a nice project to do. He probably already has his garage filled with tools and carpentry items, buy the supplies he needs to make something! If you're not sure if there's something he wants to make, think about what he may need around the house, maybe a new dresser, coffee table, or even a bookshelf. Here's some woodworking plans for the supplies you will need and go get it for him (not to mention it's much cheaper to make something, than to go buy it from an expensive furniture warehouse store). To make this even better, help dad with the project, he'll enjoy spending time with and teaching those that he loves.
Take Photos for His Desk at Work
Everyone loves to have a picture of their loved ones sitting on their desk at work, especially dad. You can really have some fun with this by yourself, with your siblings, or with your kids. This is a very frugal gift, because all you have to do is take the pictures then edit, print, and frame them so he can put it on his desk. Feel free to check out these creative tips to taking pictures for dad.
Make a Surprise Visit
If mom and dad are empty-nesters, make a surprise visit home for Father's Day! The best gift of all is to be with loved ones, so take a trip home and hangout with pops in the recliners, outside, or at a game!
Cook his Favorite Meal
Everyone has their favorite home-cooked meal, make his for Father's Day! Whether it's breakfast, lunch, dinner, or all three, putting the time and effort into making him a home cooked meal will definitely make him happy. If you aren't sure how to make his favorite meal, here's a good place to start for recipes. Grab the rest of the family for a quick meeting to compile a list of what's needed to make it great, see what you have at home and what you will need to buy, then make a quick trip to the store to make sure it's all accounted for.
A Kind Thought Goes a Long Way
In the few days or weeks leading up to Father's Day, jot down your favorite things that you love about your father when they come to mind. Maybe it is something he has done for you recently, something he may have got you and how much that meant, or simply what an amazing role model he is. A couple of days before Father's Day, take the necessary time whether it be 10 minutes or 1 hour and craft a well written and heartfelt letter to him about why he is the best dad in the world to you.
Take Him Out
Round up your mom and the siblings, take him out for a day filled with fun activities you haven't done since you were kids! Take him golfing (maybe putt-putt), fishing as a family, go to the beach, or catch a movie. He'll appreciate the quality time he gets to share with the family. With how fast time passes, we don't seem to get enough moments like that.
Get Creative
Some of us like to make things by hand, as it can be much more personal and meaningful. Many men prefer this kind of gift as it shows thought and time were put into it for them, often it's even better than a store-bought gift! Here's some creative and affordable ideas for gifts:
Make a Card
Cards are the obvious holiday gift-giving starting point. Rather than going to the store to buy a Father's Day card, make your own. The options are endless and this gives you a chance to get really creative. Whether you are designing a card for dad or have kids to help you, get your creative cap on! Here are some great ideas to help you get started
Decorate a Mug
Instead of buying an ordinary mug, decorate a plain one that he can take to the office everyday! If you're an adult or having your kids do it, this project is very fun and cost friendly. Here is a list of a ton of great ideas with step-by-step directions
Create a Stepping Stone
This idea is primarily great if your dad spends a lot of time outside. A stepping stone is the perfect gift for him to see every day and help him get around the garden. It's particularly fun for the kids, because they get to dip their hands and feet into mud while decorating the stepping stone with marbles and rocks. Check out this guide to making your very own stepping-stones!
Customized Golf Balls
If your dad's an avid golfer, buy a dozen plain golf balls and spruce them up with some sharpie markers. Unleash your inner artist and color the golf balls with his favorite team's colors and mascot, draw caricatures of your family, or simply write out their names (it'll be fun to see who brings dad the most luck out on the course). Have some fun with your kids and let them decorate as well.
Gift Basket for the Cook
If your dad likes to cook, whether it be in the kitchen or on the grill, a gift basket of cooking supplies would be a welcome and inexpensive gift. Wal-Mart, Home Depot, and Lowe's all have grilling supplies on sale during June. You could also include things like meat rubs, homemade salsa, barbecue sauce, spices, and more.
Create an Awesome Dad Website
Using Wix, Weebly, or any other free website maker, create a site about how much your dad means to you. This is a new alternative to the old-fashioned Great Dad card or list.
Make a Homemade Calendar
Using Excel, you can easily make a 12-month calendar for your dad with your home computer and printer. You can download calendar templates from Microsoft and personalize them with your own photos.
Decorative Picture Frame, Box, or Jar
You can pick up a bare photo frame, wooden box, jar, etc. from any craft store and decorate it for your dad. Even if you have to buy paint, you're looking at a great customized gift for under $15.
Small Gifts
If you're short on time or just not very crafty, we've come up with some gifts that many Fathers would enjoy, while also keeping in mind time constraints and affordability:
Make a Photo Book
Sites like MyPublisher and Shutterfly allow you to create a hardcover storybook of your memories with Dad! Take a walk down memory lane and share each special moment together all over again.
Tip: If you're pressed for time put the photos into a slide show in PowerPoint, put a song in the background (one of his favorites or one you dedicate to him), and you've got a very thoughtful (and free!) gift.
Liquor
If your dad enjoys having a drink at the end of the day, getting him a nice bottle of liquor might just be the perfect gift, it's almost guaranteed he'll love receiving something he can enjoy regularly. Make sure to know his liquor of choice! A lot of connoisseurs divide themselves between scotch, whiskey, or bourbon, while others are into craft beer or tequilas. Ask around the family or take a look at his personal collection to get an idea of what he likes and might need to restock on.
High-Quality Knives
It's okay if you can't afford to waltz into Williams-Sonoma and buy dad a new set of Shun Ken Onion knives, but starting a new set for him could make his day. It also gives you an automatic list item for future holidays! Why not start with one good chef's knife and maybe add a butcher block if there's a sale. If your father knows his way around the kitchen, he'll appreciate your thoughtfulness and will be looking forward to the next installment of his collection!
Cast Iron Cookware
Many men have come to love a cast iron skillet. You may have heard stories of men who guard their well-seasoned pan and won't let anyone else cook in it, does this sound like your dad?The coated versions are heavy, durable, and low-maintenance. If your father loves to cook, this could be a great last-minute gift.
Portable Speaker
A trip to Best Buy on the Saturday before Father's Day can feel as overwhelming as Black Friday if you aren't sure what to buy dad. A great idea is a portable speaker that wirelessly connects to a smart phone. Dad can put the speaker in the garage, on the patio, or anywhere else he wants to jam. It's best if you know which model of smart phone he has to ensure compatibility. Most speakers will be usable with IOS or Android, but it's better to check the box. Don't forget the batteries!
Coffee Gifts
If your father likes coffee and you know his preferences, there are a dozen gift ideas that will hit the spot. Does he need a new coffee maker? Traditional ones are fairly inexpensive. Even Keurigs aren't excessively pricey anymore. Could he use a new set of coffee mugs? A package of his favorite Starbucks or Dunkin Donuts whole beans? Maybe just a coffee gift card. There are many last-minute "coffee gift" options and most of them won't cost much money.
Food Dehydrator
Does your dad like beef jerky? Food dehydrators generally cost between $50-$100 and are a great way to help dad make his own jerky at home. Making jerky can be something new and exciting for your dad to take up as a hobby.
Entertain Him
Does your dad love TV and Netflix, but hasn't caught onto the TV accessory craze yet? For $100 or less you can hook him up with an Apple TV, ROKU, or Amazon Fire TV. Even if he's not tech-savvy, it's easy to set up, use, and can improve his entire TV viewing experience.
Personal Health Tracker
Is your dad into fitness? Maybe he might need to start monitoring his health more? A personal health tracker like an Apple watch, Fitbit, Jawbone Up, or Samsung GearFit could be just the thing to help keep him in shape.
Get Dad a Nice Tie
If all else fails, get him something to add to his wardrobe! Many department stores will be running Father's Day specials so you can find ties and tie sets on sale at great prices. If your dad isn't one to wear ties, leather belts are likely to be on sale around Father's Day too!
We enjoy saving money here at BillCutterz, so if you have any other ideas or questions feel free to share in the comments below. Don't forget to visit our other blogs for upcoming holidays and tips on how to save money!