How to be Less Stressed in 2016
Posted on January 8, 2016 by Lucinda Nutting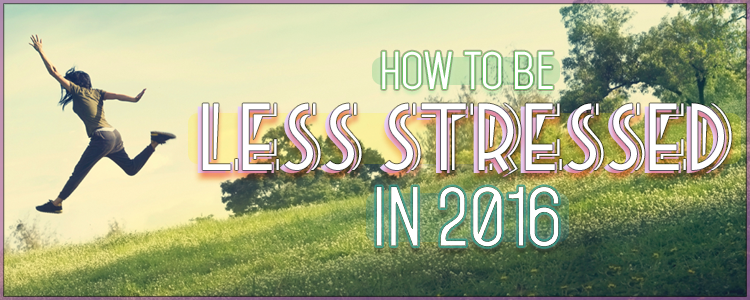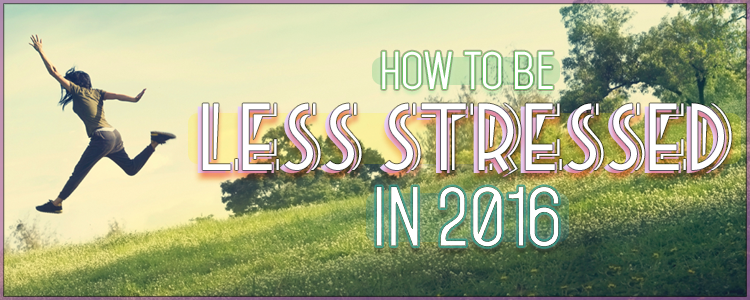 Every single year people make new year's resolutions and try to install them into their personal lives. If you've created a resolution it may be to lose weight and/or eat healthier or maybe even find more joy or draw a picture everyday; each resolution is different and means something different to each individual. The stigma that goes along with the start of a new year and making/keeping a resolution can be very stressful. We feel accountable to the resolutions we set, only to be very hard on ourselves when we have one slip-up. The entire process of keeping your resolution can be more stressful than anything else. We are always hardest on ourselves!
A resolution each person should set for themselves is to be less stressed. With our busy lives, it seems impossible to be able to give ourselves a break and do away with the stress. The good news is there are little things you can do on a daily basis (or here and there) which will help eliminate at least a part of the stress you find yourself having. Both your body and your mind will thank you after you learn how to be less stressed in 2016.
Go to Bed Early and Rise Early
You've heard this one a lot, but it can make a huge difference in your day to day life. By going to bed early, you give yourself a chance to ease into relaxation by listening to calm music or read a book. Get out of the habit of watching TV right before you try to go to sleep. Watching TV right before bed keeps your mind active, thus making it much harder to fall asleep.
By waking an hour or two earlier, you give yourself time for "you" in the morning before your day starts. You can exercise, make a nice breakfast, drink coffee, read, or simply have time to be with yourself and reflect on the day ahead of you. How our day goes is based upon the first hours of being awake. By waking early and having a calm and relaxed morning (instead of rushed and stressed) you pre-set your mind for the day in a calm manner and are more prepared for what lies ahead, thus eliminating a lot of unneeded stress.
Exercise
Exercise is the BEST way to stay healthy, both physically and mentally. It's so very important to get our heart pumping and our bones moving every day. You don't have to drench yourself in sweat every day, just make sure you get some kind of exercise. The options are endless; go for a run, walk the dog, do yoga, ride your bike around the neighborhood, swim. By giving your body the exercise it needs, it works much more efficiently which translates to your brain working more efficiently, causing you to be less stressed.
Make Pre-Made Meals
A big reason why a lot of people eat out instead of cooking dinner at home is because of time constraints. Most of our evenings are full of things to do, most of which must get done before we go to bed. Preparing, cooking and cleaning up a meal can take a good chunk of time out of our evenings. A great way to resolve this problem is to make pre-made meals you can pop in the oven or put in the crock pot in the morning so you come home to dinner ready to eat. The first step to making your evenings easier is to put aside one or two Saturdays a month, get a deep freeze and shop for groceries. Here is a great list of make ahead freezer meals with instructions so there's no confusion. Aside from dinners, you can make ready-to-eat breakfasts and lunches (to help you stop eating out every day on your lunch break).
Plan your Week
Knowing what meals you'll be eating each day of the week removes a lot of stress from your evenings.  At the beginning of each week, take a look at what ready-to-eat meals you have in your freezer and write down what you'll be eating every day. Planning out your week can go much further than planning out what you'll be eating. If you need an oil change or the dog needs to be taken to the vet, plan it in advance; put it in your calendar on your phone and don't worry about it until then. By planning your week, and physically writing down when you need to take care of different tasks, you do away with unneeded stress.
A super easy way to plan your week out is to make a visual organization wall. Get your hands on a large framed cork board or dry-erase board to hang on a corner of your wall (preferably by the front door or in your home office). Write down your meal plans, tasks and the due dates, bill due dates, and whatever else you need to remember. You could have a letter holder for mail and bills. If you have children, have a schedule of important dates written down for sport events, band practices, etc.
Get You Time
Each of us needs time to ourselves to just breathe and have a break. Make sure to get 20 minutes a day to be alone and by yourself. This could be in the morning, evening or sometime in between. For some of you, 20 minutes is a lot of time to try and fit into your daily schedules, but it is so crucial to give it to yourself. Just a little time to have a break, breathe and relax can do great things for the mind.
Get a Hobby
Doing something you love on a regular basis is a great way to keep your mind healthy and alleviate some stress. Crafting, reading, gardening, hunting, playing a sport, playing an instrument are just a few things you can do rather than watch TV or stream social media every night. A new and popular trend adults are doing to alleviate stress is to color in adult coloring books. There are tons of coloring books with beautiful landscapes, creatively drawn animals and even intricate mandalas. It's a great way to be creative and calm your mind at the same time!
Make an Inspiration Board
Aside from an organized board, an inspiration board is a great way to help you keep your goals for the new year. Similar to the organized board, get a board hung up where you would see it every day and put up lists of what you want to do/get done this year. For example, you can have a list of books you want to read this year or post pounds you want to lose during the next year.  If you want to set habits for yourself, write down "to-do" lists for morning or evening. For a morning list, you could write: eat breakfast, exercise, read or walk the dog. Whatever it is, the point is to see a visual list so you can use it as a checklist to have the morning you're content with. By writing a list down, you have something to look at and use as a checklist to instill habits into your life.
The turn of a year holds great opportunity to do new things in your life. Don't let the hype and stress of holding to these resolutions take control. Take a weekend to think about what you want to accomplish this year and make a plan to accomplish those goals. Create an organization station, wake up early, get a hobby or something to make you a better you this year.  No matter what your goals are, make sure to be less stressed in 2016 before anything else. A stress-less mind flows into all areas of life.
Have any other tips to be less stressed in 2016? Let us know!