The Best Things to Buy in December
Posted on December 4, 2015 by Lucinda Nutting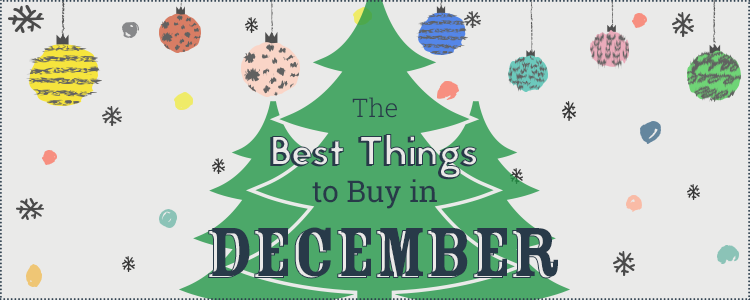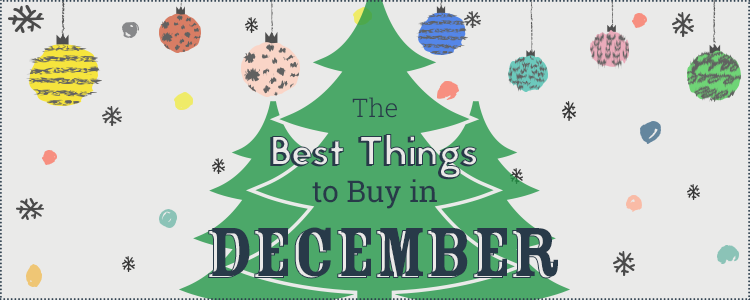 Christmas is fast approaching, meaning absolutely everyone is scrambling to get last minute gifts. With all the tasks associated with Christmas (decorating, hosting, shopping, so on and so forth), everyone's December is full of to do lists and shopping lists. With so much going on, it's easy to buy something over-priced or even miss the sale of a lifetime! Lucky for you, we have compiled a list of the best things to buy in December, so you don't have to worry about a thing. Be sure and take note, so you don't miss out on any great deals!
Toys
This may seem like the worst time to buy children's toys, but not at all. If you're like every other last-minute shopper who has yet to buy toys for Christmas, then your time is coming up. The middle two weeks in December are the best times to buy toys (except for Black Friday of course). Surprisingly, during these two middle weeks, toys are heavily discounted by most retail stores. If you've yet to buy for the kids in your life, shop for toys from December 7-18 of this year. Definitely be sure to avoid shopping the week of Christmas! Retailers take away all the deals for desperate shoppers who wait until the very last minute to shop.
Gift Cards
Lots of stores offer promotions for free gift cards during December. When you purchase a certain amount at checkout, a lot of retailers are offering a free gift card in return. Sometimes the gift card is $5, but it goes up from there. You can find a great list of "buy one, get one" deals here. A really great deal, which can double as awesome Christmas gifts, is this $100 HULU gift card you can buy for just $34.99. That's essentially a year of HULU for only $34.99!
Basic Tools
If someone you know, yourself included, has been looking for a good set of basic tools, December is the best time to buy them.  On average, the number of sales on tools goes up about a third higher than normal. Keep your eyes out for basic tool sets, drills, wrenches, etc. Small tools, such as wrenches, make great stocking stuffers!
Christmas Decorations
If you buy Christmas decorations anytime between the end of Halloween and Christmas day, you are going to be overpaying. The days following Christmas are the absolute best time to buy faux Christmas trees, lights, ornaments, decorations, etc. During these days, retail stores are sending all of their leftover decorations to the clearance section and are desperate to get rid of them. Make room in your storage closet for all the low-priced Christmas decorations you'll be stocking up on! Look at you go, you non-procrastinator you.
Fresh Christmas Trees
There's nothing better than coming home to the fresh smell of pine from your fresh Christmas tree. If you can wait to have a fresh tree, buying one December 20th through Christmas day is the best time. Sellers of Christmas trees usually start discounting them around December 20th. Most households like to have a Christmas tree in the living room the entire month of December; if this is you, then you'll want to pass on this deal. Cat owners who own a particularly wild feline, might only want to have to hassle with a giant cat toy (the Christmas tree) for five days; if that's you, then buy between December 20th through the 25th for a great deal!
New Car
Dealerships are scrambling to get rid of this year's models to make room for next year's models, thus making December a great time to buy a car or truck. There can be a few tricky parts to buying a car; thankfully, here at BillCutterz we've made it simpler for you. You can get 4 of the best, free, no obligation quotes on an auto loan here. You can also use a payment calculator to estimate monthly payments based on interest rates and the total loan amount. Once you've figured out a ballpark amount in your price range, get pre-approved for financing before you start shopping. This will give you negotiating power so you don't need to rely on dealerships for financing, and it lets you walk away from a bad deal.
Pools
Of course, this seems like a strange thing to buy in December, but it really makes a lot of sense if you give it some thought. No one is swimming in the winter, thus making it the perfect time to buy a pool, pool supplies, floats, etc. Pool retail stores lower their prices during winter months, because of course there are not many customers coming through the doors.
There are lots of great deals during December you can take advantage of, and lots of over-priced items you should stay away from during this month. Simply take note of what we've listed as the best things to buy in December and you'll run into no trouble. Have a Merry Christmas from all of us here at BillCutterz!
Can you think of any other items that can be added to our Best Things to Buy in December article? Let us know!