Tips to Mastering Black Friday
Posted on November 24, 2015 by Lucinda Nutting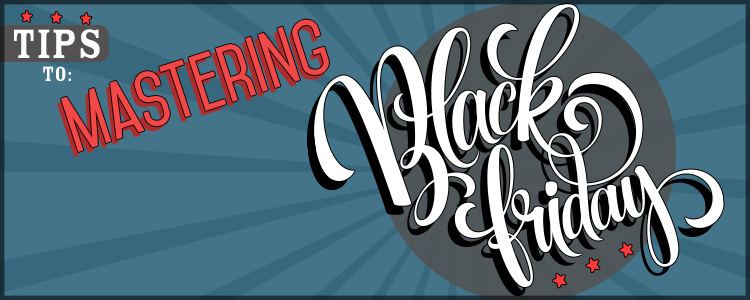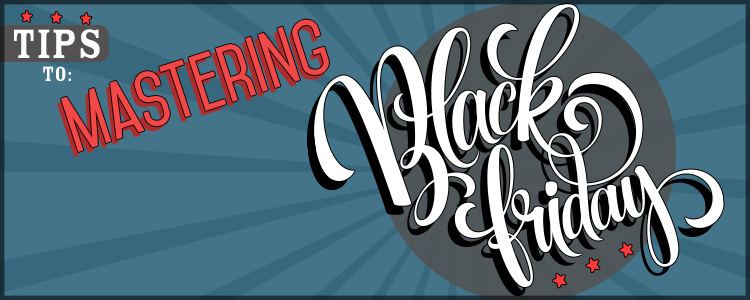 There's something very special about smelling all of the delicious food you and your family will be cooking during Thanksgiving day, knowing in just a few hours you'll have the opportunity to save on great deals for Black Friday. It's also great knowing you can eat as much as you want, because within a few hours you'll be burning all those calories from speed walking to the best deal (while trying to beat the stranger who wants the same item). If you're planning on going Black Friday shopping, whether a newbie or a pro, it's important to expect the unexpected. If you choose to stay home and do your shopping online during the weekend or Cyber Monday, you need as much of a game plan as you do on Black Friday. Be sure to keep our tips to mastering Black Friday nearby, so you can ensure you get the best deals!
Have a Game Plan
It's so important (for any buying situation) to know your budget, make a plan and to stick to the plan. Before Black Friday, do your homework so you know exactly what you will be buying, the price of the item and the store you'll get the deal from. As you enter each store, don't deviate off your path! There's going to be a lot of goodies screaming for your attention, just walk on by and pay it no mind. Know what you're going for in the store, and only buy what you planned on getting. It's also a good idea to layout the order of stores you'll be shopping and what times you need to get to each store. Print all of your coupons and newspaper clippings in advance, so when you're ready to leave, you'll have everything already together.
Cyber Monday
For Cyber Monday, there's going to be just as many lovely discounted items calling your name on each website you visit, just as on Black Friday. Stick to what you know you need and buy only those items. As we all know for the past few years, many stores have broken the unspoken Black Friday rule of having sales only on Friday. Now a lot of sales start the Monday before Thanksgiving and can go through Cyber Monday (or even the entire month of November). Whichever item you want to buy, monitor its price and plan when the best time to buy it is, so you know you'll be getting the best deal.
Giving Assistant
While shopping online, a great way to make sure you save as much money possible is to shop through Giving Assistant. They're a cash-back site that gives you a higher cash-back percentage than any other site. It's also the easiest cash-back site to use without any gimmicks or hidden fees. You get your cash back within a few days after your purchase is made, and you can opt for it to be directly deposited into your bank account.
Giving Assistant has partnered with tons of online retail stores so you can shop your favorite stores (which you already buy from) while getting a higher percentage of cash back! For example, if you logged into Giving Assistant and clicked their link to Walmart and spent $100, Giving Assistant would give you up to 4% cash-back. The best part is they make it super easy to donate part or all of your cash back to your favorite charity! It's free to sign up and there's absolutely no reason not to take advantage of such an awesome site!
Get Your Rest
After filling yourself on turkey, stuffing, casseroles and the likes, it won't be very difficult to fall asleep Thursday night. You'll need to get as much sleep as possible, because you'll more than likely be waking up anywhere from 11pm on Thursday to 5 am on Friday, depending on what stores you'll be shopping at. Also go prepared with water bottles, coffee and snacks to keep your energy up.
Don't be Dooped
Just because stores say you're getting a great buy or "THE Lowest Price," it doesn't always mean they're telling the truth. Check other companies' prices and bring in the competitors' coupons (usually stores will accept others' coupons). This can take up some time, but you want to be sure you're getting THE best deal. And remember, you don't have to spend money just because it says "Sale." Be wise, do your homework, and plan so you can keep control of your spending and budget.
Behave Yourself
We've all heard the stories of people getting into fights, being trampled, and shoved on Black Friday. Remember to remain calm, cool and collected, and remove yourself from a situation if it appears to be turning ugly. If you happen to run into someone acting ridiculous, just walk away. I assure you, getting into an altercation over an item is never worth it (even if it is the last dancing Elmo).
Keep Receipts
While shopping, remember to ask for a gift receipt for all the items you plan to give as gifts. Most of us have been in the situation where we didn't necessarily like a gift we received, but of course didn't say anything to the giver for fear of seeming ungrateful. If you're able to provide the recipient of the gift with an option to return the item (without facing an awkward conversation), everyone wins.
Mastering Black Friday is attainable if you set and stick to your budget, and execute your plan without giving into temptation. Don't let the stress of shopping affect your mood for the upcoming weeks, especially on Thanksgiving. Take a timeout and enjoy time with family first and foremost; then you won't feel guilty when it comes time to start your holiday shopping.
Have any other Black Friday or Cyber Monday tips? Let us know!