How To Make Amazing Meals On A Budget
Posted on October 19, 2015 by Guest Author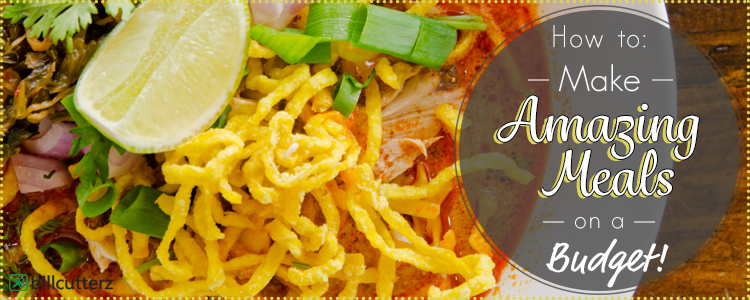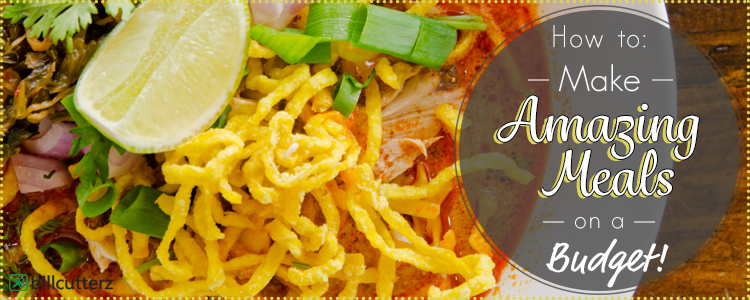 If you've perused the cooking section of your local bookstore lately, you may have been sent into cardiac arrest over sticker shock. Not only do the cookbooks themselves come with a hefty price, but buying the ingredients required for many of the recipes will require you to take out a second mortgage on your house. Or sell your first born. Or both.
The good news is that you don't need that wallet-denting cookbook. Nor do you require a slab of Kobe Beef, saffron, truffles, macadamia nuts or even edible gold. You CAN create amazing meals on a budget!
Become a Bean Fiend
The first step towards achieving cost-effective cuisine involves embracing foods that are traditionally inexpensive. One of the most versatile, healthy and affordable food items is the legume.
They are an excellent source of protein, making them a stellar replacement for meats. By boasting a substantial helping of fiber and minerals–while being very low in fat–beans offer a huge nutritional wallop for a minimal price. They can also be easily incorporated into a myriad of dishes.
Plan Your Route
Before grabbing a shopping cart and driving willy-nilly from one aisle to the next, you need to have a plan. The best way to plan a cost-effective grocery trip is to know exactly how your neighborhood supermarket is laid out and avoid budget-breaking areas and impulse item traps.
The first rule of navigating the grocery store is to stick with the perimeter. This will enable you to avoid the bulk of its costly and not-so-healthy processed and packaged foods. Plus, it will ensure that you fill your cart with fresh produce, meat and dairy.
According to The Food Network, the second rule is to focus on the top and bottom shelves, as higher-priced name brands are usually put at eye level.
Spice It Up
Seasoning is a frugal gourmet's best friend. Whether you are replacing meat with black beans and lentils, making a dish stretch by adding rice or using an inexpensive cut of beef, adding budget-friendly spices can transform a collection of ho-hum ingredients into a tantalizing masterpiece. Plus, as "Cooking on a Budget Doesn't Have to Be Boring" offers, dishes such as chili and chana masala will fill your home with the delicious fragrance of their spices, thus whetting appetites and satisfying dinner guests.
Check the Sales
Flipping through flyers, clipping coupons, and keeping an eye on billboard ads can save you a wad of cash. Plus, once you know what's on sale in your area that week, you are in a better position to plan a money-saving meal plan based on those deals.
Lifehacker's "How to Plan Your Meals When You're on a Tight Budget" also recommends using an inverted pyramid pattern. This means starting your meal plan with your biggest meal and working your way down, "adding new recipes based on what might be left over from the first meal." This not only gives you a logical starting point, simplifying the planning process, but it also prevents food waste.
Collect Budget-Friendly Recipes
Thanks to the internet, you can quickly locate a recipe containing almost any conglomeration of ingredients. Not only does this seemingly endless collection of recipes enable you to tap into your creative "inner chef," but it also makes menu planning a breeze.
Pinterest is a treasure trove of culinary ideas. The following websites are targeted to creating budget-friendly meals that taste great:  Budget Bytes, Brokeass Gourmet, Poor Girl Eats Well, Good Cheap Eats.
Yes, you can forgo costly cookbooks penned by celebrity chefs. And, yes, you can eschew expensive ingredients from foreign lands. By using your imagination and following a few tips from the frugal and wise, you can create five-star-restaurant-worthy dishes that will have everyone coming back for more.
What's your favorite inexpensive recipe?
Kimberley Laws is a freelance writer who thinks everything tastes better with peanut butter. Except liver. Nothing can help that. You can follow her at The Embiggens Project.