How to Decorate for Fall on a Budget
Posted on September 22, 2015 by Lucinda Nutting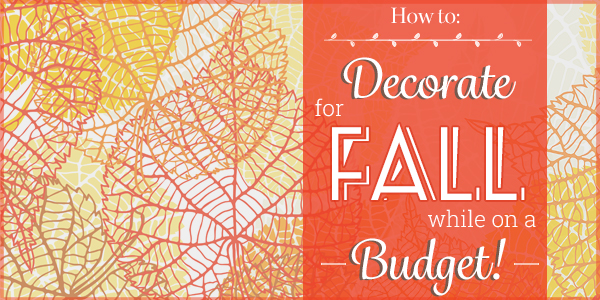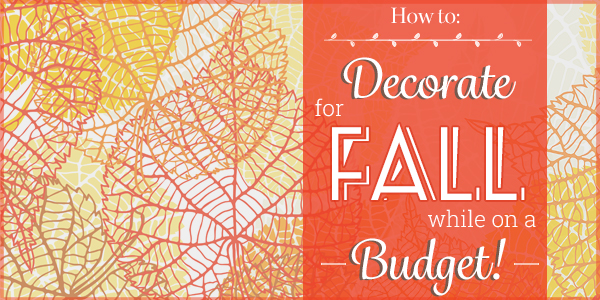 The comfy weather of the year is on its way and with it comes holidays, family traditions and pure happiness. This time of year invites the thick plaid blankets to be pulled out of the attic and warming fires in the living room. Pumpkins, fall colors and other warming decorations are a must to get into the full spirit of autumn. Store-bought decorations for any season are expensive; exactly why you should make your own decorations and save money! Follow these tips to decorate for fall on a budget!
Use the Same Decorations
The best way to cozy your home is to use the same decorations from September through November. There's no need to make or buy more decorations for Halloween and then again for Thanksgiving (unless your budget allows for it of course). If you use fall-friendly colors, pumpkins and leaves, you'll have almost all of your decorating down until December comes. For Halloween, carving pumpkins are of course a must; it also adds to your front lawn/porch decorations for the month of October.
Use Inexpensive Supplies
There are a huge number of decorations you can make with a few simple supplies. The small details are what really add the pizzazz to decorations (plus they're inexpensive). Before you start decorating, be sure to have the following supplies on hand: hot glue gun and glue sticks, burlap, ribbon, fake pumpkins of various sizes, fall leaves, pinecones and mason jars. To save even more money, make use of the leaves and pinecones you find outside. Pick the autumn leaves from outside and follow these instructions to preserve them for decorating. You can do the same for pinecones with these instructions.
Hunt for Supplies at the Dollar Store and Garage Sales
The dollar store has a lot of things you can use for your fall decorations, you just have to be creative. If you don't want to preserve your own leaves or pinecones, you can get them there. The same goes for ribbon, twine, glass vases, twine, candles and fake pumpkins. Don't go crazy just because it's the dollar store. Dollar items can add up quickly; only get what you need. Just like the dollar store, you can find a number of great decorations at garage sales. Keep your eyes open for pre-made decorations and things you can create into decorations.
Make a Moveable Centerpiece
There are tons of options when creating your main centerpiece. For most of the time, it could stay on your mantle or a table on your front entry way. Just be sure that it's moveable so you can move it to the table for Thanksgiving and family dinners.
Use Pantry Staples
Surprisingly, there are various dry goods in most pantries which are perfect for fall decorating. Various dried beans, lentils, split peas and popping corn make beautiful and frugal decorations when put into a vase or jar. Here is a great example of how to turn these staples into a centerpiece with a candle. You can also place apples and pears on a serving platter to be an easy centerpiece that you can eat from!
Make a Garland and a Wreath
A simple garland made of burlap is a super simple way to spruce up a mantle or bar area. It only takes a few supplies and a little bit of time. Garlands are great because they easily transition from a simple fall decoration to Halloween and then Thanksgiving.
Creating a wreath really brings out creativity for not only you, but your family! More supplies will be needed to make a wreath, but you'll be saving a ton of money making one instead of buying one. You can find directions for fall wreaths (that are great for all of the fall months) here.
Create a Billboard for Easy Decorating
A really creative and convenient piece you can keep on your mantle all year long is a burlap message board. With a message board, it's super easy to pin decorations for every holiday with free printables! Printables are a very frugal way to decorate; the only expense is paper and ink to print. All you do is print, cut and tack in place!
Craft, Craft, Craft!
Thankfully, there are plenty of frugal decorations you can make to decorate for any holiday (especially for fall months). You can find even more frugal fall crafts here to get you even more into the spirit. As you can see, not only is it a huge amount of fun and family time spent welcoming fall, but it is also very possible to decorate for fall on a budget.
Have any other frugal fall decorating tips or crafts? Let us know!