Take a Last Minute Summer Vacation on a Budget
Posted on August 3, 2015 by Lucinda Nutting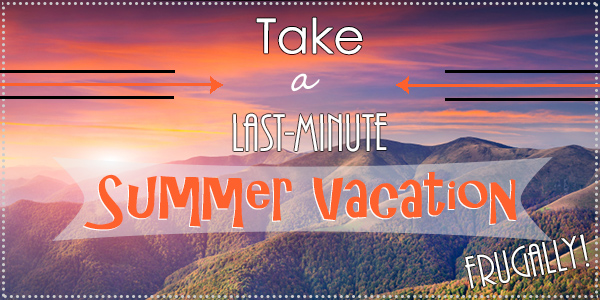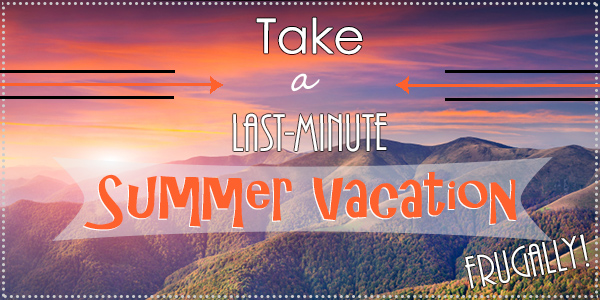 Summer is coming to an end, but don't fret! There's still time to take a last minute summer vacation without spending too much money. Take a look at these tips so you can have one last adventure this summer!
Keep an Open Mind
Going on a last minute vacation is just that, last minute. Because you didn't spend countless hours planning and researching the best places to go, you're going to have to be flexible. First, figure out the dates you can go on your vacation and the type of vacation you want to have. You can spend time in the sun at a beach, lake or river. Or you can center your vacation on activities, such as hiking, exploring, city wandering and so on. For a few ideas of places to travel to in the states, check out this article for affordable last minute summer vacation destinations!
Once you have an idea of the location you want to visit, you can start searching for places to stay. This is where keeping an open mind really comes into play. Don't set your heart on a very nice hotel or bed and breakfast. You'll only be sleeping here; the majority of your time will be out of the hotel room. Thus, focus on saving money when planning where you will be staying, instead of luxury.
Scavenge the Leftovers
One of the perks of going on a last minute summer vacation is that hotels, airline companies and car rental companies are desperate to fill in the space. When somebody cancels their reservation, companies will usually lower their prices to avoid wasting open slots. Ask nicely for discounts and upgrades and you'll be surprised at what you can get.
Think Out of the Box
To really save money, think of going to a vacation spot most people don't think of. In the summer months, the most sought after vacation spots and attractions are going to raise their prices. So… think out of the box! A great example is ski resorts. Summer months are usually not a busy time of the year for them, so most ski resorts give huge discounts during this time. Staying in the peaks are a much cooler choice than vacationing in the sweltering heat at over-crowded amusement parks and beaches. If you're not able to ski, there are other adventurous options, such as hiking, mountain biking, and even kayaking if you're in the right area.
Venture Down South
Mexico is a great option if you want to get out of the U.S. or Canada. Their busiest months are during our winter months, so right now is a great time to go for optimal savings. To save even more, try and book during the hurricane months. Yes, this sounds outlandish, but there's even more discounts during these months in Mexico, because most people tend to try and avoid these months (June-November).
Set Sail
Cruises are usually planned far in advance; sometimes a year in advance. If you're determined to take a last minute cruise with the best deal possible, book your cabin the month before take off. Cruise lines are desperate to fill empty cabins and will drastically lower their prices in the 4 weeks leading up to the set sail date. Cruise Direct helps you narrow your search and find great deals on cruise lines.
Overall, Think Frugally
Wherever you find yourself headed to, check out Groupon and Living Social. These websites have museum tickets, restaurants, amusement parks, hotels and so many other options to do in most cities, for cheap. If things are extra tight, head to a nearby city, to just get away and have a "mini vacation". If you decide to take a road trip, go prepared with lunches. Eating out breakfast, lunch and dinner can add up very quickly. Stop at a grocery store for lunch and snack supplies to save even more money. Roadtrippers offers an easy way to plan a road trip with attractions, natural wonders, hotels and so much more!
Summer has been great, but you can't stop fall from coming. As summer comes to a close, give yourself a treat and go on a last minute summer vacation. Most associate anything labeled last minute, as expensive. But if you follow these tips, you'll be able to treat yourself without breaking the bank. Now you know what you need to know, get out there and take your last-minute summer vacation!
Have any other tips for a last minute summer vacation? Let us know!