Save Money by Being Organized!
Posted on August 25, 2015 by Lucinda Nutting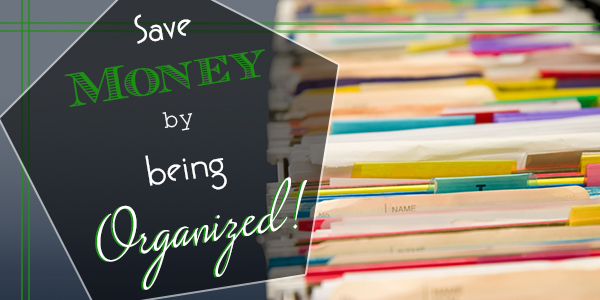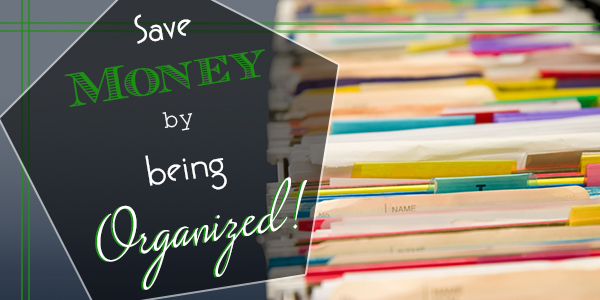 Organization and being organized can be a beautiful concept for a number of people. For others, the thought of having to go through their entire house of belongings and try to make sense of it all, seems like too much to bear. Let it be stated; being organized can improve practically every aspect of your life, so the day or two of organizing is well worth it. Some of the benefits to staying organized are, you tend to spend less time searching for belongings and you tend to remember important information more often. You also end up getting more done, so you can have more casual, relaxation time. And of course, maintaining an organized lifestyle can save you money. Follow some of these tips and how-to's on staying organized so you can save money!
Get a Planner
The best way to start saving money by being organized is to purchase a planner and/or download a planning app on your phone. Rather than relying on sticky notes day to day (which can easily be lost), having something you can physically hold in your hands and write in, makes staying organized so much easier. Plus, an app that takes the place as your personal assistant will allow you to stay on top of things from day to day and months in advance. Apps have the capabilities and functionalities of setting reminders and alarms and allowing quick access at your fingertips. There's no reason why you shouldn't have a personal assistant in the palm of your hand!
Plan your Meals
For most households, the largest expense is usually food. Eating out at restaurants is a colossal expense which can easily be avoided with a little planning and organization. Planning your meals each week will save you hundreds a month and will make your grocery store trips more efficient, quick and less expensive. To save even more at the grocery store, plan your recipes from ingredients on sale at the grocery store with what you already have on hand in the pantry. A great way to start meal planning, is to make a meal planning board so you can see what you will be eating each day, and have cards of favorite recipes to choose from!
Create a Command Center/Mail Station
A good number of homes have a little side table or corner dedicated to storing all the mail the house receives on a daily basis. This mountain of paper could include bills, junk mail, newspapers, etc., thus staying on top of all of the papers you receive is a tedious task. Right when you get home from work, the last thing you want to do is go through piles of paper, so it just keeps piling up. Not only is this unsightly and bothersome, but an easy way to miss bill payments, thus being charged late fees. An easy way to avoid this disorganization is to create a mail station. With different trays labeled things such as new mail, to file, outgoing mail, incoming and outgoing bills, it's so much easier to stay on top of bills, avoid late fees and have one less burden to do when you get home.
To add to the mail organizing idea, a command center near the front door, is key to staying organized and saving money. With a blackboard, pocket change bowl, calendar, to do lists, hooks for jackets, backpacks and keys, it's so much easier to start and end your day organized.
Create a budget
It's important to know what income is coming into the home and what set expenses are leaving every month. Organize your finances and set a budget for the household for each month. Allow a budget for groceries and a separate budget for entertainment and play. Stick to your budget by not making improvised purchases. Whether it be the grocery store, mall, restaurant or any retail store in general, making improvised purchases are detrimental to your budget. Keep to budget!
Organize the File Cabinet
Every adult has an endless supply of papers with important personal and business documents floating around the house. If you have children, you have even more documents needed to be filed. A crucial step to saving money by being organized is to invest in a file cabinet and keep it organized! Knowing exactly where every document is, in an instant, will save time and money in the future. It becomes extra beneficial when you have tons of artwork from your child, which can be put away and stored correctly and efficiently.
It takes a weekend and a few DIY projects to get started having a productive and organized life. It's well worth the time it takes to create these fun organizers and even get the whole family involved! Not only will you see improvements in your time balancing, schedule, stress and anxiety levels, but you will be less stressed about due dates, budgetary concerns and meal planning. Start saving money by being organized so you can concentrate on what really matters!
Have any other ideas of how you can save money by being organized? Let us know!