5 Ways to Save on College Expenses
Posted on August 28, 2015 by Bryce Johnston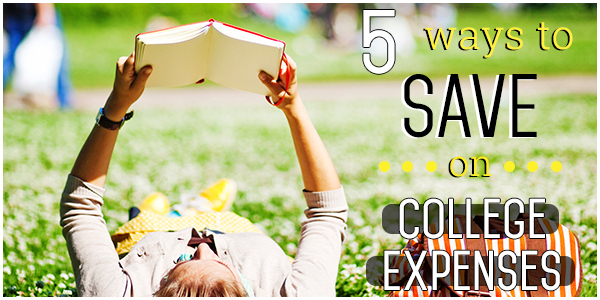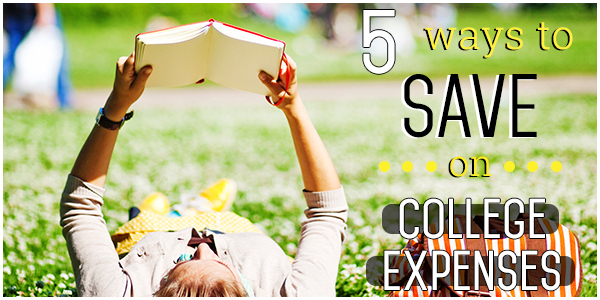 School season is just around the corner and can be a very expensive time for many families. It is important to lighten the burden a little bit and save in every nook and crannie you can this fall. Whether you go back to school yourself or jettison the kids off to the land of educational growth (hopefully), check out these quick 5 ways to save on college expenses this year!
Buy A Bike (or bring one with)
Depending on your living location relative to campus, becoming a cyclist this school year can be your best friend when it comes to saving money. Basically this is spending money to save money but believe me, you will quickly recoup the upfront cost of a decent bicycle with the amount you save by driving less. And apart from simply saving tons of money on gas, you ditch the hassles of parking, get some great exercise to wake you up before class, and develop some great leg muscles all along the way!
Depending on how seriously you want to take this, you can purchase a nice road bike anywhere from $400 dollars to $4,000 or, you can drop $50 on the pawn shop special and get there just the same. An even better solution than purchasing, bring one from home!
Make a Budget and Stick to it!
I cannot emphasize how vital this one is to effectively saving money in college. Having the ability to set and stick to a budget in your early college years will benefit you for the rest of your life. I would recommend an expense tracking app such as the Mint.com expense app. This allows you to link your accounts and track every purchase in real time to consistently see where you stand financially. It also allows you to set budgetary goals and will alert you if you achieve them or fall short on a consistent basis.
When creating this budget, try and include everything you might possibly spend money on consistently. This will include but is not limited to rent, bills, transportation, groceries, eating out, entertainment, social events, campus organization fees, shopping, books, personal items, etc. Pop a squat on the couch with whomever you need to and hammer out where you will be spending your money and how much of it you will be spending. Students, sticking to this budget will hopefully alleviate a lot of tough phone conversations with mom and dad when you run out of greenbacks and are eating Ramen 5 nights a week (it sucks believe me).
Rent Your Textbooks
Wrap your head around this one. Textbook prices are 812% higher than the were a little more than 30 years ago and 82% higher than they were just one decade ago. But just because publishers and institutions want to gouge your pocketbook through books doesn't mean you have to let them. You will find that by simply asking your professors what version of a book you need will lead to them letting you get away with using an older copy. I get that this is not always the case and some professors just won't budge. But for those who do, this gives you the perfect out to rent an older version of the needed book for a fraction of the cost of a new one. Sites like Amazon and textbookrentals.com among others will allow you to rent your textbooks for the duration of the semster without buying them. This will come in especially handy for the basic core classes of which you will probably never open the book again after you are done with it.
Buy Your Stuff Secondhand
I think most would agree that you probably would rather not buy a used bed someone else has slept and rolled around in for many years. However, apart from a bed, unless you have to have new everything, (don't be that person) you could save a ton of money from buying other big household items second hand from someone. Whether you check out yard sales or hop on Craigslist, I would bet you at least a hot apple pie that you can find almost all of what you need to live comfortably from someone else. This includes furniture (couches, chairs, etc.), a washer and dryer, a TV, dishware, and whatever else you need to complete the college pad. If you don't mind a little basic wear and tear on your furnishings, this could be the pathway to big savings for you (or probably mom and dad).
Ask for Student Discounts
Although it's not normally advertised, many businesses feel bad for poor college students and subsequently offer student discounts. It never hurts to ask and the worse they can say is no which means you pay exactly what you would have otherwise. Here's a list of some common college favorites (mainly restaurants) that offer good student discounts. Chick-Fil-A, Chipotle, McDonalds, Burger King, Waffle House, Buffalo Wild Wings, Subway, Dairy Queen, Qdoba, Fedex, Kroger, Sam's Club, AMC Theaters, Amazon, Dell, Apple, and Sony to name a few. This by no means covers all of the places that offer good discounts to students and I would venture to say that many other places you visit this school year will offer some pretty good discounts as well.
It's a frightening but truthful reality, the cost of college in every aspect is absolutely crazy! Try to minimize the pain of the cost of the college experience and stick to these 5 ways to save on college expenses this year. You never know what unexpected expense may pop up throughout the school year and having some extra cash on hand from saving along the way could just be a life saver when you least expect it!