Tips for Back to School Shopping
Posted on July 23, 2015 by Lucinda Nutting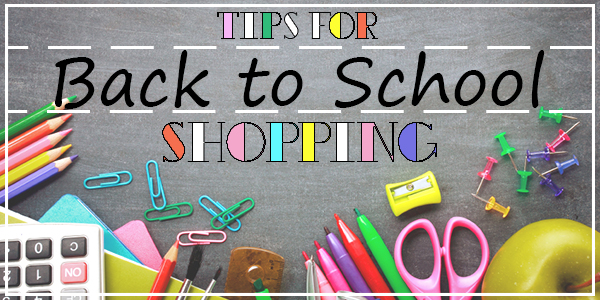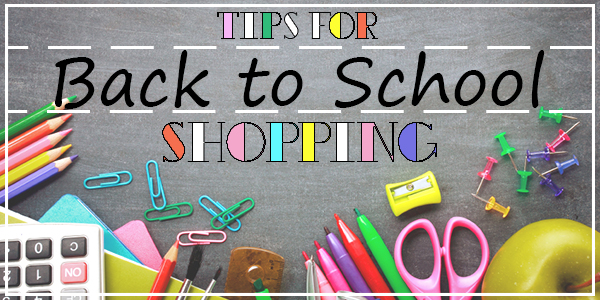 Going back to school is an exciting part of the year for both parents and children (even if they don't always think so). New experiences, friends and adventures await, and though most don't like to admit it, a part of them always looks forward to the first day. Back to school shopping includes clothes, shoes, backpacks, school supplies and so on. It can be a daunting and expensive task, but follow these tips and you and your child will be sure to have a frugal back to school shopping trip!
Raid their Closet
The day before you go shopping for your kiddos, take a look in their closet. Have them try on all of their clothes and keep track of what still fits and what does not. Make a list of how many pairs of jeans, shorts, shirts, long sleeves, etc. they have and can still wear. For the clothes that no longer fit, or they no longer wear, put them aside (we'll talk about what to do with these soon). After you've gone through and made a list of all the clothes they have and the number of each, you can make a "Clothes Needed" List to avoid buying unnecessary clothes.
Donate or Recycle
After going through the closet and pulling out old clothes, separate into two piles: gently worn and "bad" (clothes with holes, tears, stains, etc.). For the gently used clothes, you can choose to donate them or sell them to an "Up-cycling" clothing resale. They'll buy your gently used clothes for cash, which you can then use to find name-brand clothes with very low price tags (some still have the original price tag still on them). For the "bad" clothes, you can recycle them into handy uses around the house. Find some great ideas for what to do with old clothes here.
Buy the Basics
While shopping, focus on five to seven well made basic clothing items. You can easily change the looks up by mixing in a few less expensive accessories, like scarves, belts, cardigans, etc. You'll also save on clothes because kids usually don't outgrow accessories. A basic wardrobe for a girl, might be 2 pairs of jeans, khakis or black pants, 2 shirts, a sweater, 2 cardigans and a skirt or dress. For a boy, 3 pairs of jeans, 2 pairs of shorts, 4 to five polos or t-shirts, 2 long sleeve shirts, and a jacket. Remember to refer to what they already have so you don't double up on clothes on your back to school shopping trip.
Plan to Shop the Sales
Most stores have great sales in the month of August, so check at some of your favorite stores for when they'll have the best steals. To take advantage of the best deals, you may have to go shopping on different weekends. If you do choose to do this, be careful to not impulse buy! It's too easy to see something cute and think your kiddo needs it.
Tax-Free Weekend
When shopping, always look at the clearance racks first to try and find what's on your list, before you go to the "just in" racks. Of course, there is tax-free weekend. If you're brave enough to shop this weekend, all the power to you! You will save on taxes, plus most retail stores usually have sales this weekend. Here's a great list of tax free weekends by state.
Make a Budget
If you pay for things on your credit cards, look at your statements from last year to see what you spent on back to school shopping. Once you tally up the total you spent, set a budget for each child for the total amount you plan to spend on them. The absolute best way to not go over budget is to pull out cash for what's in your budget and keep it in an envelope for each child. Once the money is gone, it's gone (even your little ones will understand this concept).
Host a Clothing Swap Party
Gather a couple of friends whose kids are around the same as yours with boys and girls. Have each parent bring a certain amount of clothing articles (clean and stain/hole free), such as 10, so each parent can leave with 10 new pieces. You can give each parent a break, by making it an adult only party. Relax, have fun and get to swapping! Find great clothing swap party hosting ideas here!
DIY their School Supplies
For school supplies, search for the best deals at various stores. Here is a list of back to school sales for popular stores. Of course kiddos love the cute and awesome binders, pencil cases, etc. Instead of buying the bright colored binders and notepads (which tend to be more expensive), buy plain supplies. When you get home, you and your kids can decorate them with markers, colors and pictures! Get great DIY school supplies ideas here.
With these tips you'll be prepared to do your yearly back to school shopping with ease, even tax free weekend! Prepare your budget and plan and start saving money on your kiddos school supplies!
Have any other tips for back to school shopping? Let us know!