How to Save $100's a Year without Losing the Shows You Love
Posted on July 25, 2015 by Guest Author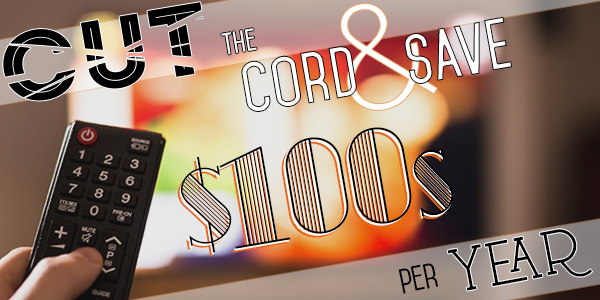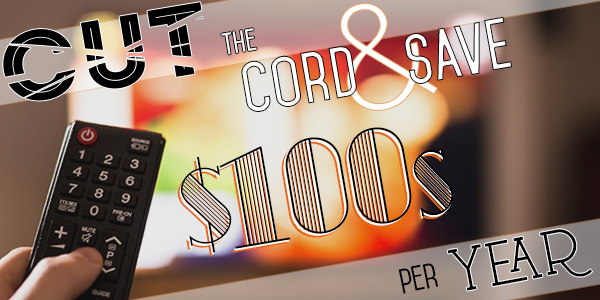 Let's be honest, cable TV is too expensive. Every year, top cable providers are routinely ranked as some of the worst companies in the United States and it's easy to see why. Between poor customer service, bloated subscription packages, and lengthy contracts; it's a wonder anyone still has cable at all.
Despite the fact that millions of Americans are clamoring for a cable TV alternative, the general public is willing to pay astronomical prices for a service that is no longer needed. Whenever I ask someone why they haven't cut the cord yet, I always get these excuses:
"It's too complicated."
"I can't get all my shows."
"It's too expensive."
In response to those excuses, I will grant you that cord cutting isn't quite as simple as cable TV; it's hard to beat being able to flip on the TV and start channel surfing. However, the idea that through cord cutting you can't get all your favorite shows at a cheaper price than cable is just downright false.
Today, I'm going to show you just how to cut the cord without sacrificing all your favorite shows. Let's get started:
The Cost of Cable TV
First let's talk about how much your average cable bill costs you. For a baseline we're going to use Comcast's Digital Starter package, which starts out at 150 channels for $50 a month for the first year. In reality, this package will often cost more because of hidden extra charges; like the Broadcast TV fee (up to $3.50 monthly). However, for the sake of this exercise, we're going to be generous and take Comcast at its word; which is something I would never do in real life.
So $50 a month for a year would come to the surprisingly large sum of $600 a year for cable. Once again, most people will actually wind up paying more so take that $600 as a lowball estimate. Now that we have a general baseline, let's talk about how much the cord cutting alternative would cost.
The Cost of Being a Cord Cutter
To be a cord cutter, all you really need is an internet connection, a streaming device, and an HDTV over-the-air antenna.
As far as streaming devices go, almost any electronic device that connects to the internet can be considered a streaming device; a phone, tablet, laptop, gaming device, smart TV etc… The important thing is that you can stream content like Netflix or Hulu. There are many ways to stream, but for the purposes of this exercise we're going assume that you'll want to watch content on your television.
Streaming Devices
That means you'll be looking for a dedicated streaming device like Roku. Roku is one of the most popular streaming devices on the market, and its cheapest model is $50; which is pretty standard as far as streaming devices go. This is our first expense for cord cutting, so write it down and let's move on.
OTA Antennas
The next thing you will want to purchase is an HDTV over-the-air (OTA) antenna. An OTA antenna is a device that picks up the signal from broadcast networks like ABC, NBC, and CBS for free. Believe it or not, the vast majority of today's most popular television shows air on network television and you would be remiss to cut yourself off from most of your favorite shows.
Typically, most HDTV antennas will run somewhere between $30 and $60; but like HDMI cords, they can sometimes be terribly overpriced.
For the purposes of the cost analysis, we'll meet in the middle and estimate the cost of an antenna running $45.
Streaming Services
Now that you have your streaming device and antenna, let's talk about streaming services.
Netflix is a must have for any one interest in online streaming; regardless of whether or not you have cable. For $8.99 a month, or $107.88 a year, you can get access to pretty much every TV show you can think of; with few exceptions. Sadly, you can't watch current seasons of your favorite shows, but there is plenty of content to keep you busy.
Next there's Sling TV.
With Sling TV, you can stream up to 21 live television channels for only $20 a month. You can also add additional channel packages for only $5 extra per month. Included in that default subscription is ESPN, which is a network that cord cutters have been craving to get their hands on for a long time. With Sling TV, cable TV's reign over sports is finally over.
One year of Sling TV will cost you $240.
Finally, there's Amazon Prime. What makes Amazon Prime such an attractive service is that it not only offers online streaming; but also a whole bunch of extra goodies. For example, with Amazon Prime you also get over 500,000 eBooks for free as well as free two-day shipping.
You can also purchase current seasons of your favorite shows, just in case you can't find a legal stream. Prices will range between $40 and $50, depending on the picture quality. Although that may sound pricey, considering the fact that you would have to pay for multiple months of a cable subscription it's actually a bargain when you start adding everything up.
At $99 a year, Amazon Prime is a steal.
Piecing together your Cable TV Alternatives
Now that we have our antenna, streaming device, and streaming services; let's tally up the total cost. An antenna will cost you $45, a streaming device will run $50, and you will spend a total of $326.88 a year on streaming services. That brings our cord cutting cost to $421.88 for the first year.
That's a savings of $178.12. When you tally up the second year, the savings will get even better. Cable companies love to raise your rates after the first year, usually by about $10. That would make a second year of cable cost $720. In the second year of cord cutting, you won't have to purchase more equipment; which means you'll only spend $326.88 for year two.
So in year two of cord cutting, you will have saved $393.12. That's more than an entire year of streaming.
Imagine what you could do with $393; you could pay for another year of streaming, you could eat steak dinners for a week, you could even buy a brand new TV. Cable may be convenient, but when you add the numbers up the choice becomes clear. So what are you waiting for? Stop paying more for less. Take the leap, cut the cord, and kill the cable bill today!
Guest Post by: Dave Kennedy, a long time cord cutter who became increasingly frustrated with the high cost of Cable TV and decided to make a stance. In 2011 he launched https://hotdog.com/tv/streaming-devices, a site dedicated to helping people save money through providing simple, cost-effective cable TV alternatives. Since then, David has helped 1,000s of people cancel their cable subscription while keeping the shows they love.