Samsung Pay vs Apple Pay: Which is more effective?
Posted on May 29, 2015 by Josh Sheehan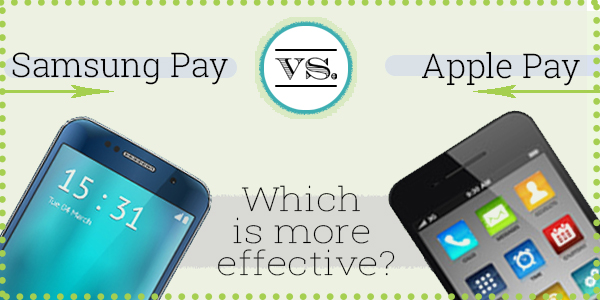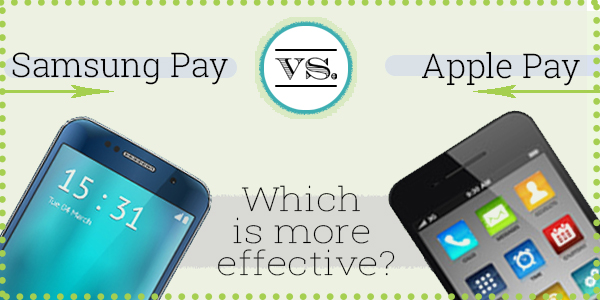 A recent comprehensive study by MasterCard in partnership with PRIME Research revealed that 94% of people using social media were favored mobile payments last year, which is a massive increase from 2013's result of 77%. According to the report, it was only in 2014 that an increase in the adoption of mobile payment options became prevalent. They relate the explosion of adoption to the popularity of the Apple Pay system, since then additional payment platforms such as Google Wallet have also been launched. Today, Apple Pay accounts for two-thirds of overall contactless payment transactions in the United States alone.
With the recent launch of Samsung Pay, choosing between an iOS device for Apple Pay or a Galaxy smartphone for the Samsung Pay has been a question poses by many consumers. This article will provide you everything you need to know about the two new mobile payment and money managing services.
Apple Pay
The infamous Apple Pay is tied with the latest handsets of Apple, the iPhone 6 and iPhone 6 Plus. It works with nearly 100 financial companies, such as JP Morgan Chase, Citibank, Bank of America, MasterCard, and Visa. The mobile payment also works with service apps such as Target, Uber, and Groupon. However, the tech giant has no plans of extending their Apple Pay services to shopping websites just yet.
For security purposes, the payment system does not use a credit card number. Instead, the Apple Pay uses the "device account number" to process payment transactions. It also uses a two-step authentication process with Touch ID. However, reports have suggested that the fingerprint sensor used by Apple Pay is still vulnerable to hackers. Late last year, Lookout Mobile Security said that fake fingerprints were able to fool the iPhone's Touch ID and claims have been made.
Apple Pay comes built on with the Apple Watch, making payment and digital money management more convenient with this wearable. However, you will still need to be close to your iPhone, since the smartwatch is reliant on the handset's Internet connection to complete its payment processes.
Samsung Pay
Samsung Pay has debuted on the Galaxy S6 and S6 Edge, the newest flagship smartphone of the Korean mobile manufacturer. Using the handset, users will be able to pay at various payment terminals by simply selecting the smartphone's payment section and a sensor will complete the transfer of funds. In the information presented by O2, the Galaxy S6 comes with an NFC chipset that connects with the NFC terminals of merchants for quick payments.
In terms of safety, the handsets are secured by Infineon's chipset that is built with hardware security mechanisms. Moreover, the fingerprint scanner of the device is extremely secure, as it requires the owner's fingerprints before each transaction.
By October 2015, the U.S. federal government will mandate retail outlets with NFC-equipped terminals for MasterCard, Visa, and Europay. This policy will be of great advantage to Samsung Pay users, more than Apple Pay since the NFC code bands of the terminals are more compatible with the code bands of Samsung.
Other mobile payment options
Apart from Samsung Pay and Apple Pay, there are other mobile payment services that smartphone owners can install and maximize.
1. PayPal – One of the leading electronic payment schemes offers a mobile app for smartphones, tablets, and even wearable devices. Easy transfers and payments can be done within the app. You can also view your past transactions in detail similar to if you were using the PayPal website.
2. Google Wallet – You can scan the NFC-capable device on the machine or wave your smartphone to make quick cashless payment. Google Wallet identifies user's saved credit card information that is linked to their Google account.

3. Lemon Wallet – It can store and use the data of user's debit and credit cards, ID, insurance details, and even loyalty cards. Lemon Wallet turns all information into a barcode that merchants can scan. Savings account data can also be stored here, which allows you to check your balance and make transactions.
There are other mobile payment services on the market. Click here to view Top Ten Review's list of the best e-wallet options for smartphone owners.
Which is better?
Since the two payment options are reliant on their smartphones, both are inconvenient in my opinion, especially when you are the type of mobile owner who changes smartphones all the time. However, given that other payment options are more readily available on Android devices, we have to give the nod to Samsung Pay. If the built-in Samsung Pay does not work on your end, you can always get the Google Wallet or other mobile payment schemes we have listed above for your Android device.
For additional assistance, click here to view our post on the top money saving apps for smart shoppers.
This article was written by guest author The Pinky Heart.