Saving Money on Household Items
Posted on April 23, 2015 by Josh Sheehan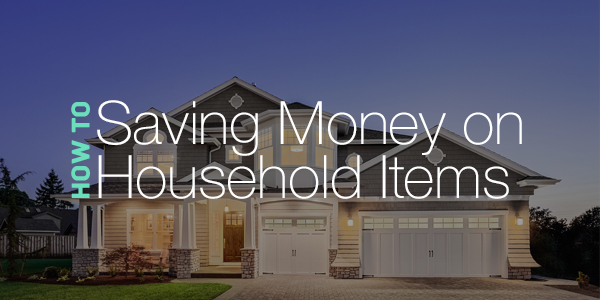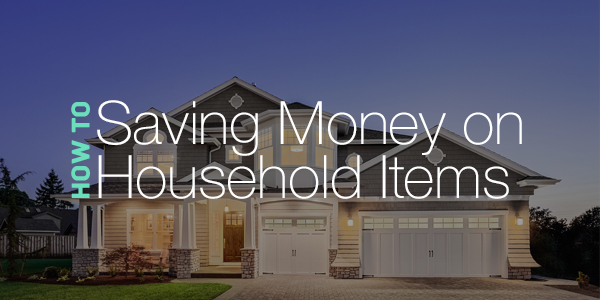 Before we start let's make an honest assumption, your average household expenses are too expensive. Would you agree? From expensive household cleaners to rising electricity costs, most of us find ourselves asking, "where can I save more money?" The answer is honestly everywhere. Here to help you is our how-to guide for saving money on household items.
Shop and Eat – Smart and Cheap!
Plan your attack! You're the general and the groceries are your men behind enemy lines. It's your mission to get them home in the cheapest and most efficient way possible. How can you do that? It's easy…
Make a list and stick to it!
Straying away and making off-list purchases on what you think are "great deals" will hurt your wallet in the long run, so shop smart and only buy what you actually need, not what you want or have a coupon for.
When making your list it's smart to go online and find coupons for the items you are looking to buy. You can use websites such as coupons.com to search for discounts that will work in your local supermarket.
Try to buy staple items such as toilet paper and paper towels in bulk. Many people save money by shopping at grocery clubs like SAM'S Club and Costco that sell products in mass quantities, but require memberships with annual fees. However, you don't need a membership to take advantage of these bulk discounts. In a recent article, Real Simple states that many supermarkets offer discounted prices on paper products ranging from 20-40% near the 1st and 15th of each month.
If you're trying to stick to a budget, then eating out might not be the best decision. If you feel the urge to dine out, choose a restaurant that has a meal deal or special that day. Sometimes a busy schedule can reflect poorly on your eating habits, but don't let it reflect poorly on your spending habits.
Price vs. Value
Many of us have a special loyalty towards certain brands because we are familiar with them and know they're reliable. We're shopping safe by buying products that are priced higher based on their perceived value. However, shopping safe is not always the cheapest route. Downgrading to a cheaper or generic brand can still get the job done and save you money in the process. Remember, just because it's less expensive doesn't always mean it's less valuable.
Get Your Money Back!
In order to prove how confident Walmart is in their unbeatable prices, they have developed a new application called Savings Catcher. With this application the consumer can scan the barcode or enter in their receipt number from their previous purchases. Then the savings catcher searches online advertisements to compare prices on identical products in other local retailers. If the savings catcher finds an item you purchased, advertised at a lower price somewhere else, then Walmart will pay you back the difference. You can download the app or follow the link above to try this new application out!
Save on Electricity and Water
Two major household bills, especially in large households, are electricity and water. A large chunk of that expense comes from wasted water and electricity. Cut your expenses by using certain methods to reduce the use of water and electricity in your house.
Here are some tips on how to keep those bills at a minimum:
Turn the lights off when leaving a room or the house.
When doing dishes, brushing your teeth, or shaving, be careful not to let the water run constantly.
Take shorter showers by using music as a timer. Create a shower playlist with 2-3 songs and start it before entering the shower. Make it a goal to finish bathing before the playlist ends.
Invest in a surge protector that turns off vampire electronics that siphon electricity when not in use.
Send your bills to the expert negotiators at BillCutterz and save 10% or more each month.
Make Your Own Cleaning Supplies
There are tons of DIY recipes to make your own cleaning products with simple household items. For instance, instead of buying expensive bathtub cleaners, you can cut a lemon in half and use it to scrub and sanitize your bathtub and shower, sinks, and stovetop. A lemon's acidity helps to break down dirt, grease and scum build-up. Another easy way to save on cleaning supplies is using old t-shirts and clothes as rags. One adult small t-shirt can be cut into 4-5 rags that can be washed and reused.
Two common household products that can be used for cleaning purposes are white vinegar and baking soda. Vinegar can be used in numerous ways such as polishing silverware, cleaning a microwave, dusting blinds, preventing frost on your windshield during cold weather and much more! Want more? Here you go!
Baking soda can replace products like toothpaste, insect repellent, deodorizer and so on. Want some more tips? Go no further! Learn how to use baking soda to replace regular household cleaning products.
Recently I came across a helpful tip for DIY cleaning wipes. Lil' Daisies blog spot offers instructions on how to make cleaning wipes at a fraction of the cost you would spend on Clorox wipes.
Do you have a Pinterest account? No? Then it's time to make one because there is no easier way to find DIY projects that can save you money! Feel free to check out our DIY Pinterest board to get you started!
Share any tips for saving money on household items with us. We'd love to hear from you!
This article was written by guest author Ryan Brant