5 Tools That Will Help You Save More Money In 2015
Posted on January 16, 2015 by Josh Sheehan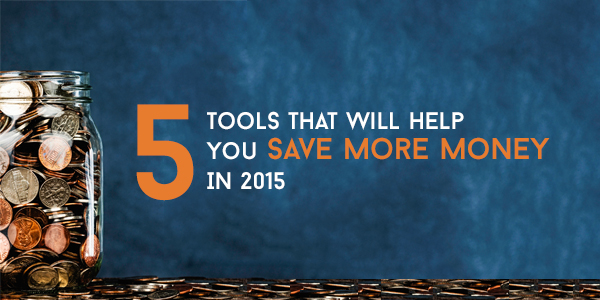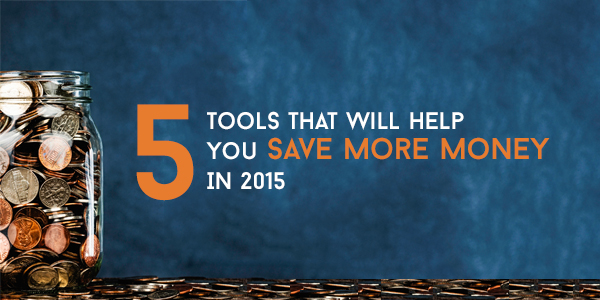 Let's face it, with the ushering of 2015 you probably evaluated yourself and came up with some goals that you want to try to achieve during the New Year like saving more money. Unfortunately, some of those goals will probably slip through the cracks, as life demands more of your attention. That's why we are here! To help you get through your goal of saving more money. These five tools are all ones that I use on a regular basis to help me save money easier. 2015 is the year of making things easier, so if you're ready for an easier year you may proceed!
Digit
I discovered Digit after reading one of my favorite personal finance blogs Budgets Are Sexy. The blog's author, J. Money cleverly titled his post, "The easiest way to save money? Ever?" which, of course sparked my interest being a money saving maniac. So, just as any curious person would I did a little research of my own, here is what I found out about Digit.
Digit is a free online service that basically saves your money for you. Finally! A service that can save us from ourselves. So, what exactly is Digit, and how does it work?
At its core, Digit is an automated saving service. Digit analyzes your spending patterns and understands where your money is coming from and where it's going. Once it understands how you spend your money, it starts to transfer incremental amounts of money into your Digit savings account. The amount of money Digit transfers will depend on the amount of money you can afford to put into savings. This can range anywhere from $5-$50 depending of course on the amount of money you have in the account connected to Digit.
Here is how it works:
1.)  Connect your bank account
The first step is to link up your bank account to Digit.co. Don't be too worried about your bank not being listed, as they have a pretty large list of banks that they can connect to. The things you will need is your name, routing number, and the account number for your checking account that you wish to hook up with Digit. You can find your routing number and account number on most online bank websites.
2.)  Digit saves a little bit of your money every week
This is where Digits automation comes in. Every 2 or 3 days Digit will transfer some money from your checking account to your Digit savings account that is created for you when you sign-up. The amount of money that is put into your saving account will be anywhere from $5-$50 based on your transaction history, meaning that it will only take out money that you can afford to put into savings. It knows how much you can afford to put into savings because it analyzes your transactions. What that really means is that it knows when you have to pay your bills and how much you use to pay those bills ensuring that it doesn't leave you without enough money to pay your obligations. The best part is that they have a no-overdraft guarantee, ensuring that they will not take out more money than they should.
3.)  Access your savings anytime
Digit is integrated through texting. Meaning that all of the information regarding your digit account can be received on command through text messages. You simply type in "account balance," and Digit will send you a text update with your account balance etc… When you need your money just simply send a text message to Digit saying, "withdraw" then typing in the amount and within one business day the money will be back in your checking account. Digit also offers unlimited transfers, with no minimums, and no fees, meaning you can transfer whenever for whatever reason.
The biggest problem I had with saving money in the beginning was actually putting money in my savings account in the first place.  I would always plan to set aside a percentage of my paycheck and hope that I'd stuck to it by the time I received the money. Unfortunately, I would always find myself putting less money in than I initially planned. I actually had to consciously make the decision of how much money to pull out each time. Digit takes all of that away; it makes it simple to save more money because it's automated. I'm excited about this service for several personal reasons (of course to save more money), but more than that I'm hopeful that this will help people that struggle with saving money do it easier and more effectively. It's free! Why not give it a try?
Don't Pay Full
This one is for all the people that love to shop! We figure this guide is all about saving more money, so why not re-introduce you to one of the fastest growing coupons and deals website online? So for those of you that missed these guys in our newsletter a few weeks ago, we will give you a little background.
Don't Pay Full is a website that saves you money with coupon codes. They have literally thousands of different coupon codes for all the major retailers from Best Buy to Kohl's and everywhere in between. In the past I have ran into errors with online coupon codes being expired, Don't Pay Full reduces this problem by having success rates on each individual coupon code. These success rates determine whether or not the code is likely to work. That being said, you can plan your purchases based on the coupons that are available and worth trying.
We figure if you're going to go shopping might as well do it online and save some gas and some cash!
Stockflare
Do you ever find investing just a tad bit confusing? For the people just starting to get into investing it's relatively difficult. There is lots of jargon and phrases that are thrown around like: asset allocation, index funds and my personal favorite, expense ratios.  Let's face it, unless you worked as a stockbroker you might not understand everything you need to know to make smart investing decisions. To those non-experienced traders that are eager to invest again I say Finally! A service that makes investing simpler.
Stockflare takes away the middle-man (stock brochures) and arms you with the same information these stock experts use to make their investment decisions! Stockflare compiles data on stocks and gives them an investment rating that ranges from one to five stars.

The rating is made up of the 5 categories listed below: 
1.) Profitable – Is the company performing well?
2.) Pay Dividends – Does the company pay its investors?
3.) Growing Profits – Is the company continuing to grow profits?
4.) Cheaper Than Competitors – Is that stock cheaper than similar stocks?
5.) Good Potential – Does Wall Street predict that the stock will perform well?
The biggest downside is…
You can't actually trade on Stockflare. It acts solely as an information platform to help you make better investment decisions.
The greatest upside is…
to Stockflare is how easy the information is to understand. They present you with the most important information like: the percentage of growth when compared to competitors in that industry, and whether or not that company is profitable (among other important metrics like the change in price, and change in profitability). Stockflare also has a long term estimator on every stock that allows you to put in the amount of shares you currently own (or yet to own) and gives you a seven year forecast of your expected gains in percentage and actual dollar amount.

Now we don't suggest investing in a stock just because that stock is forecasted to have extraordinary gains, as you should know the stock market really isn't that predictable. The long-term estimator should help you get a very general grasp on how well that particular stock is predicted to perform.
Stockflare can be a revolutionary tool for someone who is really just starting to get their feet wet with the ideas of investing. Start investing and putting money aside! Check Stockflare out, it's easy to use and it's free, what better reason to check it out?
Budget Simple
The only thing I was missing so far was something for budgeting, don't worry though I wasn't going to forget 😉
Budget Simple is an online service that helps you manage your money better. It is one of the many budgeting services out there, but the thing that makes it different to me is that it makes budgeting really easy. Just like any budgeting service it helps you itemize your expenses, but it also analyzes and tracks your savings goals and offers suggestions on how to get there quicker. By connecting your bank accounts to Budget Simple, it will be able to really breakdown your income and show you where all your hard earned money is going, and what areas maybe need more attention like and emergency savings account.
So, in a wrap Budget Simple acts as a budgeting tool and a financial adviser all in one to help you with saving more money. This one doesn't require much elaboration so I'll let you check out their website for more information. 
Acorns
We go back to investing! We didn't want to leave you in the dark about yet another amazing investing resource.
Acorns is a mobile app that allows you to invest spare change from your everyday purchases into a diversified portfolio automatically. Dare I say finally! Again? Of course I do! Investing really can't get any simpler than this. Here is how Acorns works:
Acorns connects to your checking account and keeps track of your purchases in real time. After each purchase, you will get a notification from Acorns asking if you would like to invest the leftover change, rounding your purchase amount up to the next dollar. Let me give you an example: let's say you buy some gum that costs you $1.50. Acorns will send you a notification asking if you would like to invest the remaining $0.50 into your portfolio rounding your purchase to $2.00. It's as simple as that. You can choose whether or not Acorns invests your change automatically or manually.
So where does the money get invested?
The money will be invested into one of Acorns five portfolios that you pick when you set up an account. The portfolios are classified by the amount of risk that is associated with them. The risk ranges from conservative to aggressive.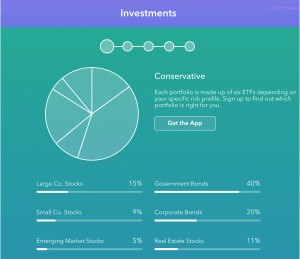 Ill let Acorns describe how the portfolios are made up here.
Let's be realistic, you're not going to make millions investing your spare change with Acorns, but that's not the point. The point is to get you to start investing, even if it's a few dimes a week. Who knows, maybe those dimes will turn into dollars! Acorns is a neat idea that is worth checking out. I just started my Acorns account this week, and will fill you in with an update after 3 months to track my progress. In the meantime you can get more information about Acorns here.
We hope that these services usher in a new approach for saving more money! If you know of any other services or apps that are centered on saving money please feel free to leave a comment below! We love learning about cool new services!