8 Financial Tips To Remember During The Holidays
Posted on November 26, 2014 by Josh Sheehan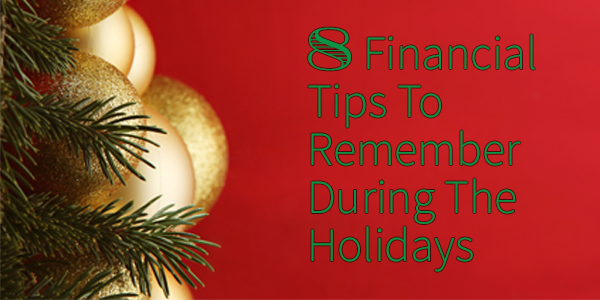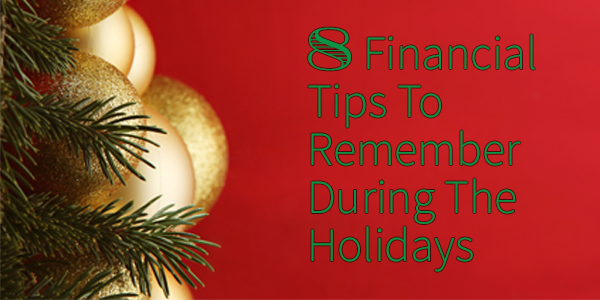 This holiday season, many consumers are preparing to shop until they drop. In fact, the average consumer plans on spending $718 on holiday gifts this year. To help you keep spreading holiday cheer this year, here are eight financial tips to remember during the holidays:
1. Make a list and stick to it.
Throughout the holiday season, there are going to be hundreds of sales going on. Don't feel like you have to take advantage of every Black Friday or Cyber Monday sale.
Successful holiday shopping starts with a budget. Make a list of everything you need including gifts, holiday decorations, food, and even new outfits. By creating a list of everything you need, you'll avoid overspending this holiday season.
2. Always compare prices.
Comparing prices will prevent you from spending more than your budget during the holiday season. It's also a great way for your to take advantage of the best holiday sales.
Before you head out for your holiday shopping, compare product prices at different stores. You'll learn which stores have the best deals and promotions for the holidays.
3. Cut back on other expenses.
Do you find yourself making unnecessary purchases throughout the month? If so, it might be a good idea to cut these purchases out of your budget so you can make more room for holiday shopping.
For example, instead of eating out for dinner once a week, set that money aside for Christmas gifts. This will give you extra money to spend during the holidays and you won't have to worry about cutting back on your holiday shopping.
4. Keep track of spending.
To prevent overspending during the holidays, it's important to keep track of every penny you spend. By writing everything down, you'll know exactly where your money is going and whether you need to cut back on your shopping. This strategy will keep you from going beyond your budget and creating more debt during the holidays.
5. Use credit wisely.
During the holidays, it might be tempting to use credit cards for every purchase. Although this can be beneficial for some holiday shoppers, it's important to create a plan for your credit cards before you begin shopping.
Decide in advance the type of purchases you'll be making and whether you'll need to use a credit card. If you decide to use a credit card, figure out how long it will take you to pay back your expenses. Sometimes, it's a good idea to put purchases on a credit card, but make sure you can pay it off within the following month.
6. Shop online.
Another great way to save money this holiday season is to shop online. Many retailers are running incredible sales online and offer free shipping, especially on Cyber Monday. This way, you can avoid the stress of shopping in stores and take advantage of even better deals.
7. Don't wait until the last minute.
Although it might be tempting to wait until last minute to do your shopping, it's a good idea to shop as early as possible. This will keep you from becoming victim to higher prices or missing out on great holiday deals.
8. Keep it simple.
Don't feel pressured to create an over-the-top Christmas. Remember, the holidays are meant to bring your family and friends together. Don't worry about hosting an elaborate Christmas party or splurging on too many expensive gifts. Do your best to stay within your means this holiday season and you'll feel much more satisfied with your purchases.
Holiday shopping doesn't have to be stressful. By following these tips, you'll be a smarter shopper and get the most out of your holiday shopping experience.
What are your best holiday shopping tips?
This guest post was written by Ivan Serrano.