How To Make Starbucks Coffee Recipes at Home For Cheap
Posted on June 20, 2014 by BillCutterz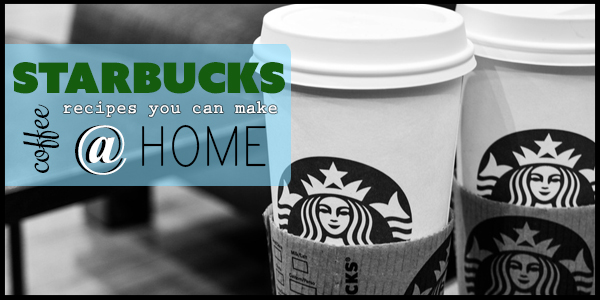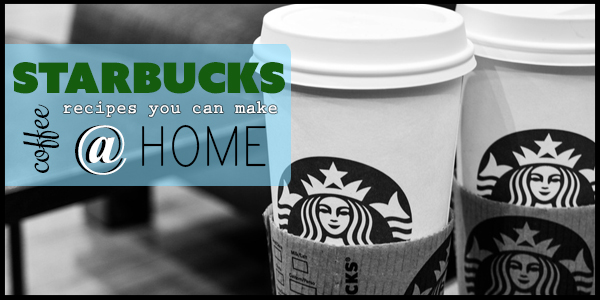 Coffee addicts who love their Starbucks® lattes and Frappuccinos® are usually forced to satisfy their addiction at the counter of their local Starbucks coffee shop. But what if you could make homemade Starbucks coffee recipes on your own?
Starbucks® is one of the most beloved food and drink brands on Earth, and trying to make Starbucks coffee recipes at home is a popular way to get the delicious flavors of the Starbucks drinks you love at a fraction of the cost. The official Starbucks coffee drinks you buy at the store are undoubtedly delicious but they can also be very expensive.
For our recipe, we suggest using Starbucks coffee beans or Keurig® K-cups® so your drinks technically are "Starbucks" coffee quality, but the drink recipes could also be made using your favorite brand of coffee.
How To Make Homemade "Inspired" Starbucks Coffee Recipes:
Homemade Starbucks-Inspired Mocha Frappuccino
Makes equivalent to 12 – 12 oz. (Starbucks Tall) servings
What You Need:
Blender
French Press, Keurig®, or Coffee Maker
Mocha Mix:
Starbucks® Mocha Powder (or any mocha powder with sugar and vanilla)
Hersheys® Chocolate Syrup (or Starbucks brand chocolate syrup)
Starbucks® Cafe Verona, Pike Place®, or other dark coffee — K-cups, coffee beans, or ground coffee
Sugar
Frappuccino Mix:
Milk (skim, 2%, whole — your choice. We used whole milk)
Ice cubes
Topping:
Reddi-Wip® Extra Creamy
Directions:
Prepare double-strong coffee. The milk and ice dilute the coffee strength so starting with weak coffee will result in a somewhat bland drink. The best way to control the strength is through a French press or coffee maker. Using a French press, mix 3/4 cup ground coffee into the press with 3 cups of boiled water (not still boiling). Pour into mixing dish and add 3/4 cup of sugar and 4 tbsp of mocha powder. Mix well and allow sugar to dissolve.
Use same ratio for coffee makers, but add the mocha powder and sugar directly to mixing bowl with coffee after dripping is complete. Allow sugar to dissolve.
If you choose to use a Keurig, your coffee might not turn out as strong as it needs to be, but it should be close. Just use a little less milk during the blending step. You'll need to make equivalent to 24 oz. of coffee using the smallest cup setting on your machine so the coffee is as strong as possible. (Also, be aware that unless you use a strong coffee, the final product might be a little weaker than you're expecting.) Add the mocha powder and sugar after dripping is complete. Allow sugar to dissolve.
When mocha mix is complete, divide into 3 separate 1-cup servings. Pour into small mason jars or other freezer-safe container so they can be frozen for later use. When mixed with milk and ice, each mason jar should provide enough mocha mix for approximately four 12 oz. servings (or one 48 oz. blender full). Total 12 oz servings per batch should be 12. (That's 12 "Tall" frappuccinos for less than $1 each!)
To Combine:
In blender, mix 1 cup of mocha mix, 1 cup of milk, 1 cup of chocolate syrup, and fill the rest of the blender with cubed ice. Mix until ice is smooth. Taste. If the chocolate flavor is not as strong as you'd like, blend an additional 1 tsp of mocha and 3 tbsp of chocolate sauce into the blender.
Pour into serving glasses and top with Redd-Wip and a drizzle of chocolate syrup. Your drink is complete!
If you want to go the extra mile and make your frappuccino as close to Starbucks as possible, add a pinch of Xanthan Gum before blending. It will make the texture a little more smooth. But it's not necessary. We didn't use it in the ones we made and the result was just fine!
Keep in mind that your ratio of mocha, sugar, and chocolate syrup can be altered to your personal taste. We like mocha frappuccinos chocolatey and strong. Sometimes Starbucks baristas make them with less chocolate/mocha and they taste a bit more milky. Use this recipe as a springboard to customize your own homemade frappuccino to your personal taste. Good luck and happy blending!
The Anatomy of a Starbucks Beverage
If frappuccinos aren't your thing, we've included a great infographic that shows the ratio of coffee to milk, cream, and flavorings for other Starbucks drinks. This official guide from the Starbucks newsroom can help you craft other starbucks coffee recipes at home.

Do you have any Starbucks-inspired coffee drink recipes you'd like to share? Let us know in the comments!
The Starbucks® and Frappuccino® names are registered trademarks and the property of Starbucks Corporation (SBUX). The trademark holder is not affiliated with nor endorses BillCutterz or the BillCutterz website. Our use of the term "Starbucks coffee recipes" is intended to communicate that Starbucks coffee is a key ingredient in the listed recipes.