20 Ways Military Families Can Save Money
Posted on May 30, 2014 by BillCutterz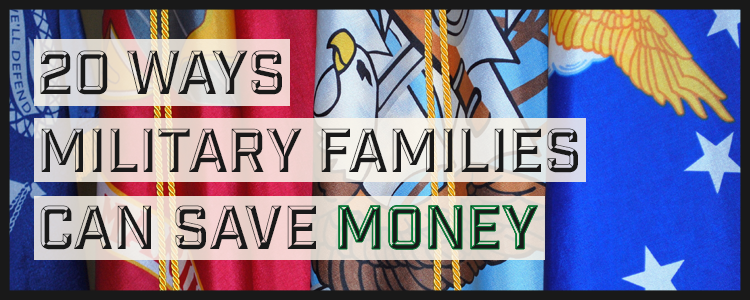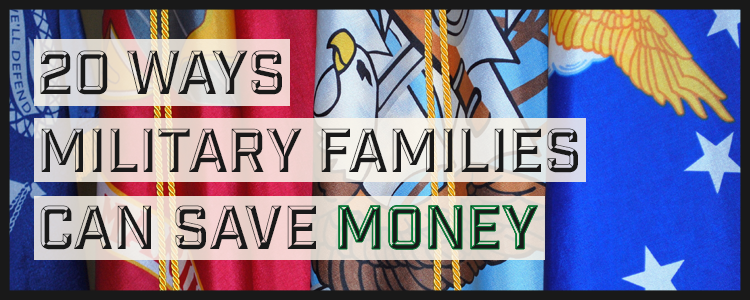 Military families have some of the best opportunities to save money. From free education to reduced life insurance to low interest rates, there are dozens of ways to get the most out of your household income when you're in the military.
We've listed 20 great ways military families can save money, but if you have your own tips or tricks feel free to include them in the comments below.
1) Don't Automatically Buy Everything at the Commissary to Save Money
Commissaries can be a great way for a military family to save money. The prices at a commissary are generally around 30% less expensive than a standard retailer and you pay no sales tax. Groceries are sold at cost with a 5% mark-up that accounts for maintenance and building new commissaries.
But before you plan to buy everything at a commissary, check prices online and at local stores to ensure you're getting the best price possible.
Caryn, whose husband was stationed at Naval Station Ingleside in Texas in the early 2000s found that her local stores had better prices than the commissary. "Sometimes the commissary or the exchange did not have the best prices. Often we would go to HEB or Walmart. Sure you paid tax, but sometimes even with the tax, it might be cheaper," she says.
Sometimes local chains can get better prices because they deal in higher quantities. When you want to save money, it pays to spend time browsing local stores to see where the real bargains are.
2) Sign up for Commissary Newsletters
Many commissaries send out a monthly newsletter that provides information on ways to save money such as sales, discounts, and special events. Watch for sales on items you've been wanting or plan your shopping around commissary promotions.
3) Search for the Local Commissary When You're Traveling
If you're going away for vacation, before you leave, search online to find the commissaries nearest to your travel destination. Instead of shopping with locals or being stuck in expensive tourist areas, shop on base to get a better price. You'll have access with military ID. Just be sure to do some searching at nearby local stores first to get benchmark prices before going to the commissary.
4) Create a Coupon Binder
Frugalistas already know the secret. You can save money in a big way with coupons! Creating a binder that organizes your coupons is a great way to save money and keep track of which items you can get at a discount. Use a 3-ring binder and insert baseball card holders to hold individual coupons. Add a pouch to hold scissors and a small calculator.
Customize your binder with divider tabs that highlight the products your household typically purchases. Never leave home without the binder! You never know when you'll have a chance to save money. Just be careful about leaving it in a hot car during the summer so that the heat doesn't melt the plastic.
5) Use Coupons When Shopping at the Commissary
Commissaries take coupons! But check your coupons before you get there to optimize how money much you save. Put a green dot sticker on coupons that are expiring in the next 7-10 days so you can decide whether you really need the item. Help your neighbor: Consider leaving coupons you don't want underneath or near an item you've decided you don't need so someone else can save money from your coupon clipping!
6) When Overseas, Shop Online
Being stationed in a foreign country can be an adventure. But in many countries the prices are extremely high compared to the United States. It can be very difficult to save money there. Even though Amazon.com can be a shopping addict's downfall, it can be a big money saver when everything you want locally is 3X the normal price. Both drugstore.com and walmart.com deliver to APO and FPO addresses.
7) Buy Discounted Tickets On Base
The ITT office (Information, Tickets, and Tours) on base should have a wide selection of tickets available for concerts, outdoor activities, zoos, local attractions, shows, museums, and more. You can save money by staying connected and asking questions any time you plan to travel, see shows, or go sightseeing.
One Army daughter, Laura, who was at Fort Knox in the 1980s remembers getting to see Willie Nelson and Waylon Jennings because of the on-base price discounts. "We wouldn't have been able to afford it at full price. I treasure the memory," she says.
8) Buy Big Ticket Items at the Commissary
Even if the local Best Buy has a great deal on televisions, check the price at the commissary before buying. When you make a large purchase, the savings on sales tax could make a commissary purchase a more financially sound choice. Big ticket items are a way to save money that should not be overlooked!
9) Ask About Military Discounts Everywhere
No matter where you shop or eat, always ask if they offer a military discount. As long as you or a family member has military ID, you'll be eligible. Many stores and restaurants do, and some that don't might offer you one on the spot for asking! This is an excellent way to save money that military families should do more often. If even if a store doesn't provide the discount, you'll be letting them know it is in demand. Military shoppers are valuable because they will frequent places that provide discounts. And retailers know this.
Here's a site that has a large list of discounts. Even if you don't see military discounts advertised at a specific restaurant or store online, ask in person anyway. Especially in military towns, where national chains may give discretion to franchisees or managers to set discounts.
10) Take Advantage of Low Interest Loan Rates
In addition to Veterans Administration mortgage loans, which are one of the only ways to get a $0 money-down loan for a home, the Servicemembers Relief Act caps what a service member pays for interest on consumer loans they had before being called into service. You can apply directly with your bank or loan companies to request that your interest rates be capped at 6%, according to the Act. This is a great way to save money that many servicemembers don't think about or assume will happen automatically.
11) Host a Moving Party
Everyone in the military is familiar with the PCS (Permanent Change of Station). The beauty of it is that every time you move, your friends know how daunting it can be and will generally be happy to help. (And of course you're returning the favor by paying it forward in the future!)
To save money when you move, host a moving party where you give away items you want to get rid of and provide plenty of food and drinks for your helpers. If they have young children, make sure to have a babysitter and children's activities on hand to keep them occupied while the parents are assisting. If you're giving away items, have some extra boxes your helpers can use to take their items home.
12) Use Services on Base
Many bases have activities and facilities for military families including pools, outdoor courts, gyms, and more. Ask ITT for information on free or low-cost classes, too. Larger military bases may also have college courses available. Having inexpensive or free ways for your family to spend time will save money.
13) Buy Used Uniforms at a U.S. Military Thrift Shop
Base thrift shops know what service members need and the required quality of uniforms. Before accepting items, they're carefully inspected. You can save money by buying gently-used uniforms.
In addition to uniforms, thrift shops sell a variety of other items. Ask the shop if they have any special sales or promotions. Some have "bag sales" where everything you can fit into one bag is one price, usually excluding uniforms.
14) Take Advantage of USAA
USAA gives military families access to many different services and products including auto insurance, homeowners or renters insurance, banking, auto loans, credit cards with special rates, investment opportunities, and much more.
15) Account for Everything You Spend and Stick to Your Budget
Living on a military income can often times be very tight. And when you're moving frequently, a household tends to not have the same budgetary stability of one that lives in the same home for 10+ years. One way to keep errant spending under control is to set a household budget annually and track expenses.
Mint.com is an excellent money management tool that shows you when bills are due and tracks what you're spending and what you're spending it on. Whether you're using a spreadsheet to track, or keeping it in a written log book. Stephanie, whose family was stationed in Colorado in the mid-1990s says "write everything down and stick to your budget."
16) Don't Pay Fees for Breaking Your Lease
Service members are legally able to break a lease when moving because of orders. If your family is deployed to a new location for more than 90 days, landlords cannot charge you for breaking the lease, although there are some restrictions. If you need assistance with lease or landlord issues, you can contact the Armed Forces Legal Assistance Office.
17) Plan Vacations at Resorts and Destinations That Are Military-Friendly
Many resorts, cruise lines, and amusement parks offer military discounts. If you plan your vacation carefully you can save a lot of money. Also, try to vacation in military towns when possible. Local retailers will usually be very military-friendly and you might see discounts everywhere you go.
Many naval bases are located in coastal tourist areas, so search those before deciding on a destination. Check with the ITT office before finalizing your plans in case there are discounts or opportunities not publicly available.
18) Maintain Your Legal Residence in a Low-Tax State
Military families can retain legal residence in one state, even after being transferred to another state. Do your research and determine whether your origin state or destination state is more advantageous. States like Texas and Florida don't have state income taxes.
19) Use Your GI Bill Benefits
If you've served for 36 months since 9/11, you have access to significant education benefits. Servicemembers can use the GI Bill toward 36 months (equivalent to four class years) of college or university education or transfer that benefit to their children or spouse. The dollar value of this benefit is immense. It can save a military family from having to pay for a child's tuition, or it can allow a member of the family to increase their value on the job market, resulting in an increase of household income.
20) Buy Low-Cost Insurance
Military families can purchase life insurance at a significant discount. Under the Servicemembers' Group Life Insurance, rates are amazingly low and a military spouse can also be insured. It would be a shame to not take advantage of it!
As you can see, there are so many different ways military families can save money, you just have to be a little creative! If you or members of your family served or are still serving, from all of us here at BillCutterz, thank you for your service and sacrifice.
Share your tips! Were you in the military? Where was your family stationed and which ways did you save money? Tell us any tips or tricks you want to add to our list!