Frugal Fall Recipes
Posted on October 21, 2013 by Sabrina Smith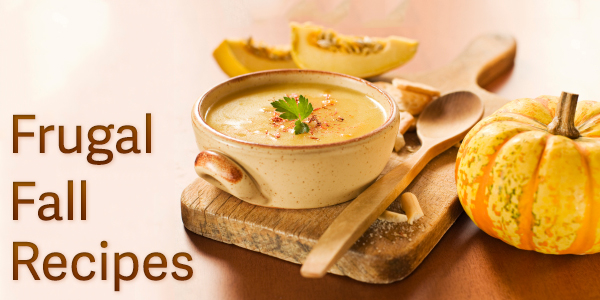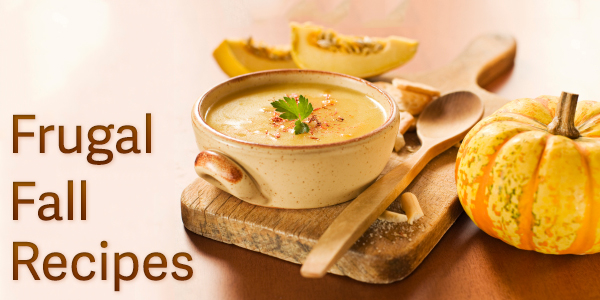 Fall is here, along with an occasion for all of those wonderful fall-inspired meals. We've got frugal fall recipes for the whole family: desserts, entrees, and appetizers that are sure to be a hit.
Drinks
Very Rich Hot Buttered Rum – For the cold nights and the windy days, a cup of delicious buttered rum is a great way to relax. The best part is you can pick up a bottle of cheap rum because the other flavors are powerful. And if you're not a rum drinker, you can simply leave it out; it still tastes delicious.
Celebration Hot Rum Buttered Cider – Cider Hot Toddy – Another rum drink to start the winter off right. With a spicy yet citrusy flavor, this is sure to delight. 10 minutes is all it takes to make this wonderful warm beverage for the fast approaching chills of winter.
Perfectly Chocolate Hershey's Hot Cocoa – This is one of the best recipes for hot chocolate, and will easily fit into any frugal budget.
Eggless Eggnog – Try out this eggless eggnog recipe for a classic fall treat on a frugal budget. It tastes delicious, and can be spiced up with a cheap rum or whiskey.
Appetizers
Caramel Apple Brickle Dip – Apples, and caramel, and toffee, oh my! This dip is a delicious appetizer to start off any party or get-together. Taking only 5 minutes to make, you'll be able to spend more time with friends and family, rather than being in the kitchen for hours on end.
Bloody Mary Dip – To add a little fright to your fall, look no further than this creative Bloody Mary inspired dip. Made of tomatoes and spices, and pairing with celery, cucumbers and cherry tomatoes, this and delicious appetizer to keep the tummy-rumbles away.
Pumpkin Dip – 30 minutes to make and you're ready to dip apple slices, ginger snaps, and graham crackers into that homemade pumpkin-tasting spread. To add a little fun, you can serve the dip in a hollowed out baby pumpkin.
Emeril's Devilish Eggs – A Cajun twist on a holiday classic, this deviled egg recipe is simple and cheap to make.
Entrees & Sides
Bacon Topped Squash Casserole – Only taking 55 minutes to make, this casserole is one to astound. For the perfect fall entrée, you can never go wrong with squash and bacon. This is definitely a frugal dish that everyone will love.
Chicken and Dumpling Soup – A warm, hearty meal for the soup lovers out there. Delicious and satisfying: this meal is not only fun to make, but food for your tummy. With chicken and dumplings there's hardly any room for dissatisfaction.
Gouda Mashed Potato Casserole – Mmmm, mashed potatoes and cheese: one of my favorites. It only takes an hour and 15 minutes to make, and with all the pumpkin being thrown around during the fall, potatoes offer a nice change.
Red Lobster Cheddar Bay Biscuits – This copycat recipe is simple, easy and inexpensive. Who doesn't love these biscuits?
Authentic Italian Meatballs – This is my favorite meatball recipe because it makes the best meatballs, and it's easy on my wallet. Pair them with your favorite frugal spaghetti sauce.
Olive Garden Copycat Zuppa Toscana – Another great copycat recipe that's perfect for the fall.
Desserts
Cinnamon Spice Apple Bread – With little over an hour of work this fall inspired apple-banana bread is one to thrill. Not only can it be made dairy free, but it's also low in fat, high in fiber and protein with lots of hidden veggies. One can say that it tastes like a decadent coffee cake.
2 Ingredient Pumpkin Muffins – This fabulous fall recipe only requires 25 minutes and two ingredients: spice cake mix and fresh pumpkin. Whether for a party or just a fall inspired snack, these muffins are a great way to go.
Eggnog Kringla Cookies – Easy recipe to make perfect eggnog cookies that any pocketbook will love.