Early Start to Saving Money this Thanksgiving
Posted on October 28, 2013 by Sabrina Smith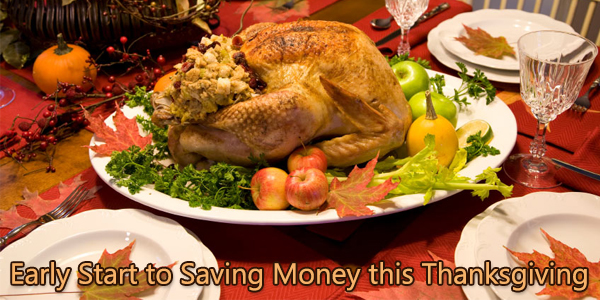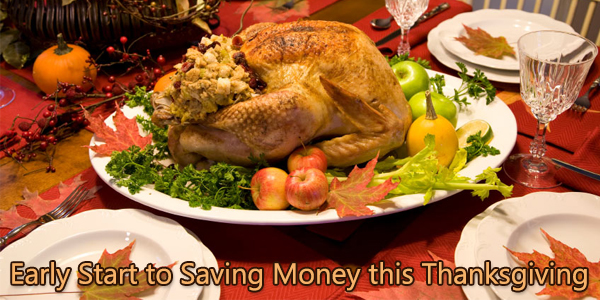 Even though we still have a week left before Halloween, it's time to start planning your Thanksgiving if you plan to host. While it can be a blast to go all out for this great holiday, it can get expensive, and fast. There are quite a few ways to have a fun-filled Thanksgiving without spending too much though. And don't forget what Thanksgiving is all about: friends, family, and thanks. Here are some tips to get an early start to saving money this Thanksgiving.
Food & Drinks
Host a potluck or BYOD (bring your own dish). Unfortunately it can be difficult for the host to create a Thanksgiving meal for a ton of people. And nothing says "thank you" more than sharing the time, money, and cooking that goes into a large meal. By asking everyone to bring a dish, you also allow variety and surprise for your guests (just make sure everyone brings something different).
When getting drinks, serve lemonade, tea, and even homemade spiced or pumpkin lattes, and apple cider instead of soft drinks- not only will they be healthier, but much cheaper. For the alcoholic beverages try a wholesale liquor store or even boxed wine, which are much cheaper alternatives. And always be on the lookout for sales and coupons.
If you're going to be providing a turkey, getting a frozen one will be 30-40% cheaper than a fresh one. And make sure that if you go the frozen route, you allow 4 to 5 days to thaw it, depending on the size. Start looking now because the closer you wait, the more expensive turkeys will get. Alternatively, opt for a different main course, such as roast, ham or deer. Less popular meats will be less expensive.
You can go local as well. Organic foods are just as delicious, if not more so than store bought items. Buying from your local farmers market will help the community as well as your pocketbook. You can also stick to in-season fruits and vegetables, which will be fresher and cheaper.
Remember to check out our Frugal Fall Recipes to save on food and drinks.
Travel
During the holidays, travel can become expensive. With everyone going somewhere, it can be hard to book a flight, so if you know you're going to have to fly, get tickets early. Always compare prices and times as well to make sure you get the best flight for you.
And if you're feeling especially frugal, don't go anywhere at all. Staying home and having a small get together with a few friends or just a significant other can be a great time as well. Not only will you save on gas or flight bills, but with a smaller group, you can save on food costs.
Decorations
It's fall! Go wild: gather the beautiful autumn leaves in the back yard, if they aren't red and orange, don't despair, spray paint is the Do-It-Yourselfer's best friend. Get as many clean leaves in good condition as you can and use a couple books or something equally heavy to flatten them out, as naturally dried leaves will crinkle. Paint them to your heart's content.
Visit a pumpkin patch. You can either carve them out in the festive Halloween spirit or spray paint them as well. Going with a traditional pumpkin- no special add-ons or paint- can be equally as decorative. No matter what though, you're getting a great decoration that will cost a lot less than a blow up decoration or a metal pumpkin made by someone else.
And don't be afraid to use last year's decorations. No one is really going to mind, and some guests may not even notice. Thanksgiving is about sharing food and fun with the family, and being thankful for what you have. Decorations are a great additive to any party, but they aren't a must at this shindig.
Other Great Saves
Use smaller plates to trick your guests into getting smaller portion sizes. Of course it's Thanksgiving and that means that you're allowed to go big, but practicing portion control can still allow for a lovely holiday. This will cut down on the amount of food wasted as well- there's less food to throw away when you're properly stuffed when you had less food to begin with.
Instead of using paper plates or plastic utensils, break out the real dishware. It costs a lot less to clean a dish than to buy and throw out a ton of disposable plates. And when packing up food, use Tupperware and other reusable containers. This is a great way to help keep your Thanksgiving green as well.