Your Fall Shopping Guide: What to Buy in October, November and December
Posted on September 30, 2013 by Sabrina Smith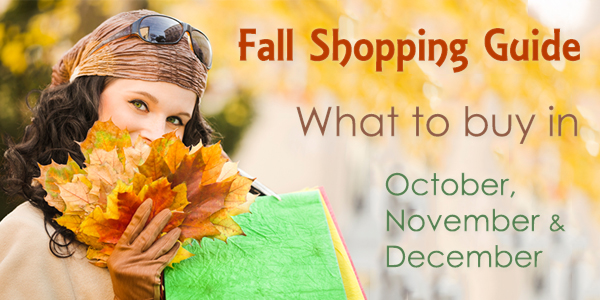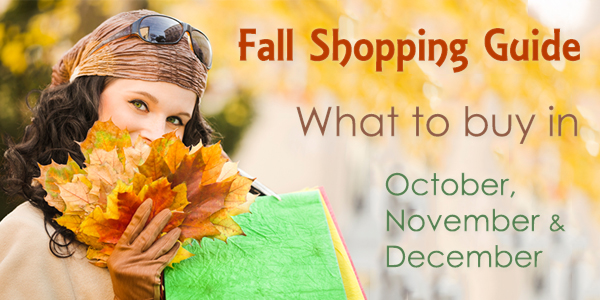 Fall is my favorite time of the year: the temperature is dropping, leaves are falling, and the year is coming to an end. The holidays are fast approaching and that means travel, and family, and presents. So gather 'round the metaphorical fire if you'd like to hear a grand tale about present shopping, cozy clothes, and big savings. Here's your fall shopping guide: what to buy in October, November and December.
Autumn Savings
Swimwear is a great start when checking out fall discounts. Retailers are becoming desperate to sell their items, so they will knock the prices down 40% or more.
Grills and pool accessories are also great to shop for in the fall. It's getting colder which means less backyard barbeques for your friends, but more post-summer savings for you.
Appliances and cars are a great buy as well. Stores and dealers are making room for new models, so they'll be looking to sell old models fast, which means bargaining power and discounts.
October
Thanksgiving and Christmas creep: Retailers start putting out decorations in October, so keep an eye out and take advantage of the good deals you see. Christmas presents, namely toys, are a must-buy during early fall. Strike while the sales are hot and the stores are in stock.
The back to school rush is over, and prices on clothes, shoes, and supplies have gone down; the less people out there shopping with you, the better. Summer clothes are a definite yes as well.
Air conditioners and A/C services are going to be on the cheap. Because it's cooling down, you'll be able to negotiate great deals with your service companies and retail stores.
Check out the full guide on what to buy in October.
November
Even though Halloween is over, you don't need a special occasion to eat candy. November is the perfect time to stock up on leftover Halloween candy.
During the first week of November, turkey sales are on. Getting a nice plump Thanksgiving turkey without the stress and price that comes with shopping is one thing to be thankful for.
Don't forget about Black Friday and Cyber Monday savings, and while it can be a pain, it's definitely worth the labor. There's a reason these days are hectic and brimming with shoppers. Check out our guide to Black Friday and Cyber Monday to get the best deals.
Check out the full guide on what to buy in November.
December
Computers are one of the many deals coming this year-end. Stores are lowering the prices on electronics to get ready for new stock, so watch out for savings.
Home repairs during the winter are a "no" so of course the prices on tools are going to be low. Whether it is for a Father's Day present or just that new weed whacker you've needed, December is definitely a great time to buy tools.
Check out the full guide on best and worst things to buy in December.
What NOT to Buy
Don't buy Christmas or other holiday decorations in December. Too many people will be purchasing these same items, so it's hard to get what you want and a good deal at the same time. Wait until just after Christmas throughout early January to get the best deal on decorations.
Halloween decorations and costumes are also a really bad idea in October. And he nearer to Halloween you get, the harder it's going to be to find things for the prices you want. Wait until just after Halloween.
Basically if you're looking to buy something that is seasonal, and the season is coming up fast, wait until it passes, then purchase when the prices have dropped.