Tips for Back to School Shopping
Posted on August 2, 2013 by Sabrina Smith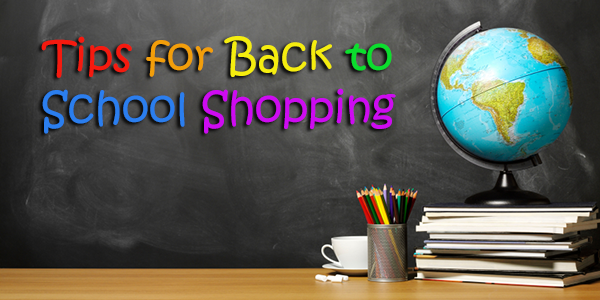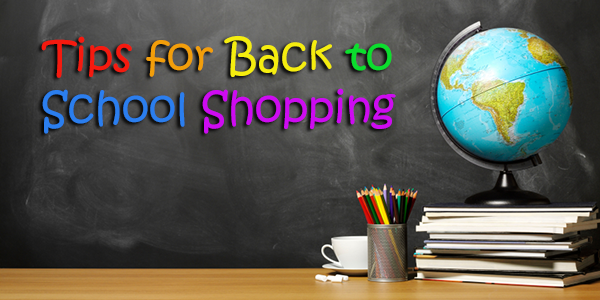 Back-to-school shopping can be a lot of fun, especially with the prospects of a new school year and the neat supplies available for purchase. Unfortunately, it can also make saving money difficult, but there are many ways to combat the woes of school supply budgets. Here are some tips for back to school shopping so you can get the best items at the best price.
Take Inventory
Sorting through last years left over supplies can be a real help when trying to save time, energy, and money.  Make a checklist of the things you have that can be reused, and the things you still need to get. If you have a tough time keeping track of previously unused supplies, it's a great idea to make a specific place to keep everything together.
Where to Buy
Superstores like Wal-Mart, Target, Big Lots, and Kmart are great places to start searching when it comes to shopping for school. During the summer months, these stores and others are having plenty of sales before school begins. Office supply stores are also a great way to keep your budget in check. While superstores are wonderful, Office Depot and Staples usually have a much bigger supply of all the things you need for the new school year, not to mention the back-to-school savings they offer as well.
Buy in Bulk
Stocking up on lots of supplies in advance can be a helpful tool in saving money. Buying bulk items means that the savings start to get even better. Costco or Sam's Club are wonderful warehouse stores that get into the back-to-school spirit with great discounts. Supplies that are bought but aren't used this year can be stored and pulled out whenever they're needed. You never know when you'll require an extra notebook or pencils, and with them already in your possession, you won't have to worry about forgetting to pick something up.
Best Times to Buy
Stores usually come out with the back-to-school savings before summer even starts, and while it may stink to have to think about going back when school is not even out, it's a great idea to catch the deals while they're hot, and the stores are still in stock. Going early will also give you a chance to visit many different places, in order to find the best deals for your situation.
Start your shopping about a month before school starts. This is when everyone has already gotten their supplies, so prices start to drop again. It is a really good time to stock up for the next year or even just a few extra supplies if needed.
Whatever you do though, try not to wait until the last minute to get your shopping done. By this time, the prices will be going back up because of the high demand of hurried shoppers, and it will be more difficult, time-consuming, and worrisome than if you had gotten them earlier.