Your Guide to Thrift Store Shopping
Posted on July 12, 2013 by Malerie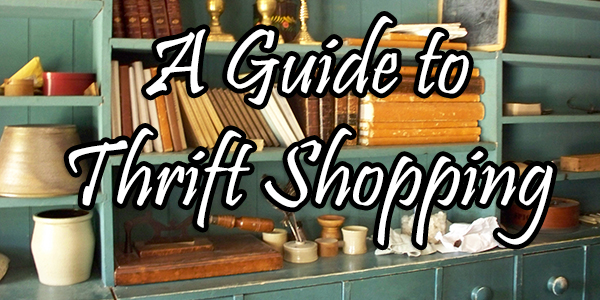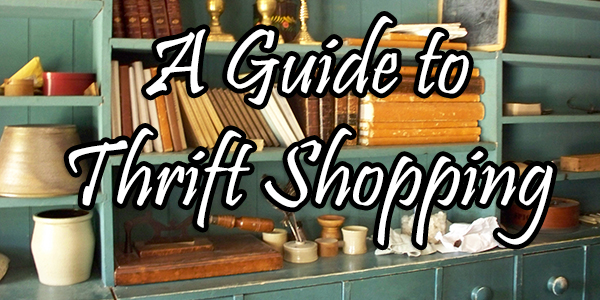 Thrift shopping is a fun and frugal way to find items you need for great deals. What used to be a stigma has become a very popular way to shop. Even hip-hop duo Macklemore and Ryan Lewis have jumped on board with their hit rap song "Thrift Shop". Thrifting serves many different purposes for different people: it's a great resource for DIYers, hobbyists can find antiques and collectibles and hipsters can find retro fashions. If you're considering going thrift shopping for your first time here are a few tips:
Plan your trip
There are usually several thrift shops in each city. Some are set up fairly close to one another and there is a good distance between others, so be sure to plan your trip beforehand.
One way to do this is to know the charity associated with each thrift shop. Goodwill Industries provides vocational rehabilitation for the disabled and the Salvation Army offers shelter, food, job training and spiritual guidance to the poor, some are run by churches and others are for profit. Knowing the difference between each shop may indicate what you can find in them.
Another way is to visit sites like The Thrift Shopper and Thrifty Planet to find locations and hours.
Go in with an open and creative mind
If you have any DIY or Pinterest projects you're working on save photos or write a list of objects you need. Many items you find in thrift stores can be repurposed, but have a use in mind so you won't get carried away.
Dustin with Lifehack said in his article A Basic Guide to Thrift Store Shopping, "A waste-basket can hold poster tubes, a suitcase can act as a coffee table, a record crate can be turned sideways to organize binders, etc. Keep your eyes (and mind) open for objects that might fill a need in an unusual and interesting way."
Be patient
Thrift stores have amazing finds for great deals, but that means lots of diligent hunting. So, be willing to take the time to look through lots of stuff. Since the space in thrift stores is usually very limited to begin with, it may also get really crowded on weekends and sale days.
Check out alternative thrift shops
It may be difficult to find good clothes in regular thrift shops, so if you're going solely for a new wardrobe, check out a "gently used clothing store". Chain stores like Buffalo Exchange and Plato's Closet have made this kind of shopping very popular. You can find name brand clothes at large discounted rates, and most stores like these allow you to sell your gently used items to them to add to their inventory.
Take your husband
The writer of A Man's Survival Guide to Thriftstore Shopping said, "Thrift stores aren't just for women. As a man, I can find lots of treasure in the shelves of my local thrift store. You just need to know where to look." He suggests sections such as computers and electronics, watches and cameras and exercise equipment. "As a man, you can go through a thrift store in no time flat because you are a hunter and you know what you are looking for. So, the key is to find it, buy it, and buy a book, too, because you are going to wait for awhile. While you may be a hunter, chances are good that your wife is a gatherer!"
When to go
Many stores will run different kinds of specials and offer discounts up to 75% off of their regular prices. Know when the specials are and plan your shopping around them. Kimberly Sanberg, Co-founder of Go Green Travel Green also suggests shopping on stocking days to be the first one to scope out the newest deals. Another great suggestion for those who live in college towns- go during late spring since most colleges collect bins of clothes, electronics, books and other goods students didn't want to haul home over summer break.
Give back
Make sure you're doing your part and dropping off things you no longer use or need during your next trip to the thrift store. Most of us have lots of stuff ready to be given away, why not make a donation to your favorite shop? Besides, "One man's trash is another man's treasure" right?