Your Bucket List: The Frugal Way
Posted on July 17, 2013 by Malerie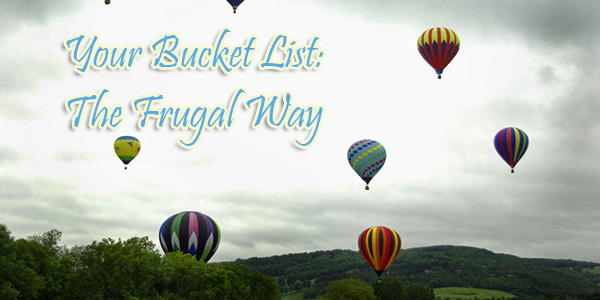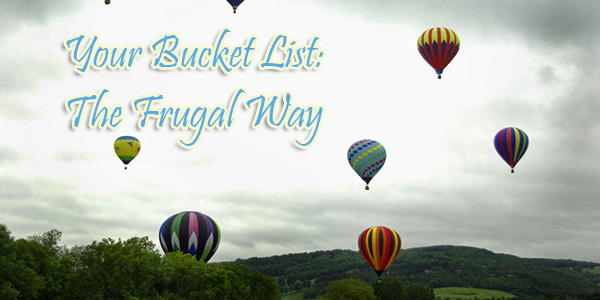 We're reminded every day that life is short. So, to ensure they are living their life to the fullest many people decide to create a bucket list of everything they'd like to accomplish, see and do. One common misconception about bucket lists is that you have to wait until you're retired to create one or wait until you have thousands of dollars saved up. However, a bucket list can be for anything you want it to be and you'd be surprised how many things you can add to yours that are free or very inexpensive, and you can start checking them off today! Here are some tips to help you start on your bucket list: the frugal way.
Keep an Open Mind
Ever since I watched the episode of "I Love Lucy" where Lucille Ball hiked up her dress and stomped around in a vat of grapes, that has been on my bucket list. I always imagined myself stomping grapes on a vineyard somewhere in Italy, but when I heard about a grape stomp festival in my area I had to jump on it.  I got to check it off of my bucket list for a mere $20 (price of admission). The point is, write everything your heart desires down on your bucket list and whenever an opportunity arises to check something off, go for it! If riding a bull is on your list, head on over to your local country bar and jump up on that mechanical bull!
Stop Putting It Off
Most of us have many goals we'd like to accomplish and out of the ordinary activities we'd like to do, but we use our busy lives as an excuse. Make the time to start living today.
Explore your city: Act like a tourist and discover all of the hidden gems your city has to offer.
Be an extra in a movie: Sign up with a local casting agent to get notified when extras are needed. If it's a large project you might get paid and may even meet someone famous.
Tour a vineyard: Do a little research to find the closest vineyard to you and ask if they give free public tours.
Learn a second language: To make it more fun, choose a country you'd love to visit and don't just learn the language, but also study their culture, arts, history and cuisine.
Learn to sing, dance, play an instrument, etc: Take advantage of local groups and college resources (i.e. a music student needing credit or offering inexpensive lessons).
Get Active
Go hiking at a state park: State parks are a great way to frugally escape your everyday life and become one with nature. Save up a little and take a trip to one of the Top 10 U.S. National Park Landmarks, start with the closest one.
Run a marathon: Start training, participate in a 5 or 10k run and work your way up to a half or full marathon. Each run you accomplish can be separate items to check off.
Go kayaking or canoeing: Head to your nearest river or lake, rent a kayak for a couple of dollars and enjoy your day.
Learn to surf: It is the most rewarding feeling when you finally stand up on the board!
Participate in a triathlon: Like with the marathon, start training and work your way up. The bragging rights make the temporary pain worth it.
Be a Smart Traveler
Travel for cheap: There are many websites, apps and resources to help you have amazing adventures on a frugal budget.
Search for all-inclusive deals: Groupon Getaways and Living Social Escapes are good places to look for great deals, but be sure you have some money saved up before you start looking. These deals don't give you much time to prepare.
Volunteer: Volunteering is a great way to feed your soul and there are many organizations set up to allow you to volunteer around the U.S. and in other countries. In fact, the term for it is voluntourism.
Make It Personal
Write a letter to your future self: Be honest with yourself and write about how you feel about your life at this very moment and where you'd like to see yourself in 10-20 years.
Set financial goals: As a writer for Club Thrifty, Holly's bucket list consists of paying off her house and becoming 100% debt free by her 10th wedding anniversary, taking her parents somewhere they've always wanted to go and paying for her children's college educations.
No matter what's on your bucket list, the point is to keep dreaming and living your life to the fullest.