How to Get a Frugal College Degree
Posted on July 22, 2013 by Malerie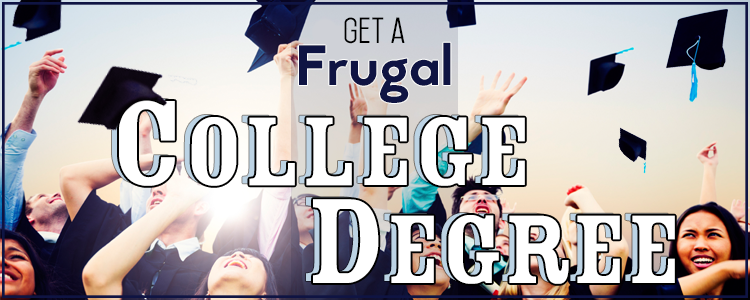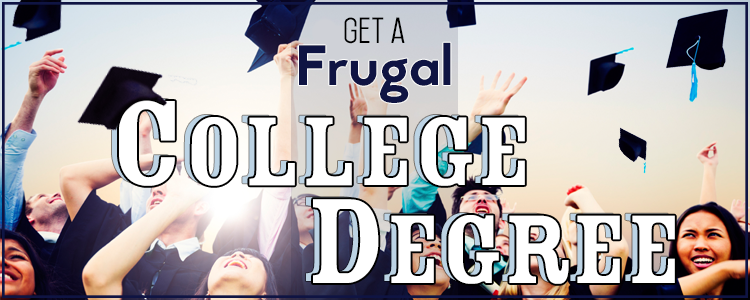 The cost of higher education seems to rise every year. Most lower and middle-class families cannot afford the additional education without federal assistance or getting themselves deep in student loan debt. Here are some tips on how to get a frugal college degree!
Know What You Want
Before you enroll in a brick and mortar university, figure out what you want out of your education and career path. What kind of degree do you need for your dream job? Do you even need a degree? Before crawling into debt, develop a plan of action, so you get the most out of your pursuit and make a wise investment.
Consider Your Options
Completing basic courses at a community college then transferring over to a university for major coursework can save students thousands of dollars. Not only on the classes, but they don't necessarily have to move away from home right when they graduate high school. In a lot of cases, there is the option to continue living at home for another two years, before moving away to a university.
There are also many online universities offering bachelor and master degree programs for a fraction of the cost of universities. Not-for-profit universities will likely offer the best prices since they are privately owned. In certain states, students who qualify for state-funded financial aid may use the assistance to enroll in online universities.
Take Free Online Courses
If you are already in the work force and would like to continue your education to increase your pay, find a better job or simply to learn, you may want to look into taking free online courses. Many companies are offering massive online open courses (also known as MOOCs). Here's a list of some websites to look into:
Coursera partners with some of the top universities and organizations in the world to offer free online courses to anyone wanting to further their education. Columbia and Princeton are among Coursera's elite affiliates. Their vision: "We envision a future where everyone has access to a world-class education that has so far been available to a select few. We aim to empower people with education that will improve their lives, the lives of their families, and the communities they live in."
EdX is a nonprofit endeavor founded by Harvard and the Massachusetts Institute of Technology. Through their institutional partners, "the XConsorium", EdX presents "the best of higher education online, offering opportunity to anyone who wants to achieve, thrive, and grow."
Udacity is backed by venture capitalists. Much like the above companies, Udacity offes accessible, affordable (and free), engaging classes that anyone can take, anytime. Courses allow you to learn through interactive, project-based exercises and videos. The company also offers options for college credit and certificates of completion.
The Saylor Foundation uses excellent open-source materials from organizations like MIT and Carnegie Mellon that are packaged together and supplemented by hired instructors. Saylor breaks down their courses into three different sections: Saylor University (offering 278 courses), Saylor K-12 (offering 8 courses) and Saylor Professional Development (offering 17 courses).
Sign Up for Scholarships
As we know, scholarships are an amount of money that is given by a school, an organization, group etc., to a student to help pay for the student's education; who wouldn't sign up for multiple of these? Students have so many options to choose from when it comes to signing up for scholarships. There are more serious ones, then there are silly and original scholarships. They are all fun, unique opportunities that may give students a chance at financial assistance, who may not have otherwise had it. Below are a list of scholarships each potential student should check out.
100 Unique and Weird Scholarships
http://yescollege.com/2013/04/100-unique-and-weird-scholarships-worth-applying-for-2013/
College Scholarships and Grants Available for Veterans
http://www.usnewsuniversitydirectory.com/articles/the-gi-bill-and-beyond_13730.aspx
American Psychological Association Scholarships, Grants and Awards
http://www.apa.org/about/awards/
The Rover College Scholarship
https://www.rover.com/blog/rover-college-scholarship/
NSHSS Foundation STEM Scholarships
http://nshssfoundation.org/scholarships/stem-scholarships/
Scholarships and Fellowships | UNCF Merck Science Initiative
http://umsi.uncf.org/sif
Green Home Improvement Scholarship
http://www.homeadvisor.com/r/scholarships/
As you can see, it is possible to attend college no matter what budget. With perseverance and determination, you can earn a degree and move on to working in a field you love. Have any other tips on how to get a frugal college degree? Let us know!