7 Ways to Save Money on Memorial Day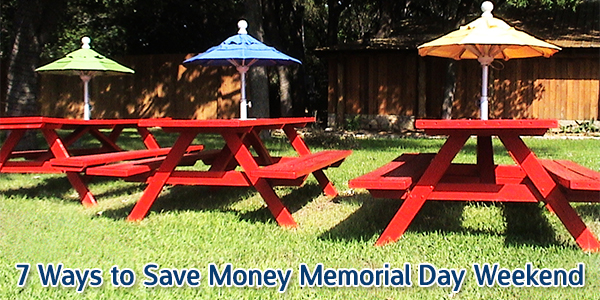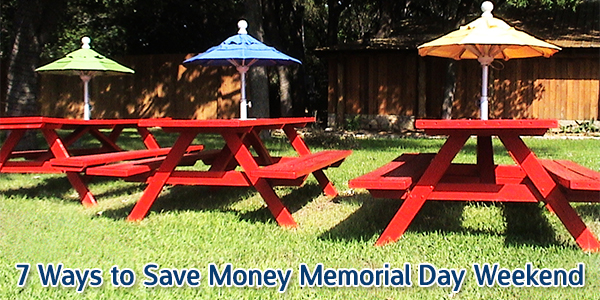 Memorial Day is just around the corner and that means it's almost summer time. Kick your summer into gear by having a fantastic three day weekend without blowing your budget. Here are 7 ways to save money on Memorial Day.
Staycation
One of the easiest ways to save money is to stay home for Memorial Day weekend. Spend your mini vacation relaxing at home.
Visit some of your local tourist attractions to learn a little more about your hometown and help support the local economy.
Go Camping
Camping is a fun activity and can be very frugal if you plan well. State and national parks offer inexpensive campsites and typically have summer activities to keep you entertained throughout the holiday weekend.
TV Show Marathon
Rent some of your favorite TV show DVD sets from your local library and have a marathon. Some good shows for marathons include Battlestar Galactica, Firefly, Game of Thrones, Breaking Bad and Arrested Development.
Or, buy DVD sets used and resell them after if you don't want to keep them.
Picnic
Take a short trip to a local park or even picnic in your own backyard. Bring a blanket, a picnic basket and some bug spray if you live in mosquito country.
Get a Good Deal
If you plan on traveling Memorial Day weekend, make sure to get a good deal. Visit websites like Groupon, Living Social, Restaurant.com and Slick Deals to get discounted prices on everything from hotel stays to eating and shopping.
Visit a Museum
Museums typically have special events during holiday weekends so take advantage of them this Memorial Day. Last year was BOGO free admission at our city's science museum.
Backyard Barbecue
Host a backyard barbecue if you're planning to entertain a lot of guests. Hot dogs and hamburgers are an inexpensive way to feed a lot of people. Generic sodas and BYOB is a great way to save.