10 Tips for Saving Money in the Summer Heat
Posted on March 27, 2013 by Guest Author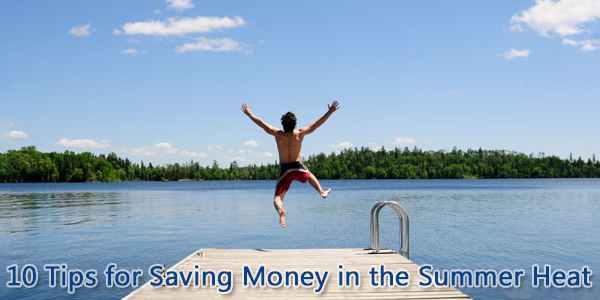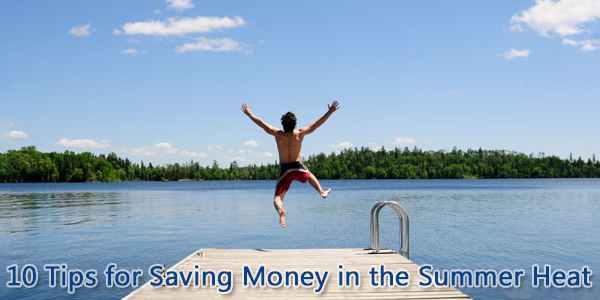 The south is notorious for its scorching summers, and Texas is the worst reaching over 100° F for weeks on end without any relief. Some years the south doesn't even receive a gradual introduction into summer, and the spring months of March through May just turn into an early summer. That's why it's important to prepare for summer early, as it can often arrive without any warning. Here are some easy frugal tips for saving money in the summer heat.
1. Replace filters
Dirty A/C filters can force your air conditioning to work harder than it should, so invest in air filters and remember to change them regularly.
2. Turn up the air
Every morning before work, turn the A/C up 5° F and turn on any fans to help circulate the air. This will prevent you from expending unneeded energy when there is no one home to enjoy it. Don't turn your A/C off completely while you're out or you will use more energy later trying to get the temperature back down to reasonable levels.
3. Have the A/C inspected
If you know that your air conditioning isn't exactly new, then it may be a better investment to contact your trusted A/C repair company and have them inspect its efficiency to ensure that your unit will survive the summer. Doing so will save you from having to buy a new air conditioner as well as a good chunk of money.
4. Open the windows
When you are home and a decent breeze is rolling through, turn off the air conditioning and open all the windows in your home, even the doors. With the blinds and windows already open, turn off the lights and take advantage of the sunshine.
5. Beware of blackout days
During the hottest months you should regularly check the news as well as your electricity provider's website for blackout days.  With summer getting hotter and hotter every year, electricity providers are beginning to do more blackout days, which means that your air conditioning and electricity can be cut off for hours at a time.  Providers do this to help lessen energy consumption and strain on electricity grids. Be prepared for these days and drink plenty of water to avoid dehydration during these hours.
6. Check the hot water tank
Turn down the maximum temperature on your water heater. With the warmer weather you are more likely to want a colder shower anyways, so don't force your water heater to expend the energy to heat up all that water. A suggested temperature would be around 120° F.
7. Use water only in the morning
Only use large amounts of water during the coolest times of the day. Such activities may include showering, watering the lawn, running the dishwasher and doing laundry.
8. Fill up the washing machine and dishwasher
When it comes to laundry and washing the dishes, make sure that each machine is full so that you can get the maximum usage out of the water and energy used. After washing, allow clothing and dishes to air dry.
9. Avoid using the oven and stove
Grill outside! If you can't grill outside or don't own one, then there is still hope. Slow cookers and pressure cookers expend less energy than the oven or stove, so put these underappreciated appliances to work.
10. Save money with apps
This tip isn't exclusive for saving money during summer heat waves, but will save you money year-round (and summer is kind of year-round in parts of the south anyway). Use apps like The Weather Channel to keep track of when particularly hot days are coming so you can better prepare your home and clothing choices. For more money saving apps, check out this article about frugal tips for saving money.