Energy Tips for Travelers: Finding Cheap Energy Wherever You Go
Posted on February 1, 2013 by Guest Author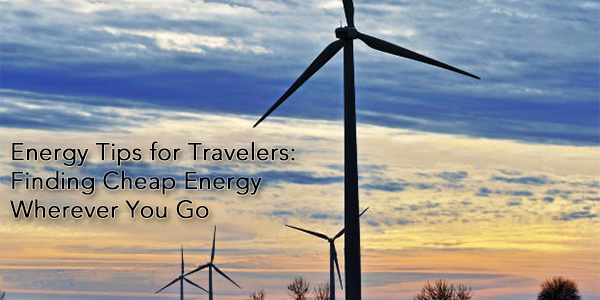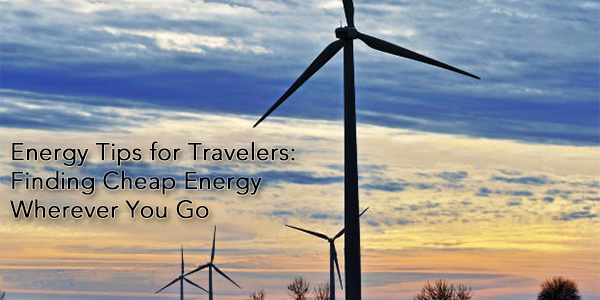 Saving money whenever possible is important to most people, but many overlook ways to save money that are less obvious. For instance, have you considered how you can save money on your electricity bill?  Monthly expenses like electricity can feel rote, but reevaluating energy costs from time to time is a good idea – there are often ways to save that you would not have considered.
Budgeting For Energy
Getting a great deal always feels great, so make sure you are not overlooking major ways to save.  In addition, energy prices are variable depending on the country and region you are living in.  Many people find the added cost shocking and unexpected when they make a big move.  Because energy prices can be so significant, they should always be a consideration when you budget.
Green energy is becoming more important as the years wear on and we experience the effects of draining planetary resources.  And because energy is a cost that you will incur no matter where you live, thinking about how you use energy, the ways you pay for energy, and how to save money whenever you can is something everybody should think about.
Energy Saving Tips for Travelers
Travelers who spend a significant amount of time in other countries can find ways to save on energy as well.  Just because you are on a budget does not mean you should not be able to travel, see the world, and enjoy life.  It just means you need to be extra aware of how you spend. When you are on a budget, considering ways to manage your money and save means you have to spend more time planning, not paying.  Travelers may not necessarily think to compare energy prices, but finding cheap electricity is harder than ever, depending on where you are traveling, so some forethought is needed in order to find the best deal.
Why Considering Energy Prices Is So Important?
Energy prices are extremely variable.  For example, energy prices in Australia are about 70 percent higher than American energy prices, meaning that paying for energy is a significant cost that has the potential to drastically affect how you live your life.  And the new carbon tax means this number is even higher.  So planning an extended Australian getaway, study abroad trip, or a move means that you should also plan for spending more on energy.  Do not let this deter your plans, just put a little more thought into how you can save. Travelers know that planning ahead and budgeting is an important part of planning a successful trip or move.  It is never pleasant to be surprised by expenses.  Instead, it pays to know what to expect and be able to plan accordingly.
How to Combat High Energy Prices
If you make the move in the short or long term to somewhere like Australia where energy prices are significantly higher than American or Canadian prices, keep some of these tips in mind to help minimize or offset some of the added energy costs.
Shop Around For Cheap Electricity
As with almost everything, comparing energy and electricity prices and shopping around for the best deal is the very best way to go. There are many energy companies in competition for your business, and going with the default government energy option can actually cost more.  Compare several options before you make a decision. Take a close look at contracts and ways that you can save like discounts for timely payments, who offers the best service in your area, whether rates are fixed or variable, if you can manage your account online, and what your options regarding renewable energy are.
Save By Using Renewable Energy with Electricity Buy Back Programs
Another way to take advantage of energy savings is by participating in energy buy back programs put in place by the government.  Programs called feed-in tariffs are meant to encourage households to use small-scale renewable energy systems like solar power, or wind or water systems that harness natural energy to heat and power your home.  When your renewable energy system produces an excess of energy – more than you use in a given month– it feeds back into the grid and you are reimbursed for that energy. Depending on the region you live in, the programs available to you might vary and you must apply for these programs, which you can do through your energy company. Doing a little investigation ahead of time can really pay off if you are planning a move or an extended trip!
Revisiting how you think about monthly expenses like energy and electricity is a very good idea in order to maximize the way you save.  Frugal spenders may think about ways to get the most out of other services, but many do not realize that shopping around for the best cheap electricity is an option.  So take a look at your energy bill, compare energy prices with rates from other companies, and look at ways you can save or benefit from competitive prices or benefits programs from alternate companies.
Theresa Stanton is a freelance writer and editor who enjoys researching and writing articles that can help consumers find more ways to live life to the fullest while saving money.  She has researched different energy options for travelers and the best ways to find
cheap electricity
no matter where you are.