13 Ways to Save Money Traveling the World
Posted on January 30, 2013 by Guest Author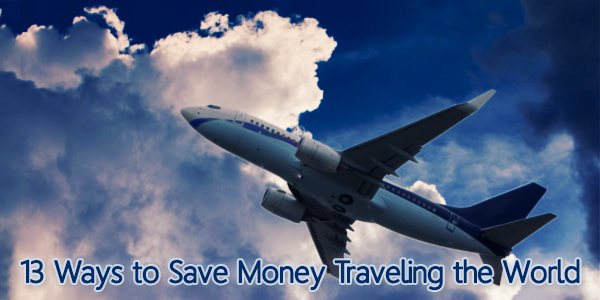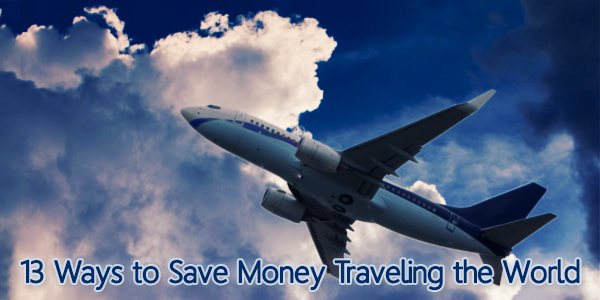 Nothing is as freeing as travel. Right? Pumped with the anxiety of seeing something new and exciting makes you restless the days before a big trip. You love the idea of being in exotic places and trying new things, but affording those trips make them few and far between, don't they?
But – what if you could save money while you were on your travels?
Would you go more often?
Yeah, we thought so…that's why we're putting this piece together – just for you. So you can get away more often without the stress and the worry of overspending. So you can be the globe trotter you always wanted to be. Here are 13 ways to save money traveling the world.
1. Scour the net for the cheapest flights
If you're flying, you'll want to check sites like Kayak, CheapOAir, Travelocity, or Hotwire. But don't stop there. Once you've collected the prices for your flight, determine the lowest price flight and compare it to the price on the airline's website.
HOT TIP: Be flexible. If you can fly on different days, you can save hundreds on your trip. Use sites that allow you to check two or three days before or after your queried flight.
2. Be on the lookout for the hot deals
Use AirFare Watchdog and receive email alerts about hot deals.
If you're ready to jump aboard at any time, AirFareWatchDog is for you. When you sign up for email alerts, they'll send you weekly deals that may land you in a destination that you never consider visiting – and for some of the cheapest prices on the Net.
When we did a search, we found a ticket to St. Petersburg, FL for $188 – more than $100 cheaper than Travelocity and far less restricting…as the ticket for AirFare WatchDog gave us the freedom to fly any time between the time of this writing and March 2013 – Travelocity's ticket could only be booked in December.
3. Name Your Own Price
Name Your Own Price from Priceline can get you deep discounts if you're flexible about your travel dates and how many flights you can take to get to your destination.
HOT TIP: The key to Priceline is to check the aggregators like Kayak and CheapOAir, etc. for the lowest fare, then bid half that on Priceline's Name Your Own Price Flights page. You'll be asked to submit a higher bid, proceed without changing it. We repeat: proceed without changing it.
Then, they'll get back to you to let you know if you've scored your best deal or not. If not, they'll offer you an unpublished price for the flight that should be lower than what you found through the aggregator sites.
4. Take the unconventional route
Maybe you're not interested in flying, so don't. Planes are awesome, but if you want to see more of the place you live, take a bike. Take a hike. Even hop a train. You'll see the sights along the landscape of America. And meet the fabric of people that weave the country together.
There's a lot of nostalgia in taking the old ways of traveling, and there's a lot of adventure in them. But, most of all…there's a ton more cash to be saved by taking them.
5. Become a minimalist traveler
When you travel, the less you take, the easier – and cheaper – you can get to where you're going. The heavier your bags are, the more the airline will charge you.
HOT TIP: You need a toothbrush, a change of underwear or two, a change of clothes, some deodorant, your laptop, some nuts and protein snacks and bottled water. Anything else? We don't think so.
6. Backpack it
Backpacking is a great way to see the world without spending a fortune. A 7 day trip through Spain (minus the plane ticket, of course) could cost an average of $500 per person. If you'd stay in hotels and eat out the whole week instead, you could easily spend $1500 or more. Backpacking could save you $1000!
Check out these daily costs country by country from activebackpacker.com.
HOT TIP: When you backpack, leave your valuables at home. You're off on an adventure, you don't want to waste time and energy worrying about your Rolex. Only take what you have to have – that means leave the hair accessories behind until you return.
7. Couchsurf
Hostels are literally bed rentals, although you can get private rooms, that come with kitchen accommodations and you share a bathroom. More famous in Europe than in the US, they are the key to backpackers savings when trekking. Check Hostels.com to find locations around the world.
Couchsurfing is essentially the same thing as a hostel except that it's free and is a social experience, rather than just a place to stay. Some Couchers offer a room, some only a couch – and others may offer a space in the backyard. At any rate, not only will you save money, but you'll gain friends and a rich cultural experience.
HOT TIP: Research well before heading to a couch. Check out Vouches and get feedback on your prospect destination.
8. Collect points and miles
Collecting points and miles has saved people hundreds of dollars on flights, on hotels, and cars. But, there's an art to earning the most possible points and miles out there. And if you're willing to dance a few dances, you'll earn your points or miles quickly. Points are often usable for things other than travel, but miles are restricted to flight miles. Decide which one suits your needs best.
Step 1: Don't run out and apply for every rewards card out there. Stick with one that will benefit your travels the most – Capital One Venture card carries a $59 fee (waived the first year), but pays 2 point/$1 spent.
Step 2: Now, if your credit is in good shape, then consider using this card to pay your bills, do you grocery shopping, etc. BUT — PAY IT OFF at the end of the month. We don't want anyone racking up debt just for points!
Step 3: Sign up for rewards at the hotels you use, the cars you rent and more, but sign up for AwardWallet to help you stay on top of your earnings so they don't expire and you lose them.
9. Drink the water
Get a water bottle with a filter and drink the water anywhere. Use a refillable sport bottle that filters many microbes, toxins and metals from your water and don't buy another bottled water while you're away again. You'll save money on buying bottles of water that may not come from clean water purifying systems anyway.
HOT TIP: Check out the Drinksafe Water Straw available at Amazon.co.uk or the Sport Berkey to save money while you drink.
10. Pack the pharmacy
Depending on where you're going, medicines may be more expensive, especially if you're traveling overseas. Consider packing a general pain reliever like Tylenol and an anti-diarrheal medicine with you – anything else, you could get on an as-needed basis.
11. Free your smartphone
Jailbreak your smartphone and take it with you – especially if it's a SIM phone. Then, you save having to buy a phone when you get where you're going. All you'll need to buy is a loadable SIM card.
HOT TIP: Jailbreaking your smartphone allows you to use unofficial apps.
12. Take your WiFi with you
If your phones' been freed, then you can tether it to your laptop and use free WiFi wherever you go using your phone's data plan.
HOT TIP: Pay a one time fee and use free WiFi for life with your phone as your hot spot. Once you've jailbroken your phone, download PDAnet to transform your phone into your personal hot spot.
13. Eat for next to nothing
It goes without saying, but…if you're staying in a hotel, take advantage if they offer free breakfasts. Likewise, try to stay in accommodations that have self-catering facilities, even if it's just a cook top and a mini-fridge. Cooking your own food will save you half of what you would spend eating out.
Or pack a cold lunch. If you're going out for the day, brown bag your lunch and plan a picnic while you're sightseeing. Keep plenty of nuts and protein bars on hand for snacks.
HOT TIP: If you're staying in hostels, then get together with your mates and split the grocery bill and spend time cooking to save the most cash.
With these 13 tips, you can now travel the world (or your region) in cash-saver style. Never stay home because you don't have the money to travel again.
How else can you save while you travel?
Written by Tania Dakka. Tania Dakka blogs for
Happier.co.uk
among many others. As the Fit Freelancer, she does the heavy content lifting so entrepreneurs can take back their lives and move their businesses forward