5 Frugal Cleaning Tips
Posted on November 13, 2012 by Guest Author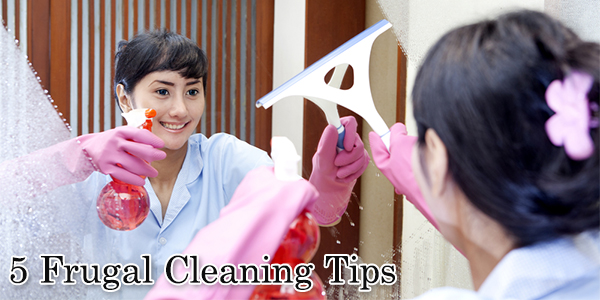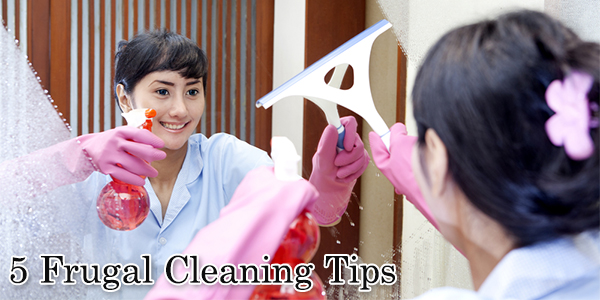 Nowadays, when prices of almost everything are being raised by the hour, all households are struggling to find out easy and effective ways to cut down on their expenses. The truth is that there is a cheap alternative to everything costly. The very same goes for cleaning products and the sole process of cleaning. While it is way easier to hire a cleaning company to do all the job for you, not everybody can afford to do that. Especially if cleaning needs to be done more than once in a fortnight. That is why human dexterity has led to some marvelous inventions. However, inventions more in the sense of innovative ways of using certain household products in a way never imagined before. Here are five frugal cleaning tips to help you save a bundle.
1. Using mild dish soap or plain water
There are many types of cleaning that can be done by using something as simple as dish soap or even plain water. TV commercial have led people to believe they always need expensive toxic detergents when dealing with various stains. This, however, is not always true. The good old dish soap could be used for many more things than just washing plates and glasses. It is a good laundry stain remover, window cleaner, surface spray, carpet stain remover and so on.
2. Clean more often
Doing a little bit of cleaning every now and then will reduce the need for stronger and more expensive cleaners. After all, everybody knows that the more a stain stays without being treated, the harder it is to be removed afterward. Most stains can be removed with the help of plain water, dish or laundry soap, provided that the affected area is treated immediately after the damage has been done. Spare a little time for cleaning almost every day and this way you will even prevent the appearance of any stains, dirt, spillages and so on.
3. Stay away from expensive products
Most of the times people tend to buy only the products they already know and trust. This is mainly due to the fact that they are widely advertised as best and most reliable. However, this is not always true. Cheaper equivalents to them are present in all stores; you just need to look around a little more.
4. Choose reusable cleaning items
In order to save more money, learn to rely on such items, which are not disposable, but can be used more than just a couple of times. Consider buying reusable mops, cloths, rags, etc. Not only will you spare yourself the numerous trips to the store but the family budget won't have to suffer. Choosing reusable items can save you a lot of money, you just need to take good care of them in order to preserve them for as long of a time as possible.
5. Make your own cleaners
There are more products in your kitchen that can be used as cleaners than you can even imagine. Vinegar is a multipurpose cleaner that can be used to clean floor tiles, windows, microwave ovens, removing stains from carpets and clothes. Baking soda is used as a form of mild abrasive cleaner for getting rid of stains from sinks, counter tops and even fine china. Lemons are a natural equivalent to bleach and toothpaste is great for polishing silver and chrome products.
Saving money on your cleaning budget is easier than one might imagine. It all just takes some research and ingenuity.