10 Online Tools and Mobile Apps to Save Money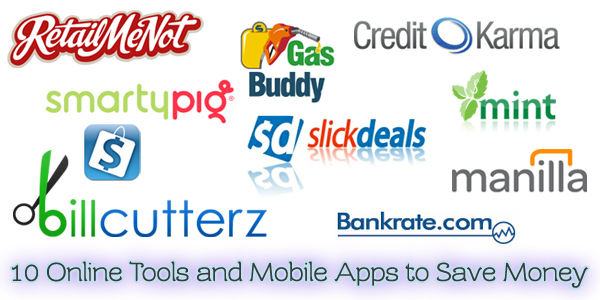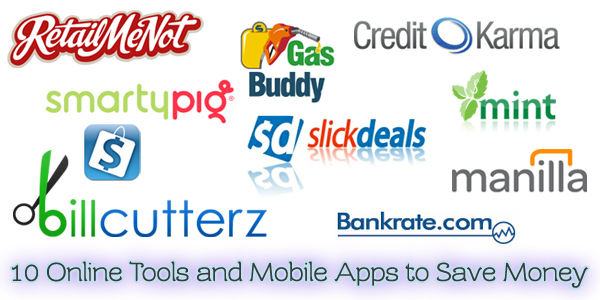 Saving money is one of my very favorite things, and it's probably yours, too. It's not just about cutting back on frivolous spending or using coupons – it's about managing your finances, staying within your budget and finding new ways to save money. Here are 10 online tools and mobile phone apps to help you save money.
BankRate – Compare Financial Products
Bank Rate is a website that compares financial products like CDs, car loans, mortgage rates, credit cards, and more, so you can find the best deal. They also have calculators to estimate loan payments, credit card payoffs, and so much more. Bank Rate is a very helpful resource to saving the most money on financial products.
BillCutterz – Lower your Monthly Bills
BillCutterz is a bill discounting service that lowers your monthly bills by negotiating with your service providers. Send them your monthly bills like electricity, cell phone, internet, cable and satellite TV, and more. They will get to work saving you money every month, without changing features or switching providers.
Credit Karma gives you a FREE credit score, no strings attached. Other websites that offer credit scores (not credit reports, which you can get free once a year from AnnualCreditReport.com) charge you or will enroll you in a monthly credit monitoring service. Credit Karma also offers recommendations to find better credit cards, mortgage and auto loans that will save you money.
Gas Buddy – Save Money on Gas
Gas Buddy is a website that will tell you where to find the cheapest gas in your area. Users input local prices to keep track of price changes so you can easily find the best deal. Gas Buddy has apps for iPhone, Android and Blackberry phones.
iSlick – Deals, Sales and Freebies
iSlick is an app for iPhone and Android that shows you the best deals from major retailers. You can set up instant notifications to be alerted any time a new sale or freebie is found.
Manilla – Manage your Accounts
Manilla lets you see all of your bills and financial accounts from one place. You can add monthly bills like your cell phone, electricity, cable, etc., as well as bank accounts and credit cards, and subscriptions. Manilla has a mobile phone app so you always have your financial data at your fingertips.
Mint – Track your Spending
Mint.com has a web app and mobile phone apps for Android and iPhone. Input your bank account information and credit cards to get an always up-to-date overview of your finances. Keep track of your spending and find out where your dollars are going.
Retail Me Not – Find Coupons and Promo Codes
Retail Me Not is a website where you can find thousands of active coupons and promotional codes for your favorite online and brick and mortar stores. You can sign up for their email newsletter to get coupons delivered straight to your inbox.
Slick Deals – Coupons, Sales and Deals
Slick Deals is one of the largest websites dedicated to finding and sharing deals. Powered by users who scour the internet and brick and mortar retailers, Slick Deals is home to an incredible number of sales, deals, coupons, freebies and more. Before you buy something, check Slick Deals to see if they have a better price or a coupon for you to save money.
SmartyPig – Online Piggy Bank
SmartyPig is basically an online piggy bank that helps you save money to reach your financial goals, like a new car, vacation or an emergency fund. Set your goal and choose how much you want to contribute to your piggy bank each month. You can share your progress with your friends and family, and they can contribute to your goal. SmartyPig even pays you interest while you're saving money.