Tax Tips for 2012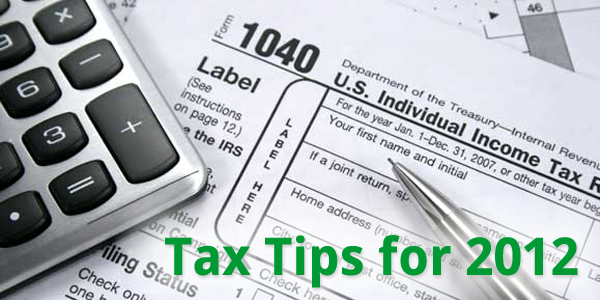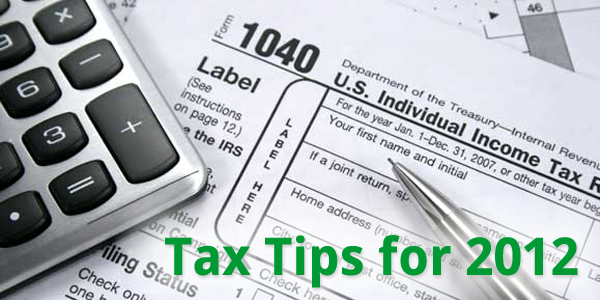 It's that time of year again – tax season. Some people use their tax return as a forced savings account, while others try to avoid giving the government an interest-free loan. Either way, everyone wants to pay as little taxes as they can. Here are some tax tips for 2012.
File by April 17
This year April 15 falls on a Sunday and April 16 is Emancipation Day, so you must file your return or extension by April 17. If your state has an income tax, here is a list of return filing dates.
IRA and Health Savings Accounts
You can continue contributing to your IRA until April 17 and take the deduction on your 2011 tax return. Here are some guidelines for how much you can deduct. You can also contribute to a health savings account until April 17 and take the deduction.
Mortgage Interest
If you have a mortgage, you can deduct the interest. For most people, you can deduct all interest paid on mortgages, but there are some exceptions.
State, Local and Sales Tax
The IRS allows you to deduct your state income tax and property tax on your federal return. You are also allowed to deduct any sales tax you paid (but only if you aren't claiming the state income tax – can't do both). You can use an online calculator to determine how much you can deduct.
Education Expenses
There are many ways to deduct education expenses, from the Lifetime Learning Credit to deducting interest paid on student loans. Most tax software can walk you through the myriad of rules to determine what you're eligible for, or you can dive into the IRS website.
Charitable Donations
You can deduct charitable donations, either monetary or noncash items, but this really only helps if you itemize. Make sure to keep receipts and evidence of items donated and their value.
Free File
The IRS allows you to file your federal tax return for free electronically, regardless of your income. However, if your AGI is $57,000 or less, you can get free tax preparation software from IRS.gov. If your AGI is more, you can download free forms and still file electronically for free. One of the best benefits of filing electronically is how much faster your return will be processed. You can also check the status of your return online.