Save Money with Amazon Subscribe & Save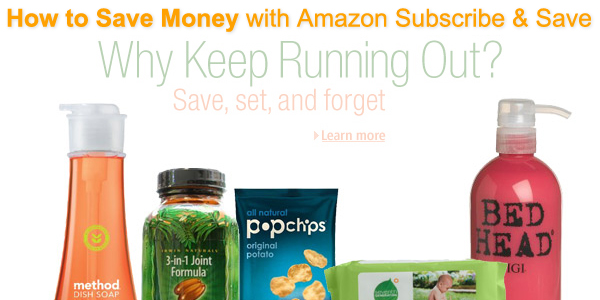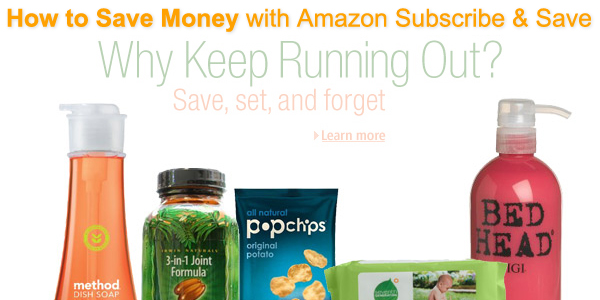 Amazon.com is one of the largest online retailers and they offer a variety of incentives to shop with them. If you shop with Amazon a lot, their prime membership gives you free two day shipping and access to their video on demand service. Another great program offered is Subscribe & Save, which can save you a bundle. Here is your guide to saving money with the Amazon Subscribe & Save program.
Subscribe & Save Basics
The program in a nutshell: you subscribe to items on a 1 month to 6 month interval and they send them out. You are only charged when the item ships, plus you get a discount for subscribing. Discounts vary by item, but are usually around 15%. Items are sent via free standard shipping; and you can cancel at any time.
This program is broken down into five main categories: health and household; beauty and grooming; baby and child care; groceries; and pet supplies.
For products that you purchase regularly, this is a no-brainer because you will save an average of 15% on top of Amazon's everyday low prices. And because you can set intervals as infrequent as twice a year, it works for other items like household cleaners, makeup and vitamins.
How to Work the Program
For items that you may not repurchase, or you're not sure how long it will last, set it at six months. If you need the item sooner, you can always switch it up. You can also cancel your subscription at any time if you no longer want the product or you still don't need it after six months.
Keep Track of Subscriptions
Amazon sends you email reminders when a product will ship, but unless you stay on top of your email, an item may ship before you have time to cancel it. One way to keep track of upcoming shipments is to use a calendar or to do program. Remember the Milk is my favorite to do webapp that also has iPhone and Android apps to keep your lists synced. Add a task with the interval date in Remember the Milk and the app will email you in advance to let you know your shipment is going to be scheduled. This way, you can make sure you are ready for another item.
Amazon Mom
This free program goes along with Subscribe & Save to get you even better discounts and deals on everyday household and parenting items, like 20% off diapers. You also get access to their free two-day shipping and free returns for a year on baby items. Amazon Mom is also open to parents or caregivers of all kinds, not just moms.
The only downside (if you can call it that) is that you have to give up some info on your family so Amazon can tailor marketing to you and your household. In the world of online marketing and tracking, giving Amazon details on your favorite products isn't a big deal.