6 Ways to Save on Pet Care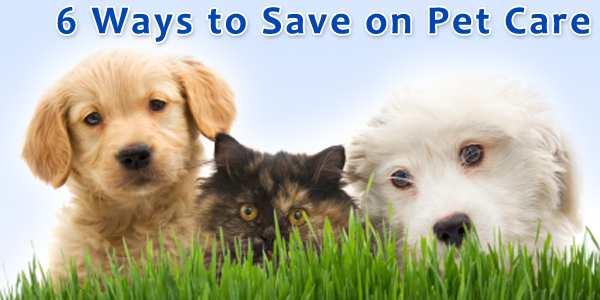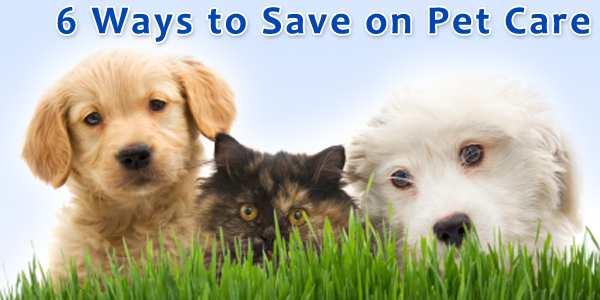 While babysitting my friend's cat, I got to thinking about how much work pets are and how much money their maintenance costs. Here are 6 ways your family can save money on pet care.
1. Start a Healthy Diet
Feeding your pet healthy food does not mean you have to buy the most expensive food on the shelves. In fact, it doesn't mean that at all. Find a brand that has meat as the first listed ingredients. The more fillers like corn meal or bone meal in the food, the less important nutrients.
Do not overfeed your pet. Look at the recommendations on the food bag for your animal's size. If Fido still seems hungry or has dietary issues, consult with your vet to make sure he's not missing any nutrients.
Overall, keeping your pet healthy and fit will save you money in the long run at the vet as well.
2. Groom at Home
You can save tons of money by skipping the groomers altogether. Find out how to groom your pet yourself. Get the family involved and have the kids do some of the grooming. If you are set on taking your pet to the groomer's, then groom midweek because many places charge 20% less during the week.
Shop around between large stores like Petsmart and local groomers to see who has the best rates. Make sure you fully trust the groomer because added stress will not help your pup and can lead to larger problems.
3. Looking for a New Pet?
If you're looking for a pet, decide what type and size is best for you. Puppies and kittens, while super cute, are much more expensive than an adult dog or cat (even one year olds are much less expensive). Check with shelters even if you're looking for a specific breed. There are many rescue organizations that are breed-specific. Adopting a shelter pet not only helps keep critters off the street, but they come full of shots and are neutered/spayed.
4. Keep Pets Close to Home
Pets are more likely to get hurt or pick up various illnesses when they wonder too far away from home. Keep your pets inside or fenced in your yard to keep them safe. Cats and dogs don't quite understand the risk of the street so make sure to keep your critter safe.
5. Keep up with Health and Hygiene
You will save down the road if you start and maintain good health and hygiene habits. Keep up with vaccinations, heartworm checks, flea prevention and vet checkups. Teeth brushing will help prevent oral hygiene issues and there are also treats designed to help with bad breath and gingivitis.
Make sure your pet gets the appropriate amount of exercise so he or she can healthy mentally and physically. Spay or neuter your pet to avoid unwanted pregnancies that lead to expensive vet costs and extra pets to care for.
6. Take Advantage of Coupons and Promos
You may not realize, but there are many coupons for pet-related products. Manufacturers and stores put out coupons for everything from food to toys, to flea and heartworm medicine.
Here are some links to tips on finding and using coupons:
Pet Food Couponsvia lovetoknow save
Pet Food Couponsvia About Frugal Living
Petcarechoice.com Couponsvia RetailMeNot
Another trick is to "Like" all the big pet food brands on Facebook to gain access to exclusive coupon offers, rebates and reward clubs.