Saturday Morning Savings
Posted on September 21, 2011 by
Adrianna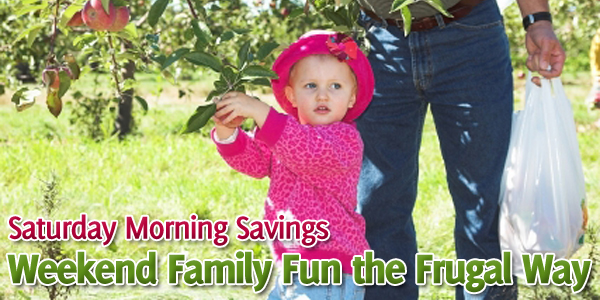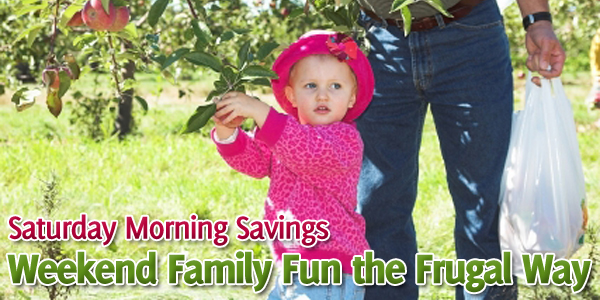 Saturday is often times the best day of the weekend. You can sleep in a little bit and still have the whole day to enjoy. Here are some fun ways your family can kick start your Saturday and still have money left over for the rest of the weekend.
Frugal Friday Night Fun is Part 2 of 3 in a series: Weekend Family Fun the Frugal Way. Here is your guide to Saturday morning savings.
Take advantage of the Season
The autumn season offers many opportunities to enjoy the outdoors before winter arrives. One of my childhood favorites is apple picking. It is a fun way to engage all members of the family and you only pay for what you pick. Most apple orchards include many other activities as well. They are often decorated for Halloween and include hay rides, pony rides, corn mazes, and a pumpkin patch. Many of their activities are free which offset the price of apple picking. Here are ways to get the most out of the apples you pick: Acres of Apples, Frugal to the Core via Living on a Dime and How to Use Bruised and Shriveled Apples via Money Saving Mom.
Free Community Activities
There are plenty of activities to do in your own town that are fun and free.
Many museums in your area may have discounted prices on holidays or family days on weekends. Also check How to Visit Museums for Freevia Wise Bread for possible deals in your area. There are also often great free family events at your local library.
Tour the local fire or police station and thank them for their service or take a tour of the city. Kids love to ride public transportation and the family may learn more about their community and the people in it by looking at it from a different vantage point. Another way to get to know your city better and enjoy a morning of free fun is to have a family scavenger hunt in your own city.
Community Service
Another way to connect as a family and teach your children positive values is to volunteer together. The great thing about volunteering is it's free, fun, and makes you feel good. One Saturday you could spend some time sorting canned goods at a local food pantry; play cards or board games with the elderly at the community nursing home and listen to their stories; organize your own neighborhood cleanup; do a house clean up and donate to your local Goodwill; or serve food to the homeless at a soup kitchen in your area.
Stay tuned for the next post in the series "Weekend Family Fun the Frugal Way: Almost Free Sunday Afternoon Activities."