Frugal Friday Night Fun
Posted on September 16, 2011 by
Adrianna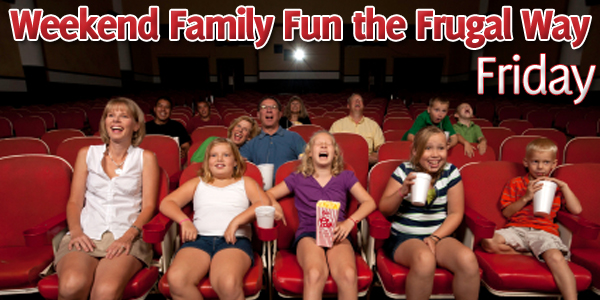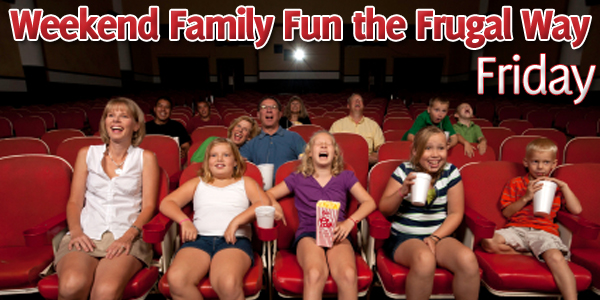 During the fall, many families leave behind the summer fun and put their nose to the grindstone without coming up for air until Christmas break. So, what if there were fun activities that families could do without dipping into Christmas savings? Here are some fun ways families can connect on weekends without spending a lot of money.
Frugal Friday Night Fun is Part 1 of 3 in a series: Weekend Family Fun the Frugal Way. Here is your guide to frugal fun on Fridays.
Cinema
If your family enjoys the movies, take advantage of matinee movie showings or dollar cinemas in your area. Eat before you go so you won't be tempted by the expensive snack bar.
You can also find coupons for specific theaters or movies. Fandango, a website where you can purchase movie tickets online, frequently has coupons and promotion codes available online. One place to find Fandango couponsis Retail Me Not.
See new movie screenings for free! Here's a guide from Wise Bread – How to Watch Movies in the Theater for Free
Movies at Home
There are also many opportunities to save money by watching movies at home.
RedBox is a popular, convenient way to rent movies for just a dollar each. A DVD costs you $1 per night while Blu-Rays cost $1.50. You can easily find promotion codesto get free and discounted rentals.
Netflixis an inexpensive movie source that provides instant access to new movies and your favorite classics. They have plans where you can instantly stream movies and TV shows to your TV or computer or you can still rent DVDs and Blu-Rays by mail. They always offer a two week free trial.
Most libraries are now carrying new releases and a wide selection of classics for free rental, and typically allow you to rent movies for a longer period of time.
iTunes and Amazon both offer video rental and purchasing to your computer. Currently, TV. Amazon is offering a 1 month free trial for their video on demand service.
Live Music, Sports, and Theatre
Looking for live entertainment? Instead of buying tickets for expensive sport events, plays, musicals, or concerts, look to your community for free or inexpensive events locally.
Most colleges, whether they are community, state or private schools, have a performing arts center where you can watch plays, concerts and musicals at a low price.
Support your local college or high school sports teams by attending a Friday Night game. Many families have relatives that play sports for their schools but never take the opportunity to attend their games.
Dinner
Since the recession, many of the chain restaurants, such as Applebee's and Chili's are offering great meal deals. Sign up for email newsletters to get frequent coupons.
Check around to see which restaurants offer kids-eat-free specials and what days they are. If you time it right, your kids can eat free a few times per week.
Even if your favorite restaurant does not have a special meal deal, most restaurants serve portions that are more than one person can handle. A family of six could enjoy a feast at their restaurant of choice by ordering three of their favorite dishes and an appetizer to share.
Another option is to eat dinner early. Some restaurants serve lunch till 4pm or 5pm, which provides discounted meals without losing portion sizes.
Commit to ordering water to drink and cutting out desserts to save extra money.
Takeout: There are many creative money saving options with takeout. View some awesome ideas from Mint Life: 7 Ways to Save on Takeout Food.
Be Flexible
It is easy to save money if you are a flexible person. When we hold on to what we expect to have or do and refuse to change even a few degrees it is difficult to be open to alternative options. When we are open and flexible there are numerous possibilities and we tend to get more than we could imagine.
Stay tuned for the next post in the series "Weekend Family Fun the Frugal Way: Saturday Morning Savings".