Almost Free Sunday Afternoon Activities
Posted on September 28, 2011 by
Adrianna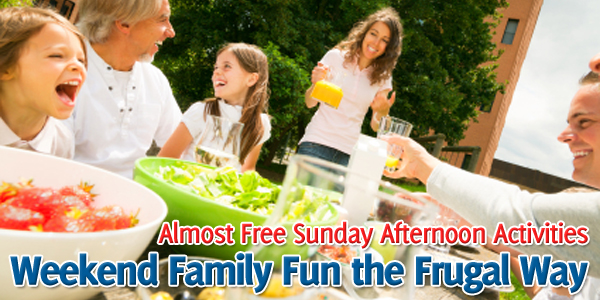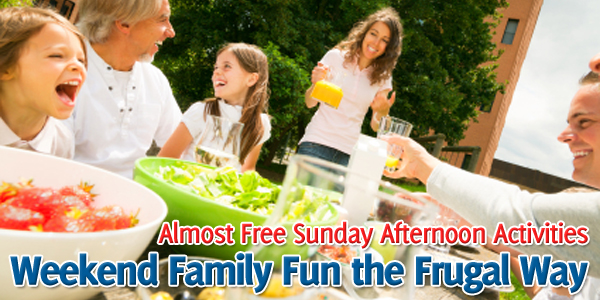 Is your family looking for something different than the usual Sunday routine? Here are some fun and inexpensive ways to gather family and friends on a Sunday afternoon.
Almost Free Sunday Afternoon Activities is Part 3 of 3 in a series: Weekend Family Fun the Frugal Way. Here is your guide to almost free Sunday afternoon activities.
Community Potluck
I was grateful this past year to meet a beautiful family that invited anybody and everybody over for sports and games on Sunday afternoons after church. All the families that came brought something to snack on so no one family was burdened. It's a great way for families to come together with other families to enjoy safe and clean fun.
Have a Picnic
Instead of dining out on Sunday, plan a family picnic at the park. This is great for families who go to church with smaller children because they spend all morning in church and then have to go to a restaurant and "behave". Out at the park you can be free to roam and enjoy the fresh air. Autumn is a perfect time as well, because it's not too hot and not yet cold.
Start a Hobby as a Family
Find a hobby everybody can agree on and enjoy Sunday afternoons together. For example, start a family band. Check craigslist, ebay, and newspaper for deals on used musical instruments. Also ask family members and friends if they have any musical instruments hanging around that they are not using. You can even make your own instruments for the little ones. For a list of other hobbies and money saving tips, here is a guide from All Things Frugal. Another good article is from Saving Advice: 10 Smart Ways to Save Money on Your Hobbies.
Board Games and Card Games
Establish a hearty collection of family games by visiting garage sales and thrift stores. There are many other ways to Save Money on Board Games. Another good inexpensive way to gather family members when the weekend is winding down is to work on a group puzzle. Whenever members are between activities or need a break from studying they can congregate around the puzzle. Start a puzzle on a Sunday afternoon and finish it during the week.
There are Endless Possibilities
See Fun Frugal Mom's Top 20 Family Fun Activities for more money saving ideas.