10 Ways to Redecorate Your Home for (Almost) Free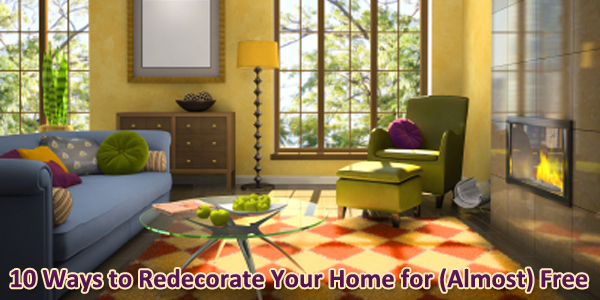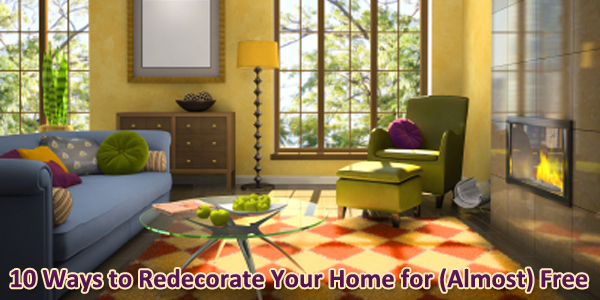 The home décor market is incredibly huge because people like to personalize their homes. Redecorating and giving your home a makeover can quickly become a very expensive project, but it doesn't have to be. Here are 10 ways to redecorate your home for free or almost free.
1. Repaint
An easy way to breathe new life into old furniture is a simple paint job. Paint is very inexpensive, especially when compared to buying a new piece of furniture. You can pick up a pint of paint or wood stain from Home Depot for under $5.
Repainting your walls will also help give a room a new look with minimal cost. You can use the paint as decorations and include stenciling, textures or bold lines.
2. Recover
Upholstered furniture can lose its luster after normal wear and tear. While reupholstering can be expensive if done professionally, you can do it yourself or simply buy or make a slipcover. If you are a good DIYer, reupholstering simple items like chairs can be done in an hour.
3. Swap with friends
Swapping furniture with friends or family is a free way to get new furniture. Make sure to discuss details before you start moving furniture to avoid any problems later.
4. Craigslist and FreeCycle
Keep a close eye on the second hand markets of Craigslist and FreeCycle.org to find free and cheap furniture. Free items that are worth having will go fast, so be ready when you find something.
5. Thrift Stores and Flea Markets
Second hand shops, thrift stores and flea markets will often have old, well-made furniture at very cheap prices. Sometimes you may have to buy a rock and turn it into a gem yourself, but for the price, it's worth it. Older furniture made of solid woods that are still around will usually continue to last because of the craftsmanship. I have a dresser my great grandfather made over 80 years ago that is still in pristine condition.
6. Dollar Stores
Dollar stores are notoriously cheap, but they do have home décor items. They will not necessarily be of high quality, but decorations don't need to be expensive to look nice.
7. DIY Wall Art or Poster Prints
Instead of buying classic artwork for hundreds of dollars (or more), you can make your own wall art. Even if you're not very artistic, a paint-by-numbers set is under $20 at any craft store. Poster prints of paintings can also be purchased inexpensively, especially online.
8. Fancy Frames
Another alternative for wall decoration is to use photos with fancy frames. Your local craft store like Hobby Lobby probably has a framing section where you can choose from many frames.
9. Display Your Collectibles
If you happen to collect something, whether it's vintage Coke bottles, movie posters or stamps, put it on display. If you don't collect anything, you can always start with something easy and inexpensive like spoons or shot glasses. If you tell family and friends about your collection, they may start bringing you souvenirs from vacations and trips.
10. Go for a Minimalist Look
Sometimes, the decoration is no decorations. Going for a minimalist look may feel like a copout, but simplicity is chic and timeless.