Best Time to Buy: August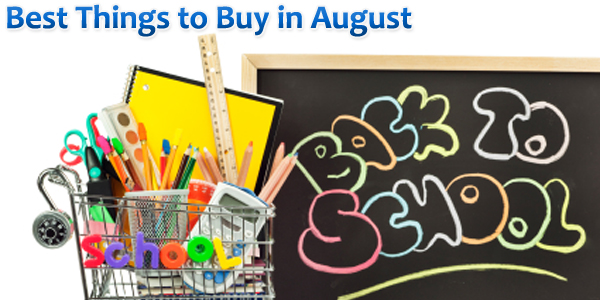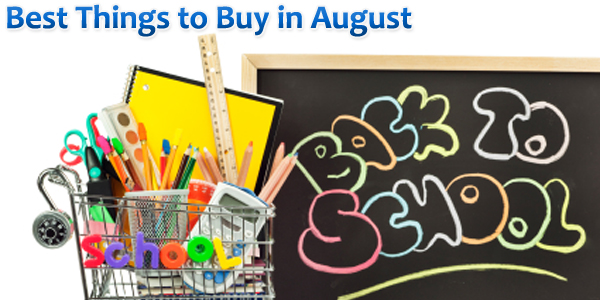 It's hard to believe summer is almost over, but August is just around the corner. Here is another edition of our monthly guide for best things to buy, Best Things to Buy in August.
School Supplies
This is an easy one. Retailers will have huge sales on school supplies and office supplies throughout the month of August. Pair the discounts with coupons to save even more money.
Computers
August brings good deals on laptops and desktop computers because of back to school sales and to get rid of last year's inventory. Apple always runs a student discount, usually a free iPod with purchase of a computer.
Outdoor Equipment & Toys
Since summer is ending, stores will be unloading camping equipment and outdoor equipment to make room for fall products. While children are readying themselves to go back to school, retailers are discounting outdoor toys for children like swing sets, jungle gyms and playhouses.
Clothing & Swimwear
Retailers will also have many sales on clothing throughout August for back to school. Stock up now while prices are the lowest they will be until Black Friday. You will also be able to find swimwear at a discount.
Wine
Vineyards usually release new wines in the early fall. While they may not be much cheaper, it may be the only chance this year to get certain wines.
Linens
Sheets, comforters and other bedroom linens will be on sale during August for back to school shopping. While there will be a larger stock of twin and double bedding sets available, queen and king sets will also be marked down to low prices.
Tax-Free Weekends
Nineteen states and Washington D.C. hold a tax-free weekend during August: Alabama, Connecticut, Florida, Georgia, Iowa, Louisiana, Maryland, Mississippi, Missouri, New Mexico, New York, North Carolina, Oklahoma, South Carolina, Tennessee, Texas, Vermont, Virginia and West Virginia. Look up the rules for your state because the eligible items will vary.
Fruits and Veggies
In season: apricots, blueberries, cantaloupe, corn, cucumbers, eggplant, green beans, kiwi, lettuce, peaches, plums, raspberries, strawberries, summer squash, tomatoes, watermelon
Epicurious has a great interactive map showing the seasonal produce based on month and state.