Spring clean your finances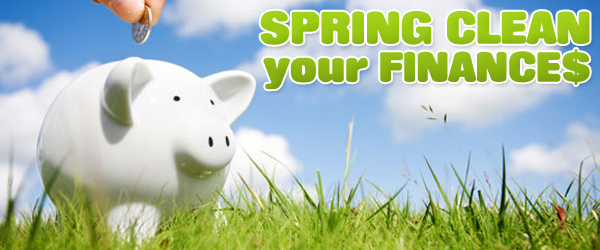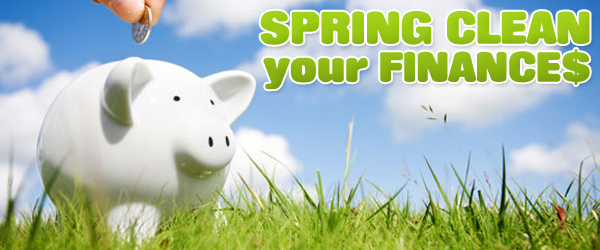 The first day of spring is just around the corner so why not take a metaphorical broom to your checkbook and clean things up a bit? Use this time to freshen up your finances so you can enjoy the coming spring.
Check your credit report(s)
You are legally entitled to get your free credit report with each of the three major bureaus, TransUnion, Equifax and Experian once per year. You can either get them all at once or get a different one every four months. Whichever way you choose, make sure to check your credit for any inaccuracies, and if you find one, make sure to dispute them.
Go through your bills
If you're still receiving paper statements and keep them for your records, now is the time to go through the last year's statements. There is no need to keep statements for services like cable, cell phone, etc. for more than a few months. If you're not sure, here is a list of how long you should keep financial records.
Switch to paperless
If you really want to reduce clutter, sign up for paperless billing. More and more companies are moving toward paperless-only so you might as well start now. You can receive statements via email as soon as they're prepared instead of having to wait on the mail. The best thing is you're reducing paper waste and helping the environment. You can always print out statements when you need a hard copy.
Setup automatic bill pay
Automatic bill pay through your bank can make your life much easier. For recurring bills that are about the same amount each month, you can set up an automatic payment. This will let you sit back and enjoy life without having to remember to pay your bills. If you're someone with varying bills or you're living paycheck to paycheck, this may not be the best option for you.
Alternatively, many credit card, mortgage and insurance companies offer discounts if you setup automatic payments through their website. They're guaranteed a timely payment and you're guaranteed peace of mind.
Enroll with billcutterz.com
Last, but certainly not least, you should sign up for our bill discounting service. We will call your service providers for you and negotiate large discounts on your monthly bills. There is no risk involved – click here to learn more about why you'll lovebillcutterz.com.