Best Time to Buy: March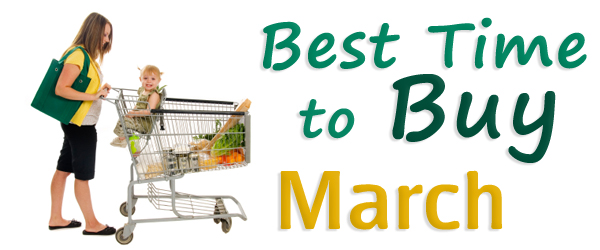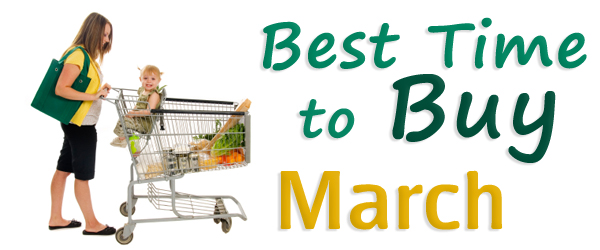 In like a lion, out like a lamb. March is the best time to stock up and find great deals on these goodies and necessities. Roar into the stores this month like a lion before selections become rare. Spend the rest of the month frolicking in the sun like a cute, careless lamb.
Winter Clothes
Retailers are making room for spring merchandise so now is the best time to buy winter clothes, such as coats, jeans, sweaters and scarves. It's early enough in the season to still have a large selection, but most of it has already moved to the clearance section.
Winter Sporting Equipment & Accessories
Coats, jackets, scarves, gloves, etc. as well as skis, snowboards and hockey sticks are going to be heavily discounted this month as merchants make way for spring sports.
Frozen Food
March is National Frozen Food Month and many grocery stores will have great deals on all frozen foods. Use this to stock up your freezer with all the coupons and promotional sales that are available.
Flatware and China
March is the lull between Christmas and wedding season, so flatware is often highly discounted. You can find great prices on expensive flatware during March.
Perfume
Similar to the flatware rule, March is downtime between Christmas, Valentine's Day and Mother's Day, the three holidays where perfume sales are up. This is the best time to get a great deal on expensive perfume.
Luggage
Now is the time to snatch up great bargains on luggage because retailers are clearing out last year's inventory for this year's fashions. March is a great time to pick up a luggage set for a fraction of the price.
Gardening Supplies
Early March is the best time to buy gardening supplies because it's not quite season yet for gardening. Items will be discounted for quick turnover to make room for new inventory.
Fruits & Veggies
In season: artichokes, asparagus, broccoli, brussels sprouts, butternut squash, celery, chicory, chives, grapefruit, greens, horseradish, kiwi, leeks, lettuce, mangoes, oranges, parsnips, pineapple, peas, potatoes, rhubarb, shallots
Epicurious has a great interactive map showing the seasonal produce based on month and state.