See what our customers are saying about BillCutterz
I was greatly impressed at the amount David from BillCutterz was able to save me in such a short period of time. The process was painless and I ended up saving much more than I expected. Great job!
–Rob (Wellington, FL)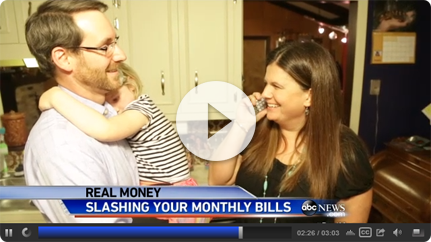 Meet Monica and Ryan
We saved them almost $1,500 on their monthly bills
Cable

$337.32

Internet

$365.40 + $100 Gift Card

Cell Phone

$510.00

Satellite Radio

$133.21

Home Security

$48.00
All I had to do was send my cell phone bill to BillCutterz and Veronica saved me over $200 a month for the next two years. She also saved me almost $50 a month on electricity.
– Mark (Austin, TX)
These guys are great! Not only were they very professional, attentive and friendly, but they were able to save me over $800 on my bills for the next year. Now I can take that cruise next summer!
– Mary (Colorado Springs, CO)
Very impressive service. I sent them my cable bill and I thought I had the lowest plan possible for $34.99 a month. You can imagine my surprise when they called to tell me they were able to save me another $15 per month for a year!
– Julie (St. Paul, MN)
Cheryl saved Mark

$1,869

on his cell phone bill
David saved Ashley

$840

on her electricity bill
Veronica saved Matt

$972

on his cable, internet and phone bill