Best Things to Buy in July
Posted on July 1, 2016 by Estefan Tovar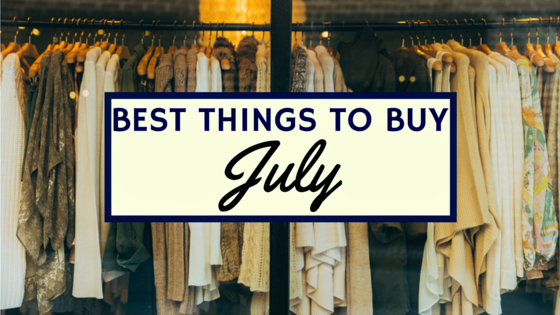 Ever wonder what the best things to buy in July are? BillCutterz can answer that! As soon as the 4th of July holiday is over, expect to see a shift in items that are on sale. Retailers know that consumers change their spending focus after this summer holiday and want to make the most of the next 2 months leading up to the fall. You as a consumer can save money by being prepared to take advantage of all these dropping prices! Here's a list of items to look for at all the places you shop.

Grills
Wait until after the July 4th holiday to start grill shopping. This is when stores will start trying to liquidate inventory. The last thing they want is a bunch of grills in stock come September. They know customers think about buying grills early in the season so if they haven't bought by July 4th, a grill is probably not a priority.
Places to look: Sears, Home Depot, Lowes, and Walmart
Jeans, Suits, and Summer Clothes
The hottest months of the year are the least popular for warm clothes shopping. When it's 90+ degrees outside, are you really thinking about covering up in a suit jacket or denim jeans?
Retailers that specialize in suits and jeans have a difficult time moving merchandise in the heat of summer. Pay attention to sales and stock up on the items you know you'll need in the fall.
Places to look: Norsdstrom, Burlington, Marshalls, Ross, Mens Warehouse, and Stein Mart
Jewelry
All the big jewelry-buying holidays of the year are behind us, at least until Christmas. Jewelry retailers will have to get creative to encourage sales. This is also the time of year when you may see better financing for jewelry, if that's how you choose to pay for it. (Be wary as financing is not a good idea, always buy cash!)
Places to look: JC Penney, Macy's, and Kay Jewlers
Computers and Computer Parts
Most new computers and computer parts are released during June until late August. This means now is the best time to buy last year's model and get huge discounts on comparable products, most upgrades on new models tend to only be 5-10% better (Why pay 20-50% more for such a small increase when you can save big?). You can also use camelcamelcamel or Price Zombie to see how prices have fluctuated.
Places to look: Newegg, Amazon, Fry's, and MicroCenter
Computer Games
Valve Software owned Steam has 4 annual season sales (spring, summer, fall, and winter). Their summer sale starts now until July 4th and will be having heavily discounted computer games (Only for use on a desktop/ laptop) with discounts of up to 90%!
Furniture
Furniture stores get new furniture in August, so they will start pushing out older inventory by slashing prices. You can shop around the several clearance sales in July and find nice furniture sets for 10-50% off the regular price. Since you have the upper hand, negotiate for extra items or more savings.
Places to look: Rooms To Go, Ashley Furniture, Dillard's, and JC Penney
Home Décor
July falls right in the middle of wedding season, meaning potential wedding gifts are being discounted by retailers. If you've been waiting for a change in décor, this is your chance to snag table linens, dinnerware, vases and other decorative items for a fraction of the normal price.
Places to look: Bed Bath and Beyond, Macy's, JC Penney, Kirkland's, and Pier 1 Imports
Tools
If you didn't get a chance to take advantage of the Father's Day sales in June, don't worry. July is the month that home improvement and tool stores will be overstocked with tool inventory from Father's Day and try to get rid of their overstock.
Places to look: Home Depot, Lowes, Sears, and Harbor Freight.
Air Travel
As summer comes to a close airfares will steadily be getting cheaper, because less people are booking trips and airlines will want to fill seats. The best months to buy for are trips during mid-August to mid-September as seen in Google Flights. Make sure to check websites like Kayak or for students StudentUniverse also. Don't forget the hotel!
Amazon Items on Prime Day
Last year Amazon had their Amazon Prime Day where they sold thousands of items at a discount, many consider it to be a summer "Black Friday". They have recently announced that the sale day will be July 12th! So make sure to check in on the day of because items sell out quickly and the sales can end fast. Another way to stay on top of the sales is to refresh the lightning deals every so often to see of anything else has be released.
We enjoy saving money here at BillCutterz, so if you have any other ideas or questions feel free to share in the comments below. Don't forget to visit our other blogs for upcoming holidays and tips on how to save money!